In Brief: Troy Bilt Vortex 2890 Review
If you need to move more snow with reduced effort, then the powerful 357cc engine and impressive 18-inch clearing depth of the Troy Bilt Vortex 2890 will get any snow-related job done. It is easy to handle and maintain, and its clearing width of 28 inches is enough for large snowy surfaces. The machine is also very durable, and will serve you for a long time and comes with a 2 year limited warranty.
Troy Bilt Vortex 2890 is a product made by Modern Tool and Die Company, MTD. MTD was founded in 1932, and Troy Bilt is among the companies that were acquired over the years. Its headquarters are in Valley City, USA
Having an electric and recoil start system, the Troy Bilt Vortex 2890 is built for performance. Its 357cc engine provides enough power to work on up to 18 inches of snowfall.
Key Specifications of Troy Bilt Vortex 2890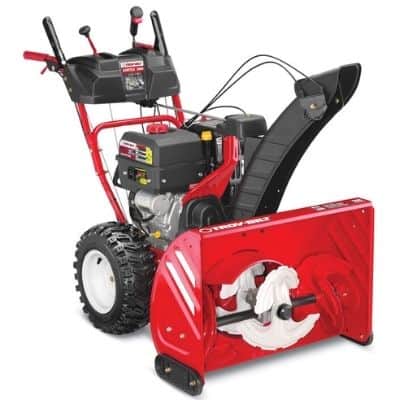 Before you decide whether to buy any snowblower, it is essential to look at its various specifications. For the Troy Bilt Vortex 2890, here are some of its key features.
There is an adjustable polymer skid that prevents surfaces of the machine from scuffing. Its housing is reinforced with steel to ensure the machine serves you longer.
Thick X Trac tires are put in place to ensure the snowblower gets enough traction, enhancing movement in heavy snow.
On the dashboard, headlights make low light areas visible as you continue blowing off the snow. It has an extended chute design to minimize blowback of snow discharge.
Watch this video for more about this snow thrower :
Here is the long list of specs of Troy Bilt Vortex 2890 Snow Thrower :
Specification
Model Number/ Name
31AH55Q8766
Powered By
Gas-powered
Engine Power
357cc
Stages
3 stages
Clearing Width
28 inches
Ideal for how many inches of snow

18 inches
Warranty
Two years limited warranty

Weight
285 lbs.
Start mechanism
Electric / Recoil
Other features
Four-way joystick chute control, 21 inches intake height
Unique Features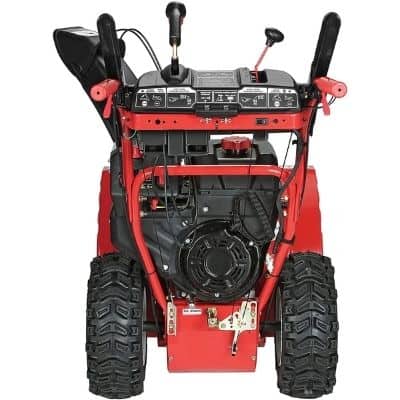 Take a look at some of the features MTD put in place to make the Troy Bilt Vortex 2890 stand out of the rest.
One-Hand Operation
When it comes to the steering of this machine, you only need to navigate with only one hand. You can make quick shift directions, lock in speeds, and adjust chute controls without disengaging drive.
It again has a self-propelled drive that has six forward and two reverse speeds.
4-way joystick chute control
By using a simple joystick, you can easily change the direction of snow discharge and dispose of the snow where you want.
3-Stage Technology
The Troy Bilt Vortex 2890 has 12-inch serrated steel augers, a 12-inch impeller, and a 12-inch accelerator.
The powerful accelerator spins ten times faster than the augers, efficiently breaking down and clearing the snow. This simple process is effective and also fast.
Power and Snow Clearing Capability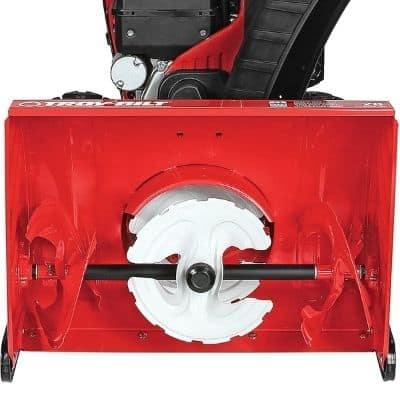 Let's have a look at what makes this machine powerful and preferred by many.
A 357cc engine powers the snowblower, and a 5Qt fuel tank holds enough fuel enabling you to work on a large area before the next refill.
The snow clearing capability is the main factor that you should consider. The Troy Bilt Vortex 2890 has a clearing width of 28 inches and goes up to 21 inches deep. It also has a chute rotation of 200 degrees.
Ease of Usage
Handling this snow blower is very easy, and there are no special skills required.
The one-hand operation enables you to make quick shifts and directions effectively. It also allows you to adjust the chute without stopping.
The handle grips are just terrific. The grips are heated for extra comfort during cold weather conditions. Starting is made easier as the recoil system has a wide fit grip.
As you will be working in areas with low visibility, the headlights located on the dashboard come in handy to light up the place.
Ease of Maintenance, Repairs, and Warranty
Maintaining the Troy Bilt Vortex 2890 is an easy task, and you don't always have to ask for professional help.
The machine is built to last and therefore requires fewer maintenance efforts.
General maintenance includes: refill the fuel tank when it runs dry, check and change the oil regularly, replace worn-out tires, replace headlights not working, among other things.
The Modern Tool and Die Company are confident in this machine and offer two years limited warranty on the machine. There is also a five-year limited warranty on the auger gearbox.
In case you need professional assistance or have queries concerning the warranty of this snow blower, do not hesitate to call 1-800-828-5500, where your questions are answered to satisfaction.
You can also visit the main website for more information.
Price of Troy Bilt Vortex 2890 Snow Thrower
Considering the unit's capability of clearing up to 18 inches of snowfall, this machine comes at a fair price.
Compared to other products in the market with the same capabilities, the machine is cheaper and easily fits your budget.
Pros and cons of Troy Bilt Vortex 2890
Here are some of the main advantages and disadvantages of this snow clearing unit that you need to factor into your purchase decision.
Pros
Has heated handle grips
Easy to use and maintain
Durable and sturdy
Has both electric and recoil start system
Two years limited warranty
Cons
Not to be used on gravel surfaces
Who Should Buy Troy Bilt Vortex 2890 ?
This snow blower has a considerable snow clearing capacity and, therefore, it mainly suits those living in the Snow Belt. S
ince it displaces heavy and wet snow, it is not recommended for areas experiencing low snow volumes.
Our Recommendation
After going through the essential aspects of the Troy Bilt Vortex 2890, it is up to you to decide if this snowblower will meet your needs and expectations. Our opinion is that this is a decent machine which is is built to last, providing powerful performances along the way.