In Brief: WEN 4208 Drill Press Review
WEN 4208 is a 5-speed drill press with locking depth adjustment and onboard key storage features. It has a 120V, 1/3HP, and 2.3A motor. It has a 6-1/2″ x 6-1/2″ adjustable work table It is an ideal drill press for professionals, Jobsite contractors, and other DIY enthusiasts. It is suitable for drilling through various materials, including metals.
WEN manufacturer is one of the most reliable names in the tool manufacturing industry.
They use innovative technology and advanced mechanical works to provide efficient and amazing tools.
WEN 4208 is a major product in the drill press category from this manufacturer.
This drill press is powerful enough to drill through various materials, including plastics, wood, and metals.
Key Specifications of WEN 4208
This drill press model has an impressive induction motor of 2.3amp, 120V, 1/3HP that delivers enough power on the tool to drill through several materials, including metals.
WEN 4208 operates at five different speeds (740, 1100, 1530, 2100, 3140RPM) to permit you to optimize each speed for specific applications.
It has ½" chuck capacity and 8″ swing size. It has a base of 7-1/2″ x 11-1/2″ and size column 1-3/4″ to ensure stability and balance.
The power tool's flexibility is enhanced by the 2″ spindle travel that is easy to read, locking linear depths stops for accurate and repeatable drilling operations.
It has an adjustable height and bevels 45 degrees to both sides of the table.
Below is a video showing WEN 4208 in use:
Specification:
Parameters
Details
Model No / Name

WEN 4208
Motor Details

2.3amp, 120V, 60Hz
Power (hp)

1/3
Speed (range) rpm

740-3140
Laser

No
Chuck capacity (in)

½"
Work Table Dimension (in)

6-1/2" x 6-1/2"
Table Tilt

450 left and right
Swing and Stroke (in)

8" and 2"
Height (in)

23.1"
Weight (lbs)
34.2
Digital Speed Reading

No
Work Light

No
Warranty

2 years
Top Features

On-board key storage
Beveling worktable
Locking depth adjustment
Top Features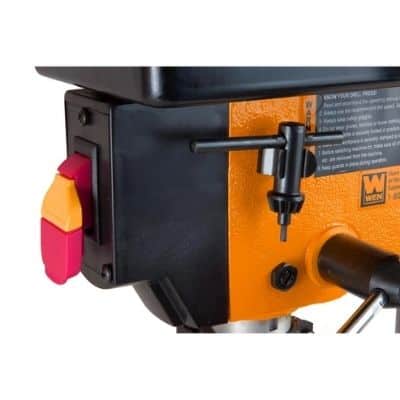 WEN 4208 has several integrated features that make it unique and different from other drill press models.
Onboard Key Storage
WEN 4208 includes key storage that is attached to it to keep the key in proximity. This feature allows you to have easy access to the key anytime you need it.
Beveling Worktable
WEN 4208 includes a 6-1/2 x 6-1/2″ worktable that bevels at 45 degrees on both sides of the table. This feature enhances the drilling of precise and accurate angled holes.
Locking Depth Adjustment
You can easily set the knob adjustment feature of this model to limit your spindle travel. You can set it to the exact distance by setting the bolts on the depth adjustment gauge.
Power and Performance
The power setup of a drill press will affect its drilling speed; it will also influence its drilling capacity and the type of surfaces it can work on.
WEN 4208 has a durable 1/3HP, 120V, 60Hz, 2.3amp motor that delivers ample torque on it for drilling through various materials.
This motor also features ball bearings that ensure smooth and balanced performance even at high speeds.
This drill press model operates at five variable speeds: 740, 1100, 1530, 2100, and 3140RPM for specific performance. This feature allows specifying the speed you would need for each application.
WEN 4208 can drill directly through the center of material up to 8″ in diameter and 2″ in thickness.
Ease of Usage
WEN 4208 has special consideration for user operation with the integration of several easy to use features. Aside from the fact that the device comes almost completely pre-assembled, it also includes a manual guide to guide the user.
It includes a depth gauge that helps you limit spindle travel to ensure precise and accurate performance. The onboard key storage keeps the tool at proximity and grants you access to it anytime you need it.
It has a solid cast iron base that confers stability on the product. It also prevents wobbling and walking during operation.
The variable speed control of this model allows you to optimize the speed for specific applications.
Ease of Maintenance, Repair, and Warranty
Ease of Maintenance
The maintenance procedures for WEN 4208 include;
Keep the power tool away from water or moisture.
Regularly inspect the power tool before and after use.
Only wipe the surface of the power tool with a soft cloth or brush.
Repair
WEN has professionals at various authorized service centers that ensure the safe and secure repair of their products.
It is best to contact these centers for the best and safest repair services on your drill press.
Warranty
The warranty offers for this model include;
2-year or 500 hours of use limited warranty
90-day commercial service
Free repair service
This warranty service does not apply to products that get damaged due to overtime usage, misuse, or mishandling.
The warranty applies to products sold or bought in Canada, the commonwealth Puerto Rico, and America. You can visit https://wenproducts.com/pages/warranty-statement for more warranty information or call 1-847-429-9263.
Price of WEN 4208
Price is one of the essential considerations for most buyers. WEN 4208 is one of the most affordable drill press models available and its cost to value delivery is good for a drill press model at its price.
It is suitable for individuals with low or meager budgets.
Pros and Cons of WEN 4208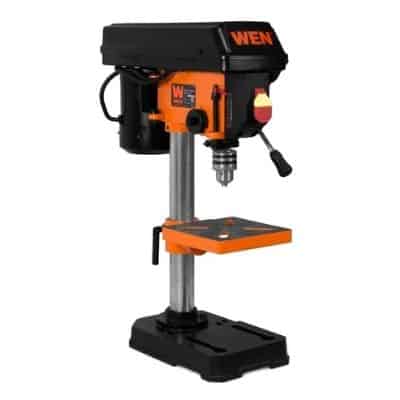 Pros
Adjustable and beveling worktable
Affordable
Compact and lightweight
Cast iron base for stability
Five-speed operation
Cons
Does not include a working light
Does not come laser
Who Should Buy WEN 4208?
Professionals and other categories of DIY enthusiasts can add WEN 4208 to the top of their list for drill press because of its versatility and efficiency.
The induction motor and the specifications of this drill press model power it to drill through various materials at variable speeds for specific applications.
WEN 4208 is also be a great buy for beginners and amateurs because it is affordable and easy to use.
This model is lightweight and compact, thus making it suitable for multiple Jobsite contractors with small to medium scale drilling tasks.
Our Recommendation
WEN 4208 is recommended for all categories of users that need a drill press model for their personal, commercial and medium scale drilling tasks.
It comes at a highly affordable price and it delivers enough power to drill through various materials.
Last update on 2023-10-01 / Affiliate links / Images from Amazon Product Advertising API