In Brief: WEN 4210 Drill Press Review
WEN 4210 is an efficient drill press with five-speed operation and work light features. It has a 120V, 3.2amps power setup. This motor delivers a variable speed between 600-3100RPM, 10" swing, and 2-1/2" spindle travel. This model is useful in drilling different surfaces, including metals and wood. It is an ideal model for DIY enthusiasts, professional and beginner woodworkers.
WEN is one of the trusted names in the tool manufacturing industry. They offer several high power and hand tools that are useful in various crafts.
WEN 4210 is one of the core offerings of this manufacturer. This drill press model is a power tool that can drill through various materials, including metals and woods, with ease.
Key Specifications of WEN 4210
This drill press model has a 120V, 3.2amps, and 2/3HP motor that delivers enough power to drill through any material. It also features five speeds, which are; 600, 1100, 1700, 2400, and 3100RPM.
WEN 4210 has a 7-5/8" x 7-5/8" cast iron work table that can bevel up to 45⁰ on either side. The spindle of this model can travel 2-1/2" and it has an easy to read, locking linear depth stop to increase its accuracy.
The 51lbs drill press has a 1/2" chuck capacity and 10" swing capacity. It has a base dimension of 13-1/8" and 8-1/8" that confers stability during operation.
The video below shows how to assemble and use WEN 4210: 
Specification:
Parameters
Details
Model No / Name

WEN 4210
Motor Details

120V, 3.2amp
Power (hp)

2/3
Speed (range) rpm

600-3100
Laser

Yes
Chuck capacity (in)

½"
Drilling capacity (in)

2-1/2"
Work Table Dimension (in)

7-5/8" x 7-5/8"
Table Tilt

450
Swing and Stroke (in)

10" & 2-1/2"
Height (in)

26-1/2"
Weight (lbs)
51
Digital Speed Reading

No
Work Light

Yes
Warranty

2 years
Other Features
Five-speed operation
Work light
Laser precision
Top Features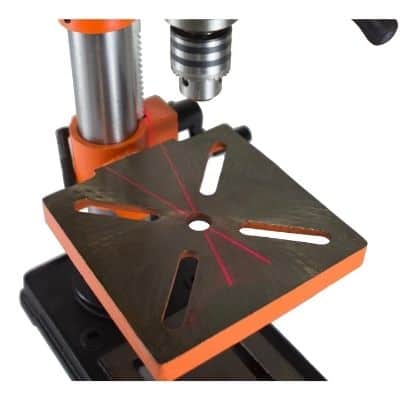 WEN 4210 has impressive features that contribute to its impressive performance and optimum delivery.
Five-Speed Operation
WEN 4210 allows five operational speed changes which are; 600, 1100, 1700, 2400, and 3100RPM.
This feature allows you to have easy control over the model and optimize the speed for specific applications.
Work Light
WEN 4210 features an onboard work light that illuminates your workpiece to allow you to work in areas with dim lightning.
This also improves your vision to enhance the precision and accuracy of your operations.
Laser Precision
Like most other power tools, precision is an essential part of a drill press. WEN 4210 includes an onboard laser light that specifies the precise spot that the bit will travel through for maximum precision during drilling.
Power and Performance
A drill press is called a power tool because its power setup significantly influences its performance.
WEN 4210 has a 120V, 3.2amp, 2/3HP induction motor that features ball bearings to provide enough power and torque on the drill press for optimum performance.
This motor allows the power tool to make easy drills on different materials.
This drill press model delivers speeds between 600-3100RPM which has five specific speed setting to optimize its performance. It also features a chuck capacity of ½".
The swing and stroke capacities of this power tool allows it to drill directly through the center of a circle measuring up to 10" in diameter and 2-1/2" in thickness.
Ease of Usage
WEN 4210 has several features that make it easy to use.
This drill press model includes an onboard laser light that helps you detect the exact spot that the bit will travel through for improved precision.
It also includes a depth adjustment gauge that limits your spindle travel to the precise area you want to work on. The five-speed operation also enhance full control and improve operational specificity.
WEN 4210 permits an angled drilling operation with its 45⁰ beveling angle to either side of the table.
It features a work light that illuminates the work piece for improved vision, enhancing the precision of operation.
WEN 4210 has onboard storage feature that keeps accessories at proximity during operations. The cast iron base of this model confers rigidity and balance during operations.
Ease of Maintenance, Repair, and Warranty
Ease of Maintenance
The maintenance procedures for WEN 4210 include;
Ensure proper storage of your power tool when not in use.
Only wipe the surface of the tool with a soft cloth or brush
Keep the power tool away from moisture and water
Repair
The manufacturer of WEN 4210 has professional service centers that handle the repair and replacement of their product to ensure safety, reliability, and professionalism. The warranty offer also covers this repair service.
Warranty
The warranty offers for this model include;
2-year or 500 hours use limited warranty
90-day commercial service
Free repair service
This warranty service does not apply to products that get damaged due to overtime usage, misuse, or mishandling.
The warranty applies to products sold or bought in Canada, the commonwealth Puerto Rico, and America. You can visit https://wenproducts.com/pages/warranty-statement for more warranty information or call 1-847-429-9263.
Price of WEN 4210
WEN 4210 is moderately priced.
The cost of acquiring this drill press model can be overpriced for low budget buyers but it is relatively affordable for medium and high budget buyers.
However, it offers a high value for money, and comes with outstanding features that ensures optimum outputs.
Pros and Cons of WEN 4210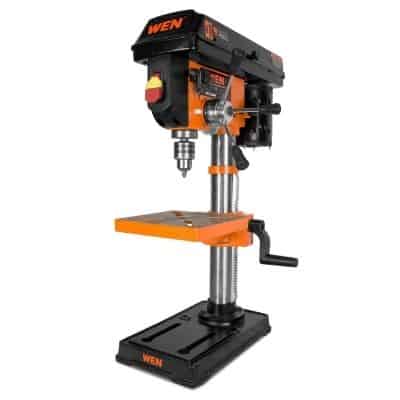 Pros
Includes work light and laser precision
Onboard storage
Relatively inexpensive
Five-speed operations and easy control
Depth adjustment gauge
Cons
Not suitable for heavy duty drilling operation
Few users complained about weak table cast material
Who Should Buy WEN 4210?
WEN 4210 is an impressive drill press with features that optimize its various drilling operations.
You should buy WEN 4210 if you need an affordable drill press that has outstanding features and offers impressive performance.
This model is suitable for homeowners, hobbyists, and other DIY enthusiasts because of its versatility, adjustability, power, and performance.
Beginners can also buy this model because they can easily master the drilling craft due to the ease of usage of this model.
Our Recommendation
WEN 4210 is recommended for small to medium-scale drilling processes.
If you need an affordable drill press that will deliver optimum drilling outputs with easy-to-use features, this model is surely a great option to go for.
Last update on 2023-12-03 / Affiliate links / Images from Amazon Product Advertising API