In Brief: WEN 4212 Drill Press Review
WEN 4212 is a variable speed drill press with mechanical speed adjustment and digital speed readout. It has a 2/3HP, 120V, 5amps motor that provides ample torque and a speed range of 530-3100RPM for its drilling operations. It is an ideal tool for professionals, beginners, and other DIY enthusiasts for drilling various materials, including metals and hardwoods.
WEN is an established tool manufacturing company that is reputable for producing several high-quality power and hand tools. They focus on the quality supply of these tools for various craft.
WEN 4212 is a variable speed drill press with impressive features. It is built to last while also ensuring efficient delivery and versatile applications.
Key Specifications of WEN 4212
The powerful nature of WEN 4212 ensures its effective delivery, and this capacity can be linked with the integration of a powerful motor. WEN 4212 has a 120V, 60Hz, 5A power set up that propels it to drill through various materials.
This drill press model operates on a variable speed between 530-3100RPM, which allows you to optimize the speed for specific applications.
It has a 10″ swing and 2-2/5″ spindle travel which enhance its powerful performance and its versatility.
The table can tilt from 00 to 450 to both sides of the table. The 57lbs drill press has an 8" x 7-2/3″ cast iron worktable.
The video below shows WEN 4212 in use:
Specifications:
Parameters
Details
Model No

WEN 4212
Motor Details

120V & 5amps
Power (HP)

2/3
Speed (range) RPM

530 to 3100RPM
Laser

Yes
Chuck capacity (in)

1/2"
Drilling capacity (in)

5/8"
Work Table Dimension(in)

8" x 7-2/3"
Table Tilt

450 left and right
Swing and Stroke (in)

10" & 2"
Height (in)

36"
Weight (lbs)

57
Digital Speed Reading

Yes
Work Light

No
Warranty

2 years
Other Features
Mechanical speed adjustment
Digital speed readout
Depth adjustment gauge
Top Features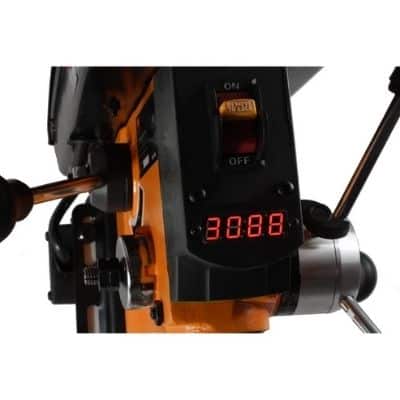 WEN 4212 has several impressive features that contribute to its standout performance. These features also enhance its efficiency and improve its versatility.
Mechanical speed adjustment
This model's mechanical speed adjustment feature allows speed optimization for a specific task with just a simple step. The power and torque of this tool are not compromised throughout the entire speed range.
Digital Speed Readout
WEN 4212 also includes a digital speed readout that allows you to know the current speed you are working with. The speed you are working with is displayed on the LCD screen to help you know the precise RPM at any point.
Depth Adjustment Gauge
The depth adjustment gauge feature of WEN 4212 allows you to limit its spindle travel to ensure accurate, precise, and repeatable drilling operations.
You can achieve this by simply setting the depth adjustment lever.
Power and Performance
WEN 4212 has a 120V, 60Hz, 2/3HP and 5amps motor that delivers adequate torque to drill through different types of materials, including hardwoods and metals.
This motor also allows the drill press to operate at a variable speed between 530-3100RPM. The variable speed operation allows you to use suitable speed for specific applications.
The induction motor of this model features ball bearings that allow for smooth and extended life performance.
WEN 4212 has a 10″ swing capacity and ½" key chuck for optimal performance and efficient output.
Part of the power is also channeled towards the functioning of the digital speed readout. The digital speed readout allows you to know the RPM you are working with at any point.
Ease of Usage
WEN 4212 is one of the few drill press models that you can recommend for both professionals and beginners largely because of its easy to use features.
It has mechanical speed adjustment that allows you to adjust the speed as needed with just a simple move.
Similarly, WEN 4212 has a depth adjustment gauge that allows you to regulate the spindle travel for accurate and repeatable drilling operations.
The integration of digital speed readout makes it easy for operators to know the exact RPM they are working with. It also includes a precision laser that enhances the precision of drills.
WEN 4212 includes a beveling worktable that can bevel 450 left and right of the table; thus, enhancing the ease and possibility of making angled drills and holes.
The locking depth gauge feature will keep the adjustment setting where you keep it.
Ease of maintenance, Repair, and Warranty
Ease of Maintenance
The maintenance procedures of WEN 4212 include;
Avoid placing heavy objects on the drill press.
Keep the tool away from water, moisture.
Blow out all chips, dirt, or dust that might want to accumulate on the motor.
Repair
WEN is one of the manufacturers that look after their products to ensure usage longevity.
They have various service centers that ensure the safe and reliable repair of your drill press. The warranty offers cover most of these services.
Warranty
The warranty offers for WEN 4212 include;
2-year limited warranty.
90-day commercial service
Free repair service
This warranty service does not apply to products that get damaged due to overtime usage, misuse, or mishandling.
The warranty applies to products sold or bought in Canada, the commonwealth Puerto Rico, and America. You can visit https://wenproducts.com/pages/warranty-statement for more warranty information or call 1-847-429-9263.
Price of WEN 4212
WEN 4212 is moderately priced, and it is affordable for individuals with medium or low budgets.
Aside from its affordability, it also comes with remarkable specifications and features that ensure a balanced cost-to-value ratio.
Pros and Cons of WEN 4212
Pros
Easy to use for precise and accurate drills
Laser feature for enhanced precision
Mechanical variable speed
Digital speed readout
Relatively affordable
Cons
Does not include work light
Limited safety features
Who Should Buy WEN 4212?
WEN 4212 is one of the few products that is suitable for beginners and professionals alike.
Professionals can buy WEN 4212 because of its efficiency and versatility.
It is suitable for a wide range of drilling tasks on different materials, including wood and metals.
Beginners, homeowners, and other DIY enthusiasts can also buy this drill press because it is easy to use, versatile, and affordable.
It is also reliable enough to provide solutions to various drilling problems.
Our Recommendation
You should consider acquiring WEN 4212 if you need an efficient, reliable, and affordable drill press for various drilling applications without breaking the bank.
This drill press model is suitable for personal and commercial drilling operations.
Last update on 2023-12-02 / Affiliate links / Images from Amazon Product Advertising API