In Brief: WEN 4225 Drill Press Review
WEN 4225 is a floor standing drill press with depth adjustment gauge and flexible work light features. It uses an 8.6A, 120V, 2/3HP motor to complete powerful drilling tasks. The motor ensures a variable speed of 280 to 3300RPM. The power tool is ideal for beginner and professional woodworkers for drilling various materials, including metals and woods.
WEN is one of the most prominent tool manufacturing companies in the world today. They are notable for the production of high quality and efficient hand and power tools.
WEN 4225 is one of the power tools produced by this manufacturer. This drill press model is highly efficient due to its special features and top-notch components.
Key Specifications of WEN 4225
WEN 4225 has a 4" stroke capacity that makes drilling through square boards very easily. This drill press model has a 120V, 8.6A, and 2/3HP motor that powers it to drive through different materials.
The motor ensures a variable speed of 280 to 3300RPM. It has a swing capacity of 15" and a chuck capacity of 1/12" to 5/8".
The machine has a 12" x 12" cast iron work table that can pivot up to 45 degrees in both rights and left direction. It has a weight of 154lbs.
The video below shows WEN 4225 in use:
Specifications:
Parameters
Details
Model No / Name

WEN 4225
Motor Details

120V & 8.6A
Power (HP)

2/3
Speed (range) RPM

280 to 3300
Laser

Yes
Chuck Capacity (in)

1/12"-5/8"
Drilling Capacity (in)

4"
Work Table Dimension (in)

12" x 12"
Table Tilt

450 left and right
Swing and Stroke (in)

15" & 4"
Height (in)

63
Weight (lbs)

154
Digital Speed Reading

Yes
Work Light

Yes
Warranty

2 years
Other Features
Adjustable variable speed
Flexible work light
Depth adjustment gauge
Unique Features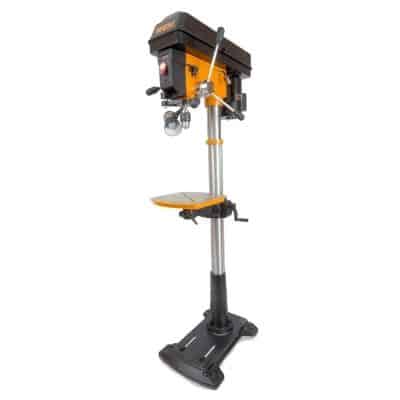 WEN 4225 runs smoothly and efficiently on its components and unique features. These unique features make it special and distinctive from other drill press models.
Adjustable Variable Speed
This drill press model features a variable speed range of 280 to 1000RPM that you can initiate at the turn of a lever.
If there's the need for a higher speed for a tougher job, you can initiate a higher speed of 1000 to 3300RPM with a quick belt adjustment.
Depth Adjustments Gauge
The depth adjustment gauge is one of the unique features of WEN 4225.
The depth adjustment knob is useful in limiting the spindle travel for accurate, precise, and repeatable drilling operations.
Flexible Work Light
WEN 4225 does not only have a work light but a flexible work light. The flexibility of the work light allows the user to concentrate the light's beam wherever needed.
Power and Performance
The performance of a drill press solely depends on its features and components.
The corded drill press has an 8.6A motor that provides 60Hz and 120V of power to enable powerful drilling activities.
It has a 2/3 peak horsepower that ensures efficient drilling through several materials with different toughness.
The motor that powers WEN 4225 provides a variable speed of 280 to 3300RPM that ensures drilling of different toughness levels.
It has a drilling capacity of 4". It also has a chuck capacity of 1/12"-5/8" that allows different bit sizes within this range.
The drill press has a table tilt that ranges from 0 degrees to 45 degrees on both left and right sides. This model has a swing capacity of 15" and a spindle travel capacity of 4".
Ease of Usage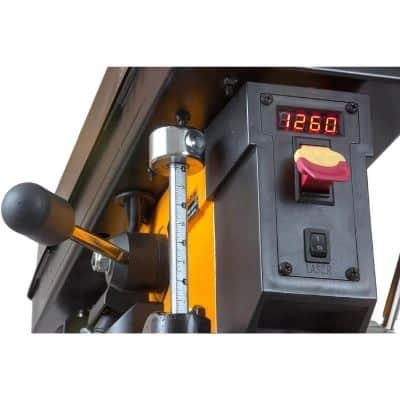 One of the qualities of a good power tool is its ease of use. The drill press has a lot of features that make the user operate it easily and conveniently.
WEN 4225 features a precision laser that ensures the drilling bit's accuracy in a specified position.
The drill press has a sturdy cast iron base that ensure its stability and prevents wobbling during operation. The tool features a flexible work light that ensures Illumination in the work area of the tool.
Its flexibility also allows the user to concentrate the light at different positions that suit the task.
WEN 4225 has a digital speed read-out that features an LED screen to display the tool's speed to keep track of its RPM.
It also has a depth adjustment gauge that guides the spindle's movement to a specified distance to make drilling easier.
Ease of Maintenance, Repair, and Warranty
Ease of Maintenance
The maintenance procedures for WEN 4225 include;
Always clean dust or shavings that accumulate on and in the motor.
Regularly lubricate the locking knobs.
Always disconnect from the power source when not in use.
Repair
Repairing WEN 4225 is very easy because WEN have made provisions for the repair of their products. All you need to do is visit any service center authorized by WEN for your product's repair.
Warranty
The warranty offers for WEN 4225 include;
2-year limited warranty.
90-day commercial.
Free repair offer.
The warranty offer does not apply to accessory items like saw blades, drill bits, etc. it applies only to products sold in the commonwealth of Puerto Rico, Canada, and America.
For more information on the warranty offers, visit https://wenproducts.com/pages/warranty-statement or call 1-847-429-9263.
Price of WEN 4225
The cost of a product is essential as it is the bedrock to other factors that surrounds it.
WEN 4225 is expensive and will cost you quite a lot to get. It is very efficient and offers a high cost to value ratio.
Pros and Cons of WEN 4225
Pros
Flexible work light
Easy adjustment feature
Mechanical variable speed
Precision laser feature
Digital speed readout
Cons
The head unit is heavy
It has a heavy weight
Relatively expensive
Who Should Buy WEN 4225?
WEN 4225 is highly efficient, durable, and reliable.
It provides viable solution for all drilling operations on different materials.
The features of this drill press model make it a suitable drill press choice for several users.
The drill press is useful to Jobsite contractors, professional and beginner woodworkers, homeowners, and DIY enthusiasts that needs a standard drill press for their commercial and industrial drilling operations.
Our Recommendation
WEN 4225 is highly recommendable for several drilling applications because of its features.
Getting WEN 4225 is a good choice if you need a reliable drill press that will produce optimum results for your drilling operations.
It is recommended for all categories of woodworkers with a high budget.
Last update on 2023-10-01 / Affiliate links / Images from Amazon Product Advertising API