In Brief: Wen 5662 Snow Thrower Review
The Wen 5662 Blaster 13.5-Amp 18-Inch Electric Snow Thrower comes with a very compact and lightweight design at just 32 pounds that helps make it quite mobile. With very little maintenance required to keep this snow thrower on the go, it is very efficient and functional with it's 13.5-amp engine . For smaller people and the elderly who are still doing the work by themselves, this is the ideal snow cleaning tool.
With its headquarters in Elgin, Illinois, Wen has been making great and powerful tools since its humble beginning in early 1951.
Through the years, they have perfected the tools to be very reliable and trustworthy, and they are now a very popular brand.
They started making snow throwers, like the Snow Blaster 5662, that come with great features included.
This snow blower comes with quite a lightweight and compact design, and there are lots of ergonomic features included.
Key Specifications Of the Wen 5662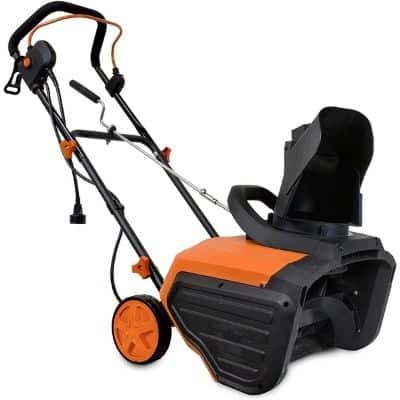 This unit runs very quietly when in use, so you will not wake up the neighbourhood when you use it early in the morning.
It comes with quite a wide snow clearing width of up to 18 inches to save you time when removing snow from the driveway.
It will also be able to move snow of more than 7 inches thick very easily and quickly with fewer passes. This snow thrower from Wen is able to move up to 490 pounds of snow in just one minute.
It is also able to blast the snow more than 20 feet away in any direction you wish. The snow blower is quite easy to use, and it can be assembled in only a few minutes.
See the following YouTube video to see this snow thrower in action :
Here is the long list of specs of the Wen 5662 Snow Thrower :
Specification

Model Number / Name
5662 Snow Blaster

Powered by
Electric-corded
Engine Power
13.5-Amp
Stages
Single-stage
Clearing Width
18 Inches
Ideal for how many inches of snow

7.8 Inches
Warranty
2 Years
Weight
32 Pounds
Start Mechanism

Electric switch
Other Features
Run very quiet; Chute rotation of 180
Unique Features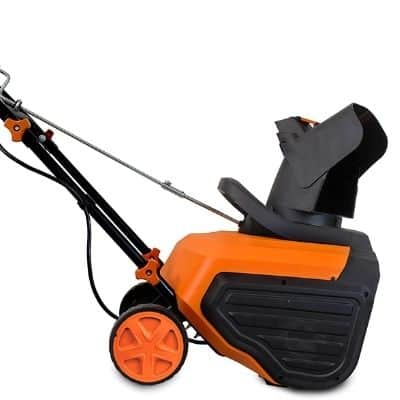 There are quite a number of great features that you will find only with this snow thrower from Wen .
Great Mobility
With quite a lightweight design, this snow thrower from Wen makes it quite easy to maneuver over most types of terrains.
Equipped with smoothly rolling, large, 6-inch wheels attached to the machine, it will be even easier to use around the yard.
This means that the Wen snow blaster can be used by even smaller people to get rid of that snow.
Very Ergonomic Design
The crank of the chute can be easily reached from behind the snow thrower to adjust the direction of the snow hurling.
This is possible because of the very long crank handle that is included with this machine for your convenience.
You only need to slightly lean forward, and you can grab hold of it and adjust the direction of the chute.
Easy To Carry
To make it even easier to store away after use, there is a carry handle installed to easily carry the machine around.
The lightweight design of this snow thrower from Wen further improves the mobility and ease of use.
Power and Snow Clearing Capability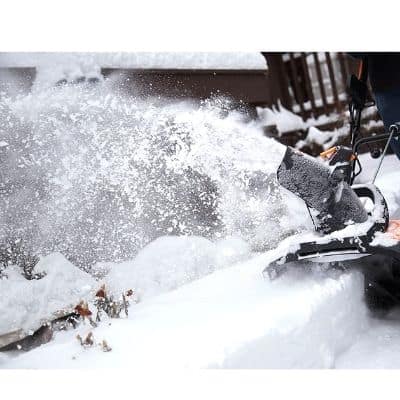 This snow blower comes with quite a powerful engine of more than 15 amps of output capacity to easily move the snow.
The wide chassis of this snow thrower allows a clearing width of up to 18 inches to clear the driveway in fewer passes.
It will easily move the snow that is more than 7 inches thick on the driveway without struggling or even exerting a lot of effort. This means that you can remove the snow from quite a large driveway or sidewalk in much less time.
For those areas with low to medium snowfall, this is the right tool to use to keep the driveway clear of snow.
Ease of Use
The light weight of the Wen 5662 Snow Blaster makes it quite easy to use for the weaker people out there.
With the power bar that covers the whole width of the handle, you can easily keep on moving the snow with only one hand.
When you receive this snow blower in the package, you will be able to assemble it in only a few minutes. The plastic blades of the auger will allow you to safely remove the snow from wood decks and patios, as well.
It is also equipped with a plastic cord wrangler where you can easily loop the cord to get it out of the way.
Ease of Maintenance, Repairs, & Warranty
There is very little maintenance required with this snow thrower from Wen. There are very few parts that will need to be replaced, offering a very long time of use of this power tool.
You only need to add some oil on the wheels and lubricate the scute a bit so that the snow will not clog it. This method will also help keep the wheels clear from the snow that might stick to it.
With the Wen Snow Blaster, you get a 2-year warranty included to cover the machine, as well as the engine. You can easily register your claim on this website if it becomes necessary to do so : https://wenproducts.com/pages/contact
It is a very easy procedure, and you will only need to follow the onscreen instructions to register your claim.
Price Of the Wen 5662
This snow thrower from Wen comes with a very low price tag attached to it to make it affordable for most people out there.
If you take a look at the great features that are included with this machine, you will find that the price is even more reasonable.
Pros and cons of the Wen 5662
Take a closer look at the pros and cons of this excellent piece of equipment.
Pros
Quite easy to assemble
Made from strong and durable materials
Comes with great features included
Great for low to medium snowfall areas
Cons
Not a very long range of wet snow hurling
Snow may stick to the wheels
Who Should Buy the Wen 5662 ?
If you live in areas where there is regular but low to medium snowfall, you need to get yourself one of these machines.
It is also the ideal snow removal tool for every homeowner who needs a tool to remove the snow from the driveway.
Because it runs so quiet and requires only electricity to power it, it is ideal to be used by people living in heavily populated areas. If you are a professional garden maintenance business person, you need one of these for those small to medium driveways.
The Wen Snow Blaster is the ideal sow clearing tool for those who need to maintain a public space. For golf course managers or public park maintenance people, this is the right tool for you.
Our Recommendation
With so many ergonomic features included with Wen 5662 Blaster from Wen, you can not go wrong by getting it for yourself.
It comes with a very low price tag attached to it, and it is so easy to operate that even small people can use it.
It is even great to be used when the neighbors or the family are still sleeping because of the very low amount of noise it produces.