In Brief: WEN 6550T Planer Review
The Wen 6550T 15 Amp 12.5 in. Corded Benchtop Thickness Planer includes a 2HP motor and a hand crank for setting adjustments. This benchtop planer features a 12.5-inch bed and a granite table that lasts a long time. With built-in guides and a simple interface, it provides ample cutting functionality.
The Wen company, founded in 1951, provides customers with durable products designed to meet their needs.
It focuses on power tools but also includes a variety of other products in its lineup as it works to anticipate what customers may want in the future.
The Wen company offers the Wen 6550T planer as a durable, long-lasting benchtop planer for residential customers. This machine provides customers with everything they need and more to complete planing tasks at home.
Key Specifications of the WEN 6550T
The Wen 6550T planer offers convenient, powerful functionality for residential use. This machine features a 12.5-inch bed size, which is larger than many competitors' and comes with a 2HP 15amp motor built-in.
Check out the WEN 6550T in action here –
Read the long list of WEN 6550T specs below:
Parameters
Details
Model No/Name

6550T
Type

Benchtop
Power (HP)

2
Bed Size (in.)

12.5
Table Size (l x b)

23.5 x 12.5
Knife Adjustments

1
Cutting Depth (in.)

0.094
Dust Collection

Yes
Weight (lbs.)

70
Warranty

2 years
Other Features
Fan-assisted dust port
Granite table
Easy adjustments
Accessories
Power cable
Hand crank
Replacement blades
Unique Features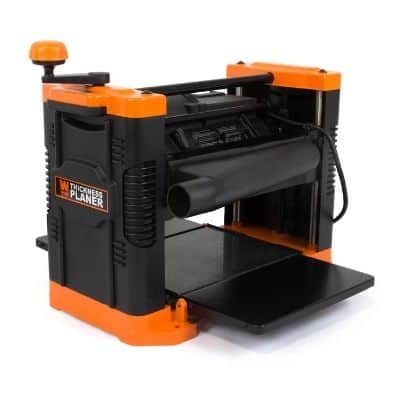 Combining a granite table with a fan-assisted dust port and many other convenient features, this machine offers a high CPM with plenty of accuracy.
Granite Table
The built-in granite table on this machine keeps wood moving smoothly with every pass and ensures professional cut results as well. Since the granite cannot harm the wood, it cuts down on the risk of marring and damage.
Fan-Assisted Dust Port
The machine features a fan-assisted dust port that works to remove dust and debris from its vents with the help of the built-in fan. This makes it easier to keep the machine clean and improves the ease of maintenance as well.
High CPM
The machine handles up to 17,000 cuts per minute and 26 feet per minute.
This high CPM rate comes from its powerful internal motor and its sturdy design. Built with stability in mind, this machine moves quickly and efficiently.
Power and Performance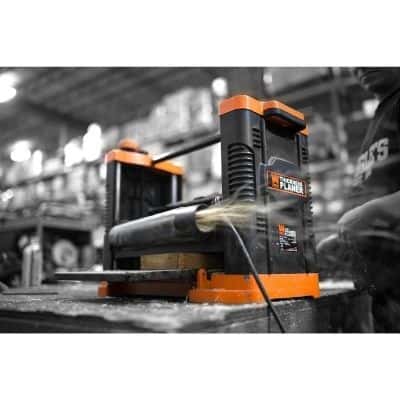 This planer provides a 2HP 15amp motor that gives it more than enough power to tackle household woodcutting jobs. Thanks to this impressive power, it can work through a variety of types and styles of wood with smooth results.
The machine performs very well against its competitors. It creates professional results and offers long-lasting, reliable construction that keeps it going strong.
This machine includes several features that allow customers to make precise adjustments for better results.
Ease of Usage
With a simple, user-friendly interface, the machine remains easy to use regardless of skill level.
Beginners can learn how to finish woodworking jobs with this machine, while advanced users enjoy the precision controls via manual input offered with this device.
The machine's granite table also makes it easier to use.
Since the granite provides a smooth surface that does not damage wood, it helps users get the results they want on a single pass without having to spend too much time on any given project.
Ease of Maintenance, Repairs & Warranty
The Wen company web site provides replacement parts for purchase. Most of these parts include consumables, but some may include internal components.
Customer service may provide more information about replacement parts as well.
Before performing any routine maintenance on this machine, turn it off and unplug it from its power source. Check the blades regularly for signs of damage and reverse or replace them together as a set as needed.
Check the brushes for wear and damage after 100 hours of use.
Clean the machine with a dry cloth to remove dust and debris. Grease the chains and gears when you clean the product. Never wax the table and never use cleaning solvents on any components of this machine.
The Wen company provides a two-year limited warranty on this machine. The warranty covers the repair and replacement of parts not including the consumable parts of this product.
It also does not cover damage caused by misuse or lack of maintenance.
The warranty includes a 90-day guarantee for consumables. If a consumable becomes damaged during this time or if you are unsatisfied with it, you can return it for a replacement or your money back.
For more warranty information, contact the Wen company at 1-847-429-9263.
Price of the WEN 6550T
The Wen 6550T planer comes from a lesser-known brand name and includes very few extra features.
It comes with everything needed to operate it and features manual input controls, but does not include extra accessories, peripherals, or bonus functions.
Because of its bare-bones design, this machine comes in well under the average price for benchtop planers. Despite its low price, it remains a high-quality product. Customers find it provides plenty of value for the cost.
Pros and Cons of the WEN 6550T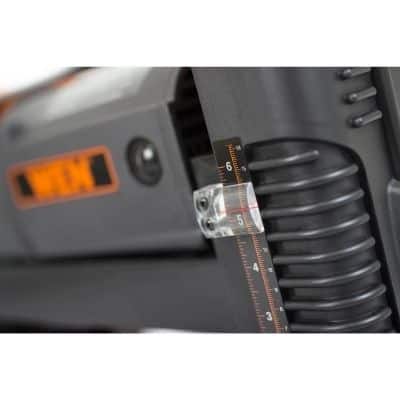 Pros
Removes material accurately
Finishes wood smoothly and works out damage or warp in a few passes
Features reversible blades
Offers convenient, quick maintenance and blade replacement
Cons
Some customers find it creates significant snipe
Runs very loud
Who Should Buy the WEN 6550T?
The Wen 6550T planer works well for residential customers who want to get started learning woodworking.
It also provides intermediate residential users with plenty of functionality to complete DIY jobs and household repairs.
Some commercial users incorporate this machine into their setups. However, generally speaking, it does not have enough power to work through commercial-grade projects unless they remain small-scale.
Our Recommendation
The Wen 6550T planer tackles household jobs with ease and works through many types of wood.
It smooths damaged wood with no trouble and makes it easy for users of any skill level to get the professional-grade results they want.
We recommend this planer for household users looking for an entry-level machine at an affordable price point.
We also recommend it for any home hobbyists or DIYers who want a machine for woodworking use now and then, but not for daily operation.
Last update on 2023-12-03 / Affiliate links / Images from Amazon Product Advertising API