In Brief: WEN 6552T Planer Review
The Wen 6552T 13 in. 15 Amp 3-Blade Benchtop Corded Thickness Planer comes ready for use out of the box. This benchtop planer features a powerful 2HP motor and comes with a cast iron base designed to keep it secure and steady. The machine includes a 13-inch bed and can cut to a depth of 0.09 inches.
The Wen company began in 1951 and today supplies customers with high-quality products that work. This company focuses on power tools but also sells machinery for lawn and garden use, hydraulic cylinders, generators, and more.
The Wen 6552T combines the high-quality design features of the Wen company's products with the needs of modern customers.
The result keeps residential customers satisfied and even helps some commercial customers with smaller projects, too.
Key Specifications of the WEN 6552T
The Wen 6552T planer features a 2HP motor and a 13-inch bed size. It weighs in at just 66 pounds, making it a lighter option compared to more permanent planers.
Its cast-iron base keeps it steady and reduces the risk of snipe while you cut.
Check out the WEN 6552T in action here –
Read the long list of WEN 6552T specs below:
Parameters
Details
Model No/Name

6552T
Type

Benchtop
Power (HP)

2
Bed Size (in.)

13
Table Size (l x b)

25.25 x 13
Knife Adjustments

1
Cutting Depth (in.)

0.09
Dust Collection

Yes
Weight (lbs.)

66
Warranty

2 years
Other Features
25500 CPM
Cast iron base
Manual depth adjustment knob
Accessories
Power cable
Full set of blades
Unique Features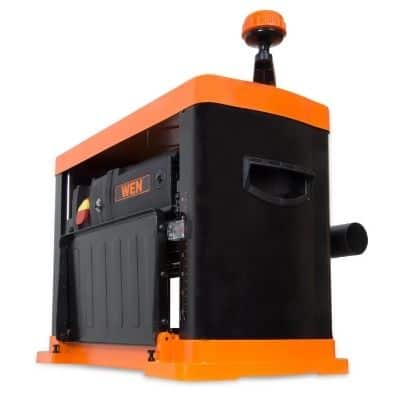 A built-in material removal gauge makes it easy to pay attention to how much wood you cut with this machine. With its rough wood focus and its three-blade construction, this machine tackles projects with a heavy-duty design.
Material Removal Gauge
The built-in material removal gauge gives users a quick visual to assist accuracy.
This gauge shows you how much wood you have removed from a project in a given pass and lets you know how much more room you have to work with.
Rough Wood Focus
This planer features a design made with rough wood in mind. This focus ensures the machine can smooth out rough, old, or damaged wood with no trouble and get it ready for woodworking tasks in a short time.
Three-Blade Construction
The three-blade construction of this machine makes it easier to tackle heavier projects. This machine works well for a variety of wood types and woodcutting applications because of its multiple blade functionality.
Power and Performance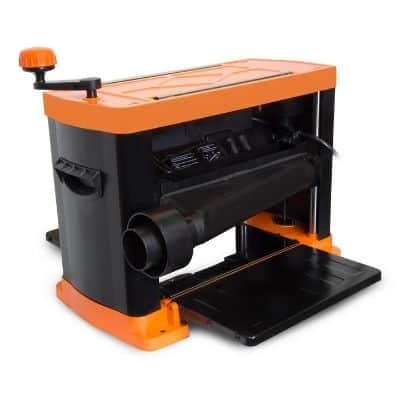 The 2HP 15amp motor built into this machine keeps it up and running for as long as you need to operate it.
The machine does not overheat easily and keeps running smoothly as you work through almost any woodworking application.
This machine also performs very well and holds up to a lot of use. It creates professional results and remains especially capable of smoothing out wood that shows signs of damage.
Even heavy-duty jobs remain quick and simple with this high-performance machine.
Ease of Usage
Thanks to the manual input for setting adjustments with this machine, it remains easy to use.
The hand crank allows users to set the height and depth as needed on every cut without having to stop and make complicated changes between each pass.
Additionally, the machine remains easy to use because of its simple, no-frills design. It includes plenty of features to complete any woodworking project but does not feature too many additional functions that may overwhelm the user.
Ease of Maintenance, Repairs & Warranty
Customers in need of replacement parts may find a variety available on the Wen company web site.
This site includes consumable replacement parts and may offer some other options. Customer service can also give you more information.
Turn off the machine and unplug it before performing routine maintenance. Check blades frequently for damage and reverse or replace them as needed. Always reverse or replace blades in a set.
Check brushes after 100 hours of operation and replace them when they become damaged or worn. Lubricate the leadscrews and gears as needed.
Clean the machine with a dry cloth and grease all gears and chains after cleaning.
The Wen company offers a two-year limited warranty on this machine.
The warranty does not cover damage caused by misuse, incorrect installation, or lack of maintenance, so keeping up with maintenance remains crucial for the warranty to hold.
This warranty does include repair and replacement as needed otherwise. It also covers a 90-day guarantee for the consumable parts of the machine, which do not receive any additional warranty coverage.
For more information, contact the Wen company at 1-847-429-9263.
Price of the WEN 6552T
The Wen 6552T planer includes basic functionality and manual setting adjustment and input. This machine features durable inner components and a convenient design with a focus on smoothing rough or damaged wood.
Because of its impressive power and capabilities, this machine remains at an average price point when compared to its competitors, despite its lesser-known brand name. Customers feel this machine provides high value for its cost.
Pros and Cons of the WEN 6552T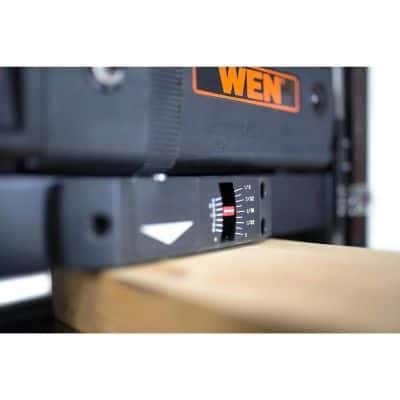 Pros
Creates smooth results without much snipe
Features durable components
Handles hard and softwood
Smooths out rough wood easily
Cons
Some customers experience frequent bearings failures
May sometimes expel large pieces
Who Should Buy the WEN 6552T?
The Wen 6552T planer works well for residential customers who do a lot of woodworking. It includes simple features perfect for beginners but enough precision control for intermediate or advanced users to enjoy.
This machine handles heavy-duty tasks with ease, so it remains a good solution for commercial workshops as well.
Although it cannot process large pieces of wood, it smooths rough wood in just a few passes, making it an efficient decision.
Our Recommendation
The Wen 6552T planer handles multiple applications and holds up well for long-term use. It tackles household and commercial jobs with ease, and it comes with everything required for easy setup and quick use.
We recommend this machine for home hobbyists who enjoy woodworking several times a week, but not daily. We also recommend it for commercial shops that need a small-scale machine for simple tasks.
Last update on 2023-09-28 / Affiliate links / Images from Amazon Product Advertising API