In Brief: Wen 6560T Jointer Review
Wen 6560T is a powerful machine that is ideal for handling tough woodworking tasks. With adjustable cutting depth, you can use the jointer for various tasks. It offers you a maximum speed of 10000 RPM, which is phenomenal in this price range. Furthermore, you get a dust port and a storage bag as well. What else do you need in a jointer ?
Wen is a leading designer of power tools from lawnmowers to jointers. Nick Anton founded the company back in 1951 to produce electric tools.
Wen has a huge research and testing facility to ensure they are producing high-quality equipment for its consumers. At the same time, Wen focuses on producing affordable products.
Wen 6560T is a 6 inches corded jointer designed for elegant cutting. The jointer is built with cast iron to increase its lifespan.
Due to cast iron build, it handles vibration perfectly without giving you any trouble. With a 10 Amp powerful motor, it cuts anything like butter.
Key Specifications of the Wen 6560T
Here is a corded machine that provides you with unimaginable power. The benchtop jointer is designed for homeowners and hobbyists who like to play with wood planks.
The machine has all the basic features you expect in a jointer.
With 1-1/2 horsepower, it offers you to do tough jobs easily. Many jointers come without a dust collection port giving you unnecessary trouble.
Thankfully, this is not the case with this jointer. It comes with a dust port and a storage bag.
The 10 Amp motors offer you 20000 cuts per minute. With a cast iron base, you don't have any vibration trouble during the work.
It features a 6-1/4 x 28-1/2 inches table. Furthermore, there is a 6-1/8 inches cutter head with two blades.
The machine weighs about 80 pounds. It has dimensions of 28.5 x 20 x 14 inches.
There is a detailed manual to guide you about its usage and maintenance in the long run. Moreover, you will find a warranty card in the package.
Read the long list of Wen 6560T Jointer specs here :
Specification
Model Number / Name
6560T
Type
Benchtop
Power

1-1/2 Hp
Cutting depth
Adjustable
Table Size
6-1/4 in. x 28-1/2 in.
Maximum Speed
10000 RPM
Dust collection
Dust port and storage bag
Weight
80 pounds
Warranty
2 years
Top Features
Let's discuss a few of the top features of this exceptional jointer by Wen.
High-Quality Build
The jointer base is built with cast iron. It increases its lifespan while cutting the vibrational issues doing the operation.
Moreover, Wen has tested the product in various circumstances to ensure it remains operational for a long time.
6 Inches Cut Capacity
With 6 inches cut capacity, you can handle most of the tasks. It is not too small, not too large that you can't manage it.
No matter if you are a professional or not, you can easily use this machine.
For more information about this jointer, take a look at this video :
Power and Performance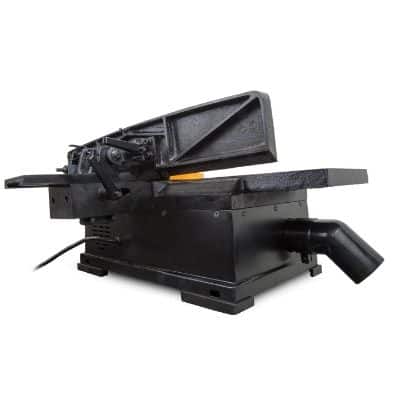 The machine comes with a 10 Amp motor that is capable of giving 20000 cuts per minute. The blades are sharp enough, and they remain sharp for a long time.
In terms of performance, there is no drawback to this machine. Due to the cast iron base, it doesn't produce vibration to disturb your work.
Ease Of Usage
It is a corded machine, which means you need a cord to operate it.
It could be trouble for some users.
Moreover, it is troublesome to assemble the machine for beginners. If you are an experienced user, you shouldn't have any problem.
Apart from that, it is easy to use, with no expertise required.
Ease of Maintenance, Repairs, & Warranty
Thanks to Wen for the extraordinary build, it doesn't require repairs anytime soon. You need to replace blades, but it will be after a long time.
Otherwise, it will serve you without any issues.
The manual explains the routine maintenance, and there isn't much to do except proper cleaning and storage.
Wen offers two years warranty for the product. If you find any issues with the machine, you can contact them through email or phone support.
They will respond to your request and will address the issue as soon as possible. However, it is highly unlikely that you need to claim your warranty.
Price of the Wen 6560T Jointer
Price is the strong point of this machine. It is hard to find a jointer of this quality at this price. Amazingly,
Wen has produced the machine at the lowest possible price.
At this price, you are getting all the features you need in a jointer. The corded machine is one of the least expensive jointers available in the market.
Pros and cons of the Wen 6560T
Let's summarize the machine qualities and its downsides. The pros and cons section will help you decide whether you should buy this machine or look for an alternative.
Pros
The machine remains stable even hit by heavy boards
Blades remain sharp for a long time
Cost-effective jointer
Powerful enough to handle any task
The fence is strong and stays at its position
Cons
Difficult to assemble for beginners
Who Should Buy the Wen 6560T ?
Are you looking for a low budget jointer but don't want to compromise on quality? Well, WEN has designed this jointer for you. The machine doesn't cost much but still delivers the best performance.
The machine is more suitable for expert users. It doesn't mean that beginners shouldn't buy it.
However, you must be willing to learn how to put it together and use it effectively. Once you get used to it, you will not look for another machine for decades.
Our Recommendation
Wen 6560T is one of the cheapest jointers available in the market. The machine is perfect for expert users, while beginners may find it tricky. However, once you figure out how to use it, you will love it.
The blade remains sharp for longer durations before you have to replace them. With a sleek design and cast iron base, it is easy to use the machine once you get the hang of it.
Last update on 2023-12-02 / Affiliate links / Images from Amazon Product Advertising API