In Brief: Wen RT6033 Plunge Router Review
Wen RT6033 is a variable speed, plunge woodworking router kit with 7-stop turret and 2-in-1 base features. It has a 120V, 60Hz, 15amp motor that delivers a variable speed between 8,000-23,000RPM. It includes a 1-1/2″ dust collection duct. It is an affordable power tool for all categories of woodworkers for various routing tasks.
Wen is a high-rated manufacturer of high-quality and affordable power tools over the past decades. Since their inception in 1951, Wen has made a mark in the tool industry by putting power into tools.
Wen RT6033 router is one of the manufacturer's power tools.
This variable speed, plunge woodworking router kit is an impressive model that offers solutions to various routing tasks.
Key Specifications of the Wen RT6033
Wen RT6033 comes with a powerful motor with 12amp, 120V, and 60 Hz rating. This motor powers the router to deliver a variable speed between 8,000 to 23,000RPM.
The compatibility of Wen RT6033 to various types of routing operations is enhanced with the inclusion of ½" collet diameter that also includes a ¼" adapter to increase its versatility for varieties of routing bits.
This model has a depth stop adjustment that advances the depth stop by 5/16 of an inch per quarter Wen RT6033 also comes with other accessories, including a 1-1/2″ dust collection duct, a fence scale, a straight-edge guide fence, a template guide for creating more complex shapes.
Here is a video showing how to use Wen RT6033 :
Read the long list of Wen RT6033 specs here :
Specification
Model No
RT6033
Powered by
Corded
Speed (RPM)
8,000-23,000RPM
Brushless Motor
No
Power (HP)
2.4

Base Dimension (inches)
5-1/2"
Collet size (inches)
1/2'', 1/4''
Weight (lbs)
18
Base Type
Fixed / plunge
Plunge Stroke (inches)
2-3/8"
Dust collection duct (inches)
1-1/2"
Unique Features
7-Stop Turret
2-in-1 base feature
Extensive plunge depth

Top Features to Look For
The standout reputation of Wen RT6033 among several other routers is a resultant effect of its unique features.
7-Stop Turret
Wen RT6033 router features an impressive 7-Stop turret that increases or decreases cutting depth by a noticeable margin of 1/8″.
2-in-1 Base Feature
Wen RT6033 offers you the advantage of enjoying the services of two router types in just one power tool.
The model's spring-loaded base features a lock-down knob that allows you to alternate between a plunge router and a fixed router easily.
Extensive Plunge Depth
You can enjoy the limitless application of this router with its flexible and versatile bits. Wen RT6033 allows both ¼" and ½" router bits with a plunge depth that is up to 2-3/8″.
Power and Performance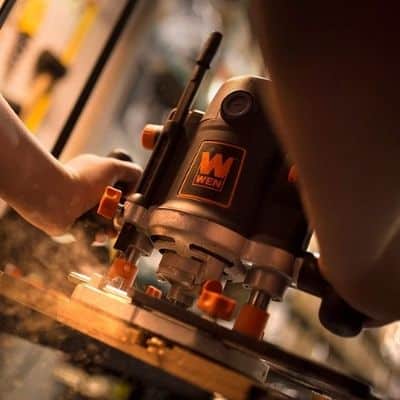 Wen RT6033 router comes with an impressive power setup with its variable speed motor. In turn, this power influences the performance of this router.
This model includes a powerful 120V, 60Hz, 15amp variable speed motor that delivers an impressive operational performance.
This motor also enhances a soft start that aids its easy control and applications. This mild start feature also lengthens the lifespan of the power tool.
The power setup of this model delivers a variable speed between 8,000 to 23,000 RPM.
At this speed, Wen RT6033 can effectively and smoothly route through woods of variable thickness and deliver a plunge depth of 2-3/8".
Ease of Usage
Wen RT6033 has features that make it easy to use regardless of your level of routing experience.
It includes a micro-adjustment that advances the depth stop by 1/128 of an inch per quarter turn to aid easy control, precision, and accuracy.
Wen RT6033 allows a dual base system that will enable you to switch between a plunge base and a fixed base for optimal and precise performance.
The 7-stop turret also combines actively with micro and macro dials adjustment to ensure improved precision.
Wen RT6033 has several included accessories that ease its usage. One of these accessories is the parallel guide fence for routing an entirely straightforward design. It also has a 1-1/2″ dust collection duct to ensure operational cleanliness.
Ease of Maintenance, Repair, and Warranty
Ease of Maintenance
The technical setup of Wen RT6033 makes it easy to use and maintain. The necessary maintenance procedures of this router model include :
Regularly clean the router with a soft cloth or compressed air.
Remove dust and chip regularly.
Avoid the plastic part of the product coming in contact with harsh chemical.
Ensure safe storage of the power tool when not in use.
Repair
The repair of Wen RT6033 is made easy with the service and repair plan of the manufacturer. They offer safe and reliable service for their products under warranty offers at limited or no cost.
Warranty
The warranty offers for Wen RT6033 include :
2-years or 500 hours of use limited warranty for craft and materials.
90-days limited warranty for commercial or professional use.
30-days return guarantee.
You can contact [email protected] or call 1-800-232-1195 to claim the warranty offers. You can also check the manufacturer's page at wenproducts.com for more information about the service offer.
Price of the Wen RT6033
Wen RT6033 is one of the most affordable routers available. It is suitable for low to medium budget buyers.
It offers a high value for money, considering its impressive features, additional accessories, and versatile applications.
Pros and cons of the Wen RT6033
Pros
Functions as a plunge and fixed router
Dust collection port inclusion
Easy usage features
Affordable and versatile
Ergonomic grip
Cons
A little bit stiff plunging
Heavy Weight
Lack of LED light feature
Who Should Buy Wen RT6033 ?
Wen RT6033 is not only an efficient router, but it also has impressive features, and it is one of the best non-cost intensive routers.
Beginners can consider Wen RT6033 as their first buy because it is efficient, affordable, and easy to use.
Professionals, hobbyists, homeowners, and other DIY enthusiasts can also buy Wen RT6033 to carry out their routing tasks because it is versatile for various routing applications.
Our Recommendation
Wen RT6033 is a versatile, efficient, and powerful router. Its double base function makes it an outstanding choice for all categories of users.
Therefore, it is recommended for users that intend to secure the service of an affordable and versatile router for various woodwork routing processes.
Last update on 2023-12-03 / Affiliate links / Images from Amazon Product Advertising API