In Brief: Wen SB24E Snow Blower Review
The Wen SB24E Snow Blower is a powerful piece of equipment that helps you remove snow from areas where it's unwanted. This includes your driveway, a sidewalk, a railroad track, or a runway. Its chute offers 30 feet of throwing distance in addition to an auger, which leaves no snow behind when clearing.
Wen is a popular manufacturing company that has its headquarters in Elgin, Illinois. The brand is versatile and has quite a number of tools in its catalog. This includes generators, lawn mowers, and hand tools. The Wen SB24E is just one of two snow blowers in the manufacturer's product line.
Key Specifications of the Wen SB24E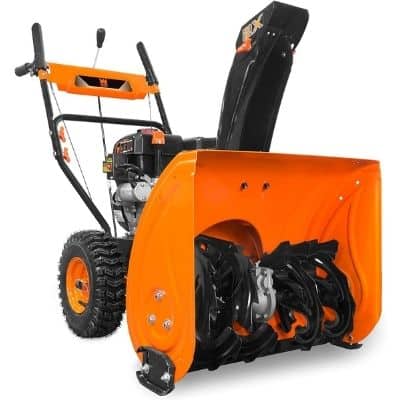 This blower is self-propelled. This means that you don't need to navigate it on your own. It has 6 programmed speed levels – 4 forward and 2 reverse. With this, you can slow it down or propel it to move faster.
It comes with a snow clearing depth of 24 inches to provide enough strength to hack through heaps of snow. Despite its clearing depth, it only scrapes close to the ground, not deep enough to clear stones or gravel.
This snow blower uses a second-stage blowing system.
This way, it can throw snow far away from itself, precisely around 30 feet. It's deposited at a convenient spot so that you won't need to move it with a shovel.
Here is the long list of specs of the Wen SB24E Snow Blower :
Specification
Model Number / Name
SB24E
Powered By

Gas
Engine Power

212cc
Stages
Second-stage
Clearing Width
24 inches

Ideal for how many inches of snow

21 inches

Warranty

2-year limited warranty
Weight
172 pounds
Start Mechanism

Electric start
Other Features
30 feet of snow throwing distance
Unique Features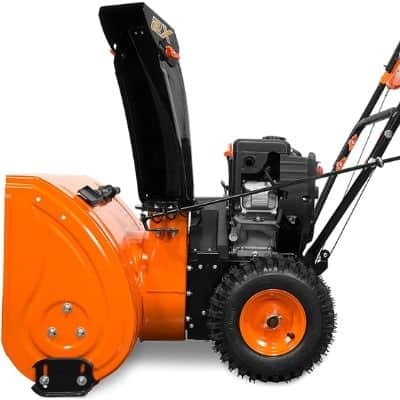 Wen is known for producing high-quality products, and this snow blower is no different. There are a number of features that you won't find on other snow blowers, and this is what makes the Wen SB24E unique.
30 Feet of Throwing Distance
This snow blower will cut into heavy snow and hurl it into its speed impeller, which then transfers it to its discharge chute.
The chute deposits the snow 30 feet away from the machine. The direction of the chute can be rotated 190 degrees.
This way, you get to choose where the snow lands. Hence, it's easier to steer it away from busy roads or your neighbor's driveway.
Auger Lifts Snow off The Ground
The difference between the Wen SB24E and other second-stage snow blowers is that it lifts snow off the ground.
The auger is careful enough not to dig into the ground, which could likely cause environmental issues. Also, the 212cc engine allows the blower to complete a snow clearing job quicker.
Cordless Design
This snow blower from Wen is powered by gas. This removes cable restrictions, allowing you to navigate around working areas effortlessly.
This adds to the fact that the operation of the snow blower won't be affected by any power outage, especially during heavy downpours or tornadoes.
For more information about the features, check out this video :
Power and Snow Clearing Capability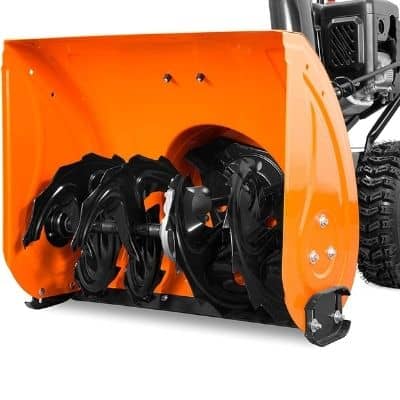 The robust engine of 212cc power will supply the blower with the power it needs to hack through heaps of snow.
It can clear up to 1,800 pounds of snow in one minute, and this is one of the fastest rates among snow blowers on the market.
It has a fuel capacity of 0.58 gallons – that's 2.79 liters in total. On a full tank, you can expect it to run for 2.75 hours nonstop.
This way, you won't have to stop the machine to refill its tank when using it for a significant stretch of time.
Ease of Use
This snow blower from Wen SB24E weights 172 pounds. Even at that, it's easy to move around rocky terrain due to its 13-inch tires and moving handle.
It's self-propelled. Hence, you can adjust its speed by pressing one of its 6-speed buttons.
You won't have to do much when it comes to moving it around. All you have to do is change its direction, and it will do the rest for you.
Ease of Maintenance, Repairs, & Warranty
For engine maintenance, it's advised that you drain the carburetor and fuel after 8 hours of use. The engine oil and spark plug have to be changed after 24 hours and 100 hours of use, respectively.
As a precaution, it's important not to store the fuel for more than a month.
You get a 2-year limited warranty on this snow blower. The warranty starts from the date of purchase and includes replacement of damaged parts without any charges, provided they were not misused or mishandled.
Price of the Wen SB24E
This snow blower from Wen is a bit pricey compared to other similar products from brands such as Snow Joe and YardMax. Compared to products from these brands, you will be spending a little extra.
Plus, since it's powered by gasoline, it's bound to incur additional costs in the long run. Providing additional power options, such as a battery, would have done a lot of justice to its price.
Pros and cons of the Wen SB24E
There are so many awesome features that we've mentioned here that you might begin to ask yourself if this machine has any downsides. Well, there are quite a few, and we will discuss them below.
Pros
Impressive clearing depth
High throwing distance
Self-propelled for easier use
Requires just one push on the start button to power on
Flexible auger navigation
Cons
Not meant for use in tight corners
Doesn't come with an LED light
A bit bulky and difficult to store
Who Should Buy the Wen SB24E ?
This snow blower is ideal for those who need to clear large areas, such as farmlands, sidewalks, and runways.
It isn't suitable for homeowners who need a convenient tool, and this is because it might be too large to use in tight corners, like your backyard.
Our Recommendation
There are a lot of positives to take from the Wen SB24E, despite its high price tag. We know it weighs a lot, but the addition of a mobility kit makes the weight less significant. Since it's self-propelled, its movement is automated.
This means you won't have to do a lot on your own in terms of moving it around. Combined with its discharge ability, snow clearing will be less stressful, even for a 70-year old retiree who lives alone.