In Brief: Ariens Classic 24 Review
The Ariens Classic 24 is a Snow Blower featuring a 208 cc engine and electric start mechanism that is built to last. The Ariens Company put all-steel components on this product to ensure the machine serves you longer. A cast-iron gear case is also present to cut through the snow and protect the gear itself.
Its compact size makes movement and storage easier.
The Ariens Classic 24 is a product of the Ariens Company, which was founded in 1933. With its headquarters in Brillion, Wisconsin, USA, the company specializes in producing commercial and residential lawn care and snow removal equipment.
This machine is powered by a powerful 208cc Ariens Ax engine that can clear 58 tons of snow per hour.
The machine is built to last you longer with all its features made of steel. It is a powerful choice for any amount of snow.
Key Specifications of the Ariens Classic 24 Review
Here are some of the features put in place by the Ariens Company that makes this machine a preferred choice.
The machine is compact and has a user-friendly design, as well as one-hand operation capability. These features make the machine easy to use. It has a serrated steel auger that easily cuts through the snow.
A top-loaded aluminum gear case is present to prevent oil leakage. This makes it economical for the operator, since it has an electric start. All that is required is to push a button, and the machine starts automatically.
Here is a demonstration video of the Ariens Classic 24 in action :
Here is the long list of specs of Ariens Classic 24 :
Specification
Model Number/ Name
920022
Powered By
Gas
Engine Power
208cc
Stages
2 stages
Clearing Width
24 inches
Ideal for how many inches of snow (depth)
N/A
Warranty
3-year warranty period
Weight
214 lbs.
Start Mechanism
Electric
Other Features
Housing height of 20 inches
Unique Features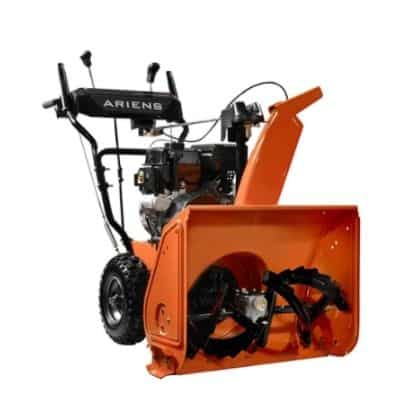 Some of the features that make this two stage snow blower effective include the following :
Cast-Iron Gear Case
The gear case of the Ariens Classic 24 is made of cast iron, which helps in clearing out more snow.
This feature makes the machine durable and able to serve you for a long time. The case protects the gear from any external damages.
Remote Chute and Cap
The quick-turn chute is 2.5 times faster than other options. Offering 205 degrees of rotation, this chute makes disposing of the powder easy and effective.
You can collect the snow in any place you want, as it covers a throwing distance of between 3 and 40 feet.
All-Steel Construction
This entire machine is made of steel from the handlebars to the serrated auger. This makes it one of the most durable snow blowers from Ariens.
Power and Snow Clearing Capability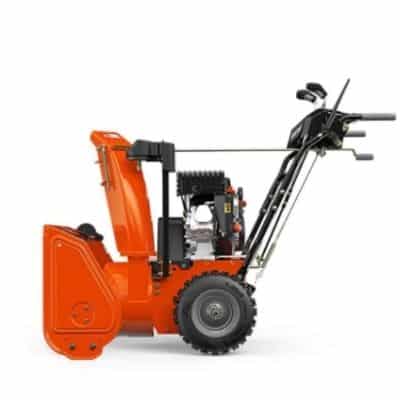 When looking at the power produced by this machine, it is important to know the engine's abilities. It has an Ariens Ax 208cc gas engine that produces enough power to move snow with ease.
The power produced can displace up to 58 tons of snow per hour.
When it comes to its snow clearing capability, it has a clearing width of 24 inches. It features a housing height of 20 inches and a throwing distance of between 3 and 40 feet.
The remote chute has a turning radius of 205 degrees, allowing for effective snow disposal.
Ease Of Use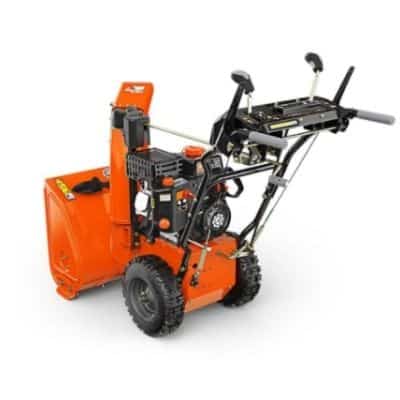 The Ariens Classic 24 is a snow blower that needs basic skills to operate. For a start, it has an electric start that allows you to start the machine with ease by simply pushing a button.
This snow blower also has tires that produce enough traction for you to move on heavy snow. It also has 2 handles that make movement through the snow easier.
You can steer the machine with the help of these handle grip controls.
It is a machine that offers one-hand operation, allowing you to easily make quick shifts and directional changes.
Ease Of Maintenance, Repairs, and Warranty
Every machine out there on the market needs to be well-maintained for the best results. For the Ariens Classic 24, it requires minimal maintenance efforts.
You simply need to refill the fuel tank if it runs dry, check and change the oil, tighten loose nuts, clean the machine, store it properly, and perform other basic maintenance duties.
You can always ask for professional help when dealing with repairs. The machine has a warranty period, so damages encountered are covered by the warranty depending on the cause.
Warranty
The Ariens Company offers you peace of mind when you purchase this product. It gives you a 3-year warranty period for residential snow blowers and a 90-day warranty period for commercially used snow blowers.
The warranty does not cover damages resulting from improper installation of the machine.
If you have questions concerning the warranty or the product, visit any of the company's social media platforms, including Facebook, Twitter, Instagram, and YouTube.
Price Of the Ariens Classic 24
One of the pros of this machine is that it is affordable. Considering its powerful abilities, the machine comes at an affordable price, and everyone should take advantage of that.
Even when comparing its price to other similar snow blowers, it is evident that it fits any budget.
Pros and cons Ariens Classic 24
Here are some of the pros and cons of the Ariens Classic 24 :
Pros
Affordable
Easy to use
Durable
Economical
Cons
Does not come with heated grips
Who Should Buy the Ariens Classic 24 ?
This machine is effective in medium to large snow-covered areas. It has a powerful engine that can clear up to 58 tons of snow per hour.
This machine is also for those looking for an effective snow blower at a very affordable price.
For those living on rocky areas and gravel surfaces, this machine proves to be of help, as it is made of steel all around.
The machine can work on rough terrains and also protect its inner components.
Our Recommendation
It is clear that the Ariens Classic 24 is the choice for anyone out there who is experiencing snow problems.
We recommend this machine because it works effectively, and reviews have confirmed that.
Get your machine today and get rid of the snow blocking your driveway and your beautiful lawn.
Last update on 2023-09-29 / Affiliate links / Images from Amazon Product Advertising API