In Brief: Ariens Hydro Pro 28 Review
With a powerful 420cc engine and a 28-inch clearing width, the Ariens Hydro Pro 28 will handle any snow with ease. In case you are in the market for a 2-stage Snow Blower that delivers powerful performance and is easy to use, then look no more. For durability, the machine is made of heavy-duty material. This machine can be used on both paved and gravel driveways. If you have a large driveway, it is crucial you invest in a powerful snow blower to clear the winter snowfall, to save you time and energy.
The Ariens Hydro Pro 28 is certainly going to meet your power needs. Featuring an electric start system, powering the machine up requires minimal effort. The machine is a product of Ariens Company (AriensCo), which has been in operation since 1933. AriensCo is based in Brillion, Wisconsin, USA.
Operating the machine is a joy thanks to the numerous innovative technology it comes equipped with.
Key Specifications of the Ariens Hydro Pro 28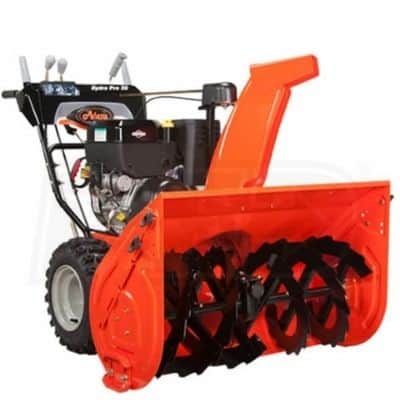 This machine was specifically designed for those who settle for nothing but the best.
The 120 Volt electric start system allows you to start the powerful 420cc Ariens AX engine with ease.
With this machine, you get to enjoy infinite speed control thanks to the hydrostatic drive system.
Despite its huge size, maneuvering this machine is made easy by the auto-turning steering technology.
Its 28-inch clearing width and 23.5-inch intake height combined with the powerful engine to enable the machine to handle any snow.
The adjustable chute control has a rotational radius of 200 degrees and a capacity to throw snow up to 60 feet.
With its halogen headlights, you can easily work in the dark. The interlocking controls lock both handles to allow single-hand operation.
Check out this video for more :
Here is the long list of specs of the Ariens Hydro Pro 28 Snow Blower :
Specification
Model Number/ Name
926053
Powered By
Gas
Engine Power

420cc
Stages
2-Stage
Clearing Width
28 Inches
Intake Height
23.5 Inches
Warranty
3 Years
Weight
325lbs
Start Mechanism
Electric/Recoil
Other Features
Halogen Headlights
Unique Features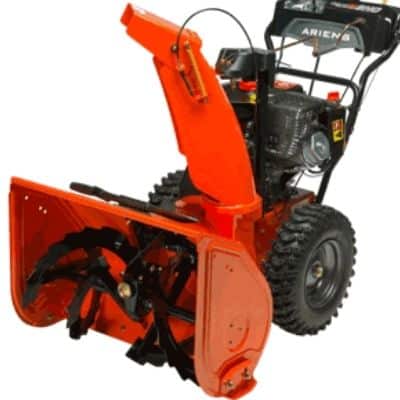 The following unique features make this product exceptional :
Halogen headlights
With the Ariens Hydro Pro 28, you can work at any time of the day thanks to its halogen headlights. This feature enhances your vision when working in the dark.
Hand warmers
Working a snow blower in the cold can be daunting. The cold weather freezes your hands, making operating the machine rather difficult.
To remedy this, the manufacturers added heated handlebars to warm your hands during sub-zero weather.
Hydrostatic drive system
This innovative technology lets you enjoy infinitely variable speeds of up to 2.6 mph.
No warm-up time is needed since the Ariens Hydro Pro 28 is cold start capable. For durability, the gear case is made of high-end commercial-grade cast iron.
Power and Snow Clearing Capability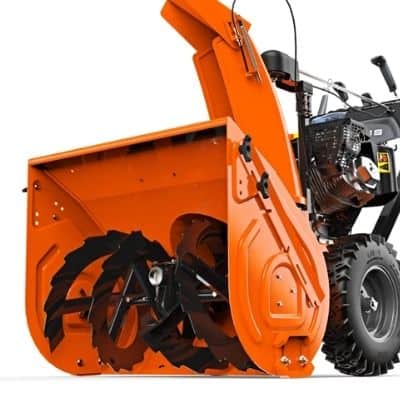 Powered by a Polar Force 420cc 4-cycle OHV engine, this snow blower will certainly meet your power needs.
The gas engine has a torque of 21lbs. With an ample fuel tank capacity of 5.9 gallons, you are sure to cover a considerable amount of space with a full tank.
The intake height is 23.5 inches, while the clearing width is 28 inches. Its chute rotation radius is 200 degrees. This snow blower has the capacity to throw snow up to 60 feet.
Ease of Usage
This machine is loaded with innovative features for easy usage. Starting the powerful 2-stage snow blower requires little effort thanks to the 120 Volt electric start.
With this feature, you easily power up the machine by the push of a button.
For enhanced visibility during times when lighting is low, the Ariens Hydro Pro 28 comes fitted with halogen headlights.
The heated handlebars give you warmth and comfort while working in sub-zero weather conditions.
Its auto-turn steering technology eases the maneuvering of this huge machine. Using a single lever, you can easily adjust the 200-degree radius discharge chute's height and direction.
Single-hand operation is made possible by the interlocking controls.
Ease of Maintenance, Repairs, and Warranty
This rugged beast is very easy to maintain.
The machine typically demands general maintenance practices such as tightening loose bolts, cleaning up after use, regularly checking the oil levels, and using the right fuel.
Replacing worn-out parts is easy since they are readily available.
As the snow blower is built with quality materials, you are assured of a long service life. It is rare for the machine to break down.
However, in case of a serious issue, take the machine to an Ariens approved service center. Provided it is within the warranty period, you won't be charged.
The machine comes with a commercial warranty of 1 year and a 3-year consumer warranty.
Price of the Ariens Hydro Pro 28
Given its incredibly powerful performance and the premium features it offers, this machine is reasonably priced. The innovative technology makes handling the machine a breeze.
Compared to other products offering the same level of performance, the Ariens Hydro Pro 28 is cheaper.
Pros and cons of the Ariens Hydro Pro 28
The following are the pros and cons of the Ariens Hydro Pro 28 :
Pros
Powerful performance
Durable
Heated hand grips
Cold-start capable
Interlocking controls
Cons
Start-up cord sold separately
Who Should Buy Ariens Hydro Pro 28 ?
This machine is best suited for people looking for a powerful yet easy-to-operate dual-stage snow blower.
The 120 Volt electric start and auto-steering technology make it possible for anyone to operate the machine easily.
The machine can handle both paved and gravel driveways with ease. Its exceptional power and ample fuel capacity make it ideal for people with large driveways.
Our Recommendation
It is with utmost certainty we conclude that this is a one-of-a-kind outdoor power tool. Very few 2-stage snow blowers can deliver the level of performance and convenience you get to enjoy with this unit.
The Ariens Hydro Pro 28 demands little to no maintenance. We recommend this unit to anyone looking for an easy-to-use yet powerful 2-stage snow blower.