In Brief: Ariens Platinum 30 SHO Snow Blower Review
The Ariens Platinum 30 SHO is a powerful 4-cycle overhead valve engine Snow Blower. With a clearing width of 30 inches, it can blow through snow as deep as 21 inches. This machine is equipped with a 3-blade profile and an auger made of serrated steel. It has a maximum throwing distance of 55 feet.
The Ariens Company is a Wisconsin-based manufacturer that specializes in manufacturing equipment such as lawn mowers, lawn tractors, and snow blowers.
Starting with just four employees in 1973, the company now employs more than 1,500 people to assemble, design, and fabricate its machines.
The Ariens Platinum 30 SHO with a 4-cycle OHV engine is part of their snow blower line.
Key Specifications Of the Ariens Platinum 30 SHO
The Ariens Platinum 30 SHO is a snow blower with a wide clearing width of 30 inches, and it can move up to 82 tons of snow in an hour. It has a 414cc Ariens AX Gen3 engine with a 14-inch high-performance impeller.
This piece of equipment has enough horsepower to push through thick, heavy snow. It can power through snow as deep as 21 inches, and it has auto-turn steering technology and interlocking handles that you can use for one-hand operation.
Check out the YouTube video below to see the Platinum Series from Ariens in action :
Here is the long list of specs of Ariens Platinum 30 SHO Snow Blower :
Specification
Model Number / Name
Ariens Platinum 921051

Powered By
Manual / Electric / Corded / Gas

Engine Type
4-Cycle OHV Engine

Fuel Tank

0.8 Gallons
Torque
20 Pounds

Clearing Width
30 Inches
Turning Radius
200 Degrees
Ideal for how many inches (depth of snow)
21 Inches
Warranty

Up to 3 Years
Weight

293.8 Pounds
Start Mechanism

Electric and Recoil
Remote Deflector Controls

Yes
Hand Warmers
Yes
Interlocking Controls
Yes
Drift Cutters

Not Included (sold separately)
Unique Features
The Ariens Platinum 30 SHO comes with quite a lot of features. Let's check out the most unique ones.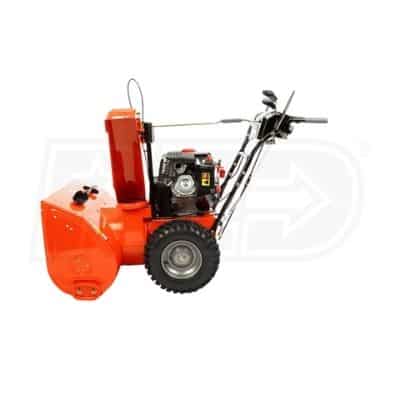 414cc Ariens AX414 Engine
This blower features an engine from Ariens itself that can function in the most negative weather conditions.
The engine has a 0.8-gallon fuel tank and starts electrically and by recoil. Note, however, that it is not sold with the cord.
Super-high output impeller
The SHO at the back of the Ariens machine indicates that the impeller has a super-high output.
The impeller of the machine is a fast-spinning one, thanks to the modified pulleys and belts that let you throw the snow up to 55 feet from your driveway.
Auto-Turn Steering
One of the highlights of the Ariens Platinum 30 SHO is the automatic-turn steering.
This is a steering technology that changes the direction of the machine automatically as the operator turns. It directs the machine's inside wheel so it can turn easier.
Power and Snow Clearing Capability
This gas powered snow blower has an impressive horsepower that can push through snow as deep as 21 inches while offering 30 inches of width.
This is due to the powerful 4-cycle overhead valve engine (OHV) that is built by Ariens. It can throw a maximum distance of 55 feet or 17 meters.
Ease Of Use
Using this snow blower is relatively easy thanks to the ergonomic design of the handles and the integrated technology.
The automatic-turn steering is a technology that helps you get more from your machine with little effort. Turning is easy and automated with this technology.
Also, the handles are made of ergonomic grips for easy handling of the equipment. Pushing through the snow in subzero temperatures can be an insufferable exercise.
However, Ariens thought about this and equipped the handling system with a set of hand warmers that should keep you warm.
Ease of Maintenance, Repairs, & Warranty
The Ariens Platinum 30 SHO is not a perfect piece of snow-blowing equipment. As has been noted by users of the product, it can experience occasional problems, especially with the auto-turn feature.
However, this can be resolved by doing some self-troubleshooting with the help of the instruction guide that comes with the product.
If the machine develops a serious problem that you cannot handle alone, you can take advantage of the warranty coverage.
The Ariens Platinum 30's gearcase comes with a very extensive warranty.
For residential use as a property owner, you have as much as 5 years of consumer warranty, and for commercial use, you have up to 1 year of warranty.
Price Of the Ariens Platinum 30 SHO
The Ariens Platinum 30 SHO is available for under $2,000. For a 2-stage snowblower with a 414cc engine, this is a fair price.
Of course, there are much cheaper snow blowers on the market, but the features, power, and technology integrated into this piece of equipment make the price justifiable.
Pros and cons Ariens Platinum 30 SHO
The snow blower wields an impressive power that pushes through snow like a tractor. It comes with a couple of useful features, but it's not perfect. Below, we break down the upsides and downsides of the machine.
Pros
55-foot throwing distance
30-inch clearing width
Up to 5 years of warranty
Ergonomic handles
Starts easily
Cons
An expensive machine
Heavy piece of equipment
Who Should Buy the Ariens Platinum 30 ?
As indicated by the company, this Ariens Platinum product is suitable both for residential and commercial use.
It is a handy piece of equipment to have for use in a small or large yard.
Our Recommendation
The Platinum 921051 super-high output impeller snow blower from Ariens has automated features and is easy to assemble. Considering the price, we recommend it for anyone who has the budget.
Admittedly, it may come with a few operating issues, but the instruction manual is there to deal with these. Also, the extended warranty coverage is there to fall on, just in case!
We recommend it for commercial use because of its powerful engine and automated steering technology.
Last update on 2023-09-28 / Affiliate links / Images from Amazon Product Advertising API