In Brief: Ariens Professional Rapidtrak Review
If you need an amazing snow blower with great features, then the Ariens Professional Rapidtrak Snow Blower is your best bet. It comes fully equipped with a clearing width of 28 inches, a snow intake depth of 23.5 inches, and a snow depth of 60 feet. It is very easy to use and is readily maneuvered. You sure will ensure your snow clearing using this tool.
As a brand, Ariens has been committed to providing you with helpful tools that aid the overall well being of human existence. Their tools include mowers and snow blowers.
The Ariens Professional Rapidtak (28") Two-Stage Snow blower is one of such helpful tools from Ariens. It is efficient, quite easy to use, and durable.
It has a large clearing width, a great snow depth, and an amazing throw distance, which combine to make one of the best snow blowers.
Key Specifications of the Ariens Professional Rapidtrak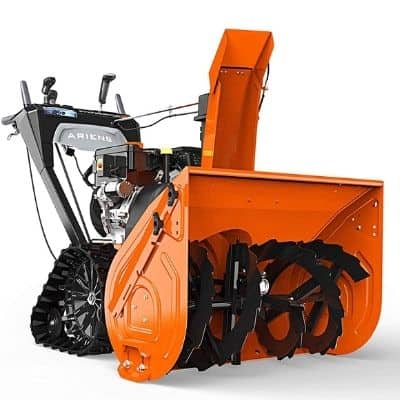 This snow blower comes with a wide clearing range of 28 inches, making it easy to take out large quantities of snow in one scoop.
It is highly suitable for medium to large-sized driveways and is also a good professional snow clearing equipment.
With a snow depth of 23.5 inches, you can be certain of a quick clean down to ground level, all done without a scratch on your floors.
The snow blower will work extensively on a 0.8-gallon tank of gasoline and will not require any refuelling while you work.
It is efficient, effective, and can be readily maneuvered to accommodate even the most difficult turns.
See the video below for more on the features :
Here is the long list of specs of the Ariens Professional Rapidtrak Snow Blower :
Specification
Model Number / Name
926078
Powered By
Gas
Engine Power
420cc
Stages
Two-stage
Clearing Width 
28 inches
Ideal for how many inches of snow
23.5 inches
Warranty

3 years residential, 1 year commercial

Weight
339 pounds
Start Mechanism
Electric start; Recoil

Other Features
Up to 60 feet of snow throwing distance
Unique Features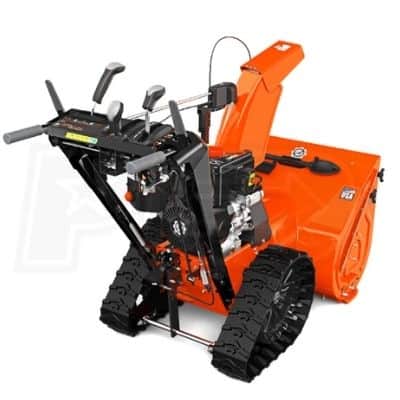 Let's discuss the uniqueness of this snow blower by looking at some of the unique features.
Brutish Engine
Operating the 420cc Ariens Polar Force AX Engine, the snow blower starts up quickly and will not be impacted by negative temperatures.
This engine is also able to provide it with enough torque strength.
Unrivaled Traction
The snow blower is designed with the Rapidtrak traction, which provides three adjustable track positions.
These include the track mode, the wheel mode, and the dig-in mode. The track mode is used for regular snow removal, wheel mode for maneuverability, and the dig-in mode helps with treacherous conditions.
Drift Cutters
This design helps especially when the elements are battling intensely against you. It, therefore, makes it more convenient to deal with such snow.
Power and Snow Clearing Capability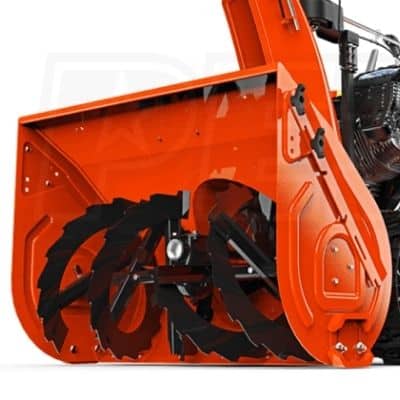 The snow blower is powered by a 420cc Ariens Polar Force engine, which is strong enough to allow it to start up even in extremely low temperatures.
This equipment has a clearing width of 28 inches, a snow depth of 23.5 inches, and a throw distance of 60 feet.
All these combined make it a great choice for the thickest snow as it clears it all off in a breeze.
Ease Of Usage
With an engine that is easily started even at sub-zero temperatures, this snow blower will give you no difficulties.
In case of any failures on the electric starter, it gives you an alternative in the backup recoil starter, ensuring you can clean out snow anytime.
The drive system and the traction provide easy movement and control of this snow blower. Every turn is easily made, and getting stuck in the snow is not a possibility.
This allows you to work fluidly and quickly for a cleaner and more beautiful driveway.
It runs on 0.8-gallon gasoline and will require no refill for a while once filled to that capacity. This is thanks to the fuel optimization of the engine.
Ease of Maintenance, Repairs, & Warranty
Regular checking and change of oil and topping up of gasoline are some of the routine maintenance and checks that this snow blower requires.
If there are any parts that need replacements, they can be readily sourced for in the markets.
Like most of the snow blowers from Ariens, this also comes with a three-year residential warranty and a 90-day warranty, which covers factory defects and faults.
You can easily get your warranty through an authorized dealer after product registration through www.ariens.com .
Price of the Ariens Professional Rapidtrak
This snow blower is a little on the expensive side. However, if you are in the snow clearing business, then it is quite the buy for you.
Also, when you consider the great features of this blower and all the care taken in the design, then we can say it is real value for money spent.
Pros and cons of the Ariens Professional Rapidtrak
Let's take a look at the advantages and disadvantages of this snow blower below.
Pros
Easily operated
Good maneuverability
Built to last
Ergonomically designed
Cons
A bit expensive for usual blowing
Heavy and bulky for regular use
Who Should Buy the Ariens Professional Rapidtrak ?
The snow blower is suitable for professional snow clearers involved in snow clearing regularly. It is also ideal for homeowners who have high snow clearing abilities or who live in areas with high snowfalls.
If you have a large driveway and experience heavy snow regularly, this snow blower will definitely be for you.
Our Recommendation
Generous snow clearing width, high snow depth, long throwing distance, and rotational chute angles make this snow blower a perfect choice, especially for snow prone areas.
In addition, Ariens Professional Rapidtrak Track Drive Snow Blower is easy to use and very easily controlled, so it will give you no problem while in use.