Pressed for time? Check our best picks
SHOP FOX W1704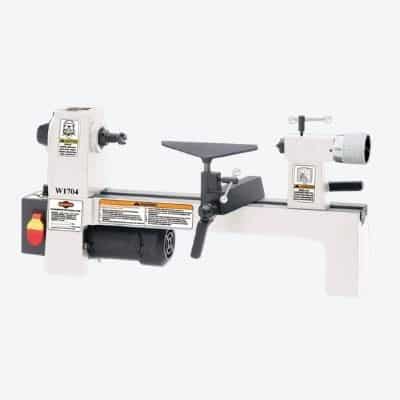 Generous bed size
Sturdy construction
Comes with a faceplate
JET JWL-1221VS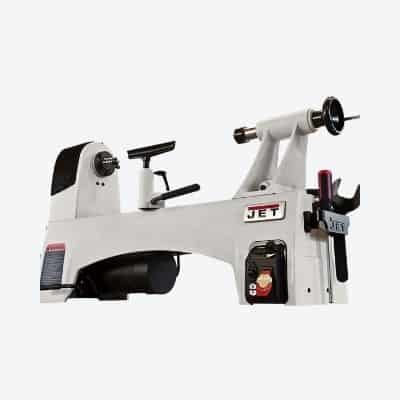 Variable speed
Digital RPM readout
Robust design
WEN 3420T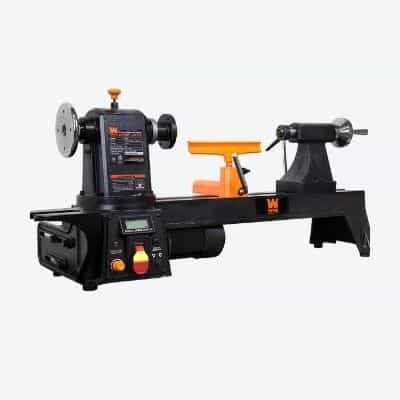 User-friendly
Integrated faceplate
Powerful
Our reviews are unbiased, fact-based, and comprehensively researched to help you make the right buying decisions.



Lathes are the heart and soul for any woodturning project.
If you're making bowls, baseball bats, newels, or any other cylindrical or rounded object, a lathe is your go-to tool to make production a lot easier.
However, if you don't have the floor space for a full-sized machine or if you're short on funds, you can pick up an inexpensive benchtop lathe that'll work nearly as well.
In this guide, we'll show you what the best benchtop lathe on the market is after researching and comparing over 30 models.

Best Benchtop Lathe – SHOP FOX W1704
The best benchtop lathe model that outshines more than 30 of its peers is the SHOP FOX W1704.
It doesn't look like a lot, but inside of this machine is a heavy-duty motor that'll turn large workpieces at high speeds for easier shaping and sanding.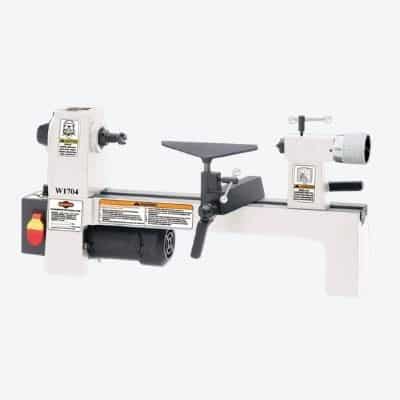 Below, you'll find the key specs of the W1704—
700-3200 RPM
8-inch Swing Over Bed
13-inch Centers Distance
Comes with 2 Tool Rests
The W1704 is the perfect option for first-time users and experienced woodturners.
This benchtop lathe accepts blanks of up to 8 x 13 inches and turns them at a rate of up to 3200 RPM, which is much faster than other benchtop models you'll find.
Its 1/3-HP motor produces both speed and high levels of torque to make woodturning projects go by in a breeze.
A 4.25-inch tool rest helps support your carving tool to shave off thin layers of your blank with each revolution.
Shop Fox also includes a 7-inch-wide tool rest for helping in guiding your tool when carving into longer workpieces.
The W1704's is made of cast iron, so you won't have to worry about it warping out of shape.
To see the W1704 in action, take a look at this brief video. 
Pros
Generous bed size
Sturdy construction
Comes with a faceplate
Two tool rests for small and medium-sized jobs
Cons
Faceplate's locking bolts could screw on tighter
The SHOP FOX W1704 is an excellent addition to any beginner, novice, and even professional woodturner's shop with no floor space to allocate to a full-sized wood lathe.
Top Benchtop Lathes
Compared
Product Image

Product Name

Features

Price



Best Overall - SHOP FOX W1704


RPM: 700-3200 RPM

Swing Over Bed: 8 in

Centers Distance: 13 in

Comes with 2 Tool Rests




Check Today's Price





Best Premium - JET JWL-1221VS


RPM: 60-3600 RPM

Swing Over Bed: 12 in

Centers Distance: 21 in

Optional Bed Extension




Check Today's Price





Best Budget - WEN 3420T


RPM: 750-3200 RPM

Swing Over Bed: 8 in

Centers Distance: 12 in

Comes with 2 Tool Rests




Check Today's Price





Delta Industrial 46-460


RPM: 250-1750 RPM

Swing Over Bed: 12.5 in

Centers Distance: 16.5 in

Patented Belt Tensioning System




Check Today's Price





NOVA 46300 Comet II


RPM: 250-4000 RPM

Swing Over Bed: 12 in

Centers Distance: 16.5 in

12-Point Index




Check Today's Price





RIKON 70-100


RPM: 70-1720 RPM

Swing Over Bed: 12 in

Centers Distance: 16 in

Self Ejecting Tail Stoc




Check Today's Price





Jet JWL-1015


RPM: 0-3975 RPM

Swing Over Bed: 10 in

Centers Distance: 15.5 in

Optional Bed Extension




Check Today's Price



Reviews of Best Benchtop Lathes
Best Premium - JET JWL-1221VS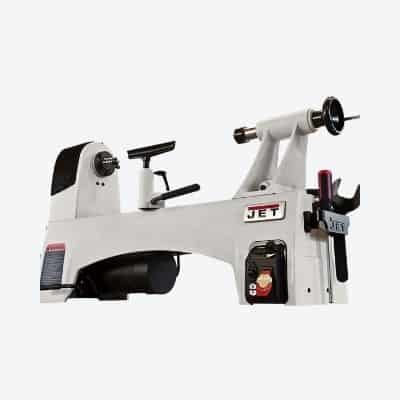 Key Specifications
60-3600 RPM
12-inch Swing Over Bed
21-inch Centers Distance
Optional Bed Extension
The JET JWL-1221VS is the ideal tool for anyone who wants to make bowls, pens, and newels.
It has the capacity to hold onto blanks of up to 12 x 21 inches, so whether you work with smaller stock or longer ones, the JWL-1221VS will be there for you.
You can extend its distance between centers to up to 40 inches by getting the bed extension attachment (sold separately).
The controller can be found near the tailstock side of the tool.
Right next to it is a handy storage compartment for all of your carving tools and wrenches.
Thanks to the improved ratchet-style tensioning system, you won't have any trouble adjusting the spindle speed from between 60 and 3600 RPM.
Pros
Variable speed
Digital RPM readout
Robust design with minimal vibration
Ideal for beginners and small workshops
Cons
Forward and reverse buttons could be clearer
Knowing whether the JWL-1221VS' spindle is working in reverse or not can be confusing at times, this is by no means a deal-breaker.
Best Budget - WEN 3420T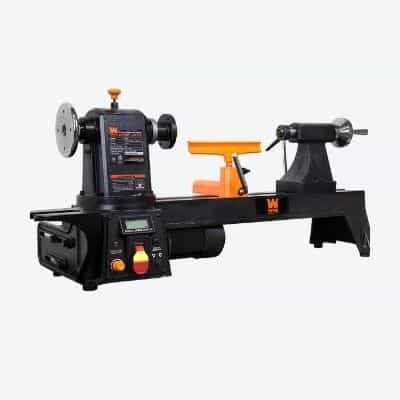 Key Specifications
750-3200 RPM
8-inch Swing Over Bed
12-inch Centers Distance
Digital RPM Readout
If you're shopping for a benchtop lathe on an ultra-thin budget, the WEN 3420T is the perfect choice for your workshop.
It only holds onto 8 x 12-inch stock, but for making bowls, pens, rings, and other smaller, rounded objects, you won't have any trouble.
Plus, this machine can turn 8-inch-wide blanks at up to 3200 RPM for quicker carving and sanding.
This benchtop lathe has two different speed settings: variable and fixed.
With variable speed, you have complete control over how quickly the spindle rotates (between 750 and 3200 RPM), and the digital readout will eliminate the need to guesstimate speed.
Even at its highest speed setting, the 3420T hardly vibrates.
Pros
User-friendly
Integrated faceplate
Powerful, high-speed spindle
Complete accessory list (chisels not included)
Cons
Motor could dissipate heat better
The WEN 3420T isn't something that's going to work for hours and hours, but it certainly can get minor jobs done in a jiffy.
Delta Industrial 46-460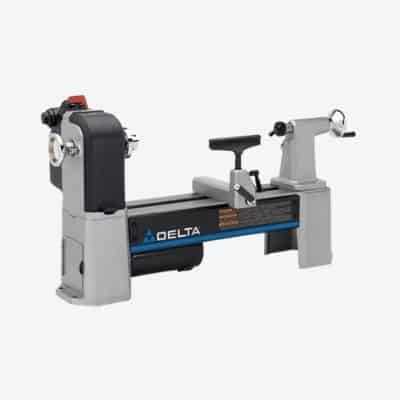 Key Specifications
250-1750 RPM
12.5-inch Swing Over Bed
16.5-inch Centers Distance
Patented Belt Tensioning System
The Delta 46-460 is one of the most user-friendly benchtop lathes on the market.
It comes with a hefty 1-HP motor that spins wood, plastic, and metal stock at speeds of up to 1750 RPM.
Compared to other models, this is hardly anything to brag about, but with a minimum speed of 250 RPM, you can use this machine to shape denser materials as well.
This benchtop lathe comes with a reverse gear and pulley system that helps minimize vibrations, even though the cast-iron legs do a good enough job already.
The patented tensioning system of three pulleys lets you fine-tune the spindle's speed to match your exact needs.
Delta also protects your purchase with a five-year warranty.
Watch this demonstration video of the 46-460 to see what it can do.
Pros
5-year warranty
Easy to operate
Small form factor
Pro 4Powerful motor for size
Cons
The handwheel could be less wobbly
The versatility and power of the 46-460 is reason enough to pick this unit up, and the five-year warranty is the generous cherry on top of it all.
NOVA 46300 Comet II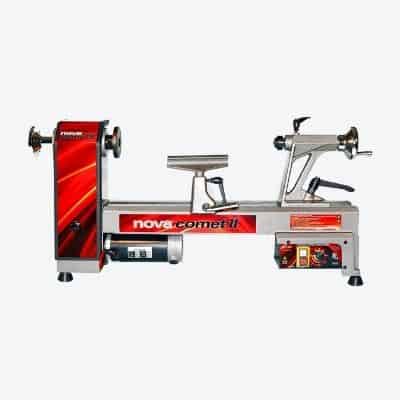 Key Specifications
250-4000 RPM
12-inch Swing Over Bed
16.5-inch Centers Distance
12-Point Index
The NOVA 46300 Comet II sports a sizable ¾-HP motor that provides more than enough power for noncommercial woodturning projects.
This user-friendly benchtop lathe operates at speeds of between 350 and 4000 RPM, giving you the capacity to turn all kinds of materials between the centers, even metal.
With six inches of clearance between the center and bed, you can make foot-wide plates and vases on this machine.
With the 12-point indexing system, you can keep the headstock in place while you create sketches for intricate curved designs on your bowls, plates, or pens.
Thanks to this system, you can "break" your rounded workpiece into several manageable pieces with better appeal.
Pros
Wide speed margin
Compact, robust design
Forward and reverse gears
Easy-to-adjust speed settings
Cons
Bed could be slightly longer
Like many other benchtop lathes, the Comet II is compatible with a bed extension.
However, novice woodworkers probably won't need to pick it up since the 16.5-inch bed already offers enough clearance for most simple projects.
RIKON 70-100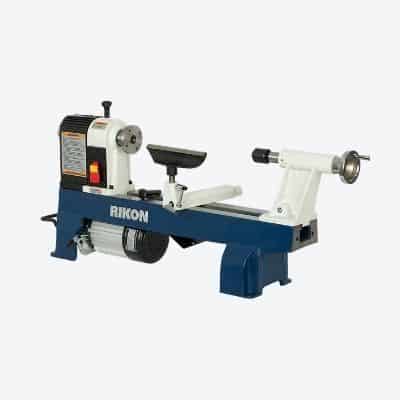 Key Specifications
70-1720 RPM
12-inch Swing Over Bed
16-inch Centers Distance
Self-Ejecting Tailstock
The RIKON 70-100 is one of the more simple-looking benchtop lathes out there.
However, its ½-HP motor and 1720-RPM max turning speed is nothing to laugh about.
It can also accommodate 12 x 16-inch blanks, which is a major plus for those who want to turn bowls, plates, pens, and newels with this machine.
The tailstock can slide right off to make more room for longer blanks, so carving furniture legs isn't out of the question. You don't even need a knockout bar to do so.
There's also a 12-point indexing system, which will come in handy when you want to pencil in cut marks for intricate, curved decorations.
Pros
Comes with faceplate
Large holding capacity
Rapid speed adjustments
Tailstock slides out effortlessly
Cons
The tailstock's locking lever could be stronger
The RIKON 70-100 is a compact tool that offers a ton out power output compared to most of its peers.
Jet JWL-1015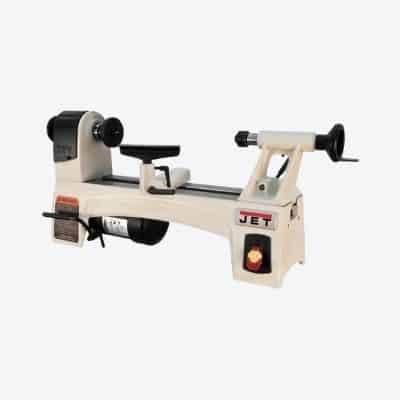 Key Specifications
0-3975 RPM
10-inch Swing Over Bed
15.5-inch Centers Distance
Optional Bed Extension
The Jet JWL-1015 is another fantastic beginner-friendly benchtop lathe that comes with a high-powered motor and six spindle speeds.
At most, this Jet lathe operates at 3975 RPM, which is more than you'll need to shape and sand your workpiece to perfection.
It only accommodates 15.5-inch-long blanks, but an optional bed extension will increase your workspace by several inches to work on furniture legs and the sort.
This benchtop lathe features an enhanced tensioning system that simplifies the task of shifting the drive belt from gear to gear.
With a wider bed, you'll have better access at carving your spinning blank from all angles. A 24-point indexing system will enhance how complex you can make designs on bowls and pens.
Pros
Powerful motor
Lightweight yet durable
Great for first-time woodturners
Flexible spindle speed settings
Cons
Need to turn off machine to adjust belt positions
Turning off the machine prior to shifting gears is hardly an inconvenience, and it will also improve the safety of modifying this machine's spindle speed.
Best Benchtop Lathe Buying Guide
Now, let's take a closer look at benchtop lathes and how to find the perfect unit for your workshop.
What is a benchtop lathe?
"Benchtop lathe" is pretty self-explanatory. A benchtop lathe is as a woodturning machine that rests atop a workbench or other flat surface. Unlike freestanding or full-sized lathes, this tool takes very little space in your workshop, but their beds can offer a wide clearance for making all sorts of objects.
Benchtop lathe vs. mini/midi lathes
Mini and midi lathes both fall into the benchtop category. There's no definitive definition of what either of these types of lathes is other than the size of the blank that fits between their centers. If you're searching for a mini lathe or a midi lathe, they're more than likely going to be a benchtop model.
What can a benchtop lathe do?
The potential of a benchtop lathe is mostly limited by the size of its bed and distance between the two centers. A benchtop lathe can be used to make bowls, pens, newels for rails, turrets, and a million other cylindrical objects. You can also pop a rounded object onto the lathe's faceplate or chuck and sand it smooth with sandpaper.
Important Considerations
Speed
Benchtop lathes are mainly used for woodworking, so their spindle speeds can go beyond the 3000-RPM mark.
However, if you want to use your lathe to shape metal, find a model that has a lower minimum RPM rating.
Capacity
Capacity refers to the swing and distance between the two centers or, in other words, how large of a blank can spin on the lathe.
Take a look at the machine to see its capacity rating and figure out whether it'll suit your woodworking projects' needs.
Weight
Benchtop lathes are a lot lighter than their full-sized counterparts.
However, their cast-iron bodies increase their weight and stability, which are crucial to ensure a vibration-less experience when operating the tool at its highest speeds.
Size
This refers to the physical size or dimensions of the tool. Benchtop lathes are always compact, but some take up less space than others.
You can gauge how much tabletop space the benchtop lathe will take simply by looking at it is capacity ratings.
FAQ's
Should I get a benchtop lathe?
The main benefit of a benchtop lathe is its cost. These are a lot more affordable than full-sized, freestanding models. However, they're also a lot smaller and have limited turning capacities. Generally speaking, benchtop lathes are great for beginner woodturners, but they can be surprisingly helpful in professional woodworking shops.
Should I get a variable speed or a drive belt benchtop lathe?
These systems refer to how the operator adjust the spindle speed. Variable speed machines are a lot easier to use since you won't have to manually reposition drive belts. Drive belt lathes can be confusing for first-time users, but they'll eventually get the hang of it. In our opinion, electric variable speed benchtop lathes are worth the added cost.
Can a benchtop lathe work on metal?
Yes, benchtop lathes can carve metal, but only if you can adjust the spindle speed to around 200 RPM or slower. Shaping metal objects requires a slower revolution speed at higher torque to cut cleanly through the dense material. If you want a lathe made specifically for metalworking, please check out our guide on the best metal lathe.
How long to benchtop lathes last?
In general, you can expect to get at least five years of work out of a benchtop lathe, but it's not uncommon for users to extend the usability of the tool by several years. However, as many people have found, their woodworking needs will eventually outgrow their benchtop lathe's capacity, meaning that they'll eventually invest in a larger lathing machine.
Summary
In today's guide, you've seen our overall best benchtop lathe pick.
We've also included several other benchtop lathes that we think you might be interested in seeing.
Any of the benchtop lathe models mentioned in this guide should prove to be more than effective at simplifying woodturning projects.
If you aren't sure which benchtop lathe is right for you, we're more than happy to help in the comments section.