Pressed for time? Check our best picks
Shop Fox M1018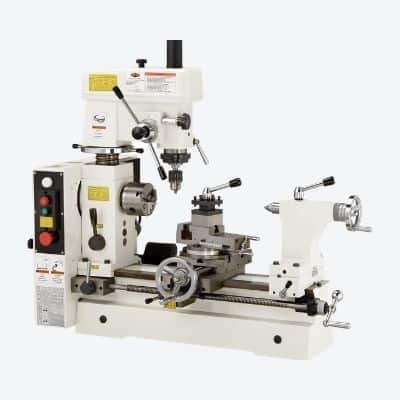 Excels at threading
Extra-versatile combo tool
Tight assembly, no wobbling/chatters
 CJC Multi-function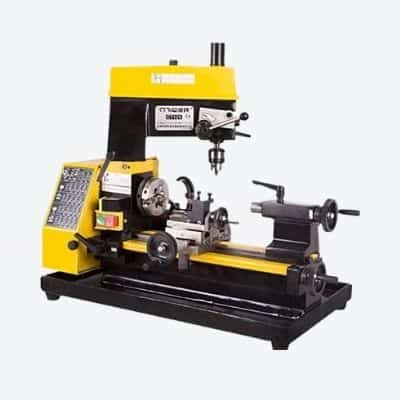 360° rotating head
Transparent chuck guards
High-powered brushless motor
Jectse 12000RPM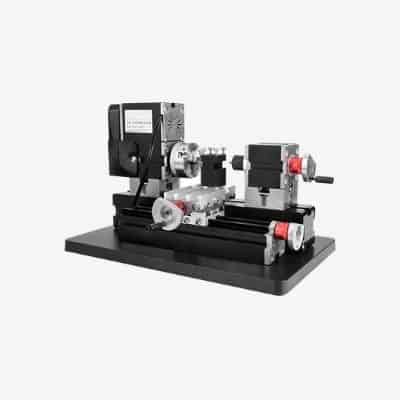 Durable construction
Supports central block
Powerful motor for benchtop lathe
Our reviews are unbiased, fact-based, and comprehensively researched to help you make the right buying decisions.



Here's the thing about combo tools: they typically don't master any particular job.
For example, lathe mill combos work well at performing both jobs, but they're not exactly the top lathe or the top milling machines.
Even though it'd be better to save up and get two separate machines, for the average user, this isn't necessary.
In this guide, we'll show you what the best lathe mill combo is out of over 20 we researched and compared, as well as talk about why someone might want to pick up a lathe mill combo.

Best Lathe Mill Combo – Shop Fox M1018
The best lathe mill combo out of the 24 models we analyzed and compared is the Shop Fox M1018.
It might look like an intimidating machine, but there's not a lathe mill combo that's sporting all of the hardware you'd want from a high-quality, user-friendly machine.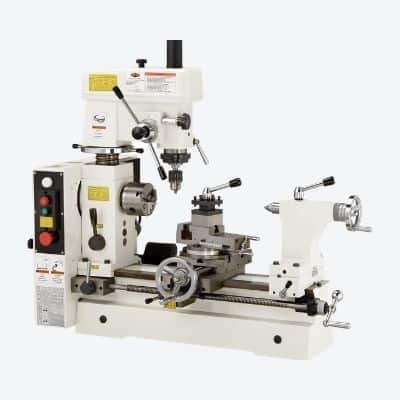 Let's take a quick look at the Shop Fox M1018's key specifications—
¾-HP Motor
16.5 x 19.25-inch Lathing Capacity
17-1,300 RPM
Manual Cross Slide Hand-Wheel
The Shop Fox M1018 is an entry-level machine that's great for turning, cutting threads into metal, drilling through metal, and general milling for small-scale projects.
On it is a 4-way turret post and a sizable 9.5-inch faceplate that lets you work with blanks of nearly any shape.
You can swap the faceplate out with a 4-inch 3-jaw chuck for turning cylindrical objects of nearly any materials.
The mill portion of the M1018 swings out of the way, giving you safer clearance for turning larger blanks between the centers.
And when you want to use the milling head, because it juts out past the chuck, you don't even have to disassemble the lathe chuck beforehand.
Pros
Excels at threading
Extra-versatile combo tool
Heavy for added stability
Tight assembly, no wobbling/chatters
Cons
Plastic gear teeth could be more durable
Overall, the Shop Fox M1018 is an excellent beginner-friendly lathe mill combo that would fit well on any benchtop.
Be careful when moving the tool since the plastic gear's teeth can break off quite easily (replacements are easy to find).
Top Lathe Mill Combo
 Compared
Product Image

Product Name

Features

Price



Best Overall - Shop Fox M1018


Motor: 3/4 HP

Lathe Capacity: 16.5 x 19.25 in

RPM: 17-1,300 RPM

Manual Cross Slide Hand-Wheel




Check Today's Price





Best Premium - cjc Multi-function Mini Lathe Machine


Motor: 150W

Lathe Capacity: 4.9 x 7.1 in

RPM: 560-2,500 RPM

Brushless Motor




Check Today's Price





Best Budget - Jectse 12000RPM Mini Lathe


Motor: 60W

Lathe Capacity: 3 x 5.31 in

RPM: 12,000 RPM

Single-Speed Operation




Check Today's Price





Proxxon 34104


Motor: 0.18 HP

Lathe Capacity: 1.38 X 15.75 in

RPM: 280-2,200 RPM

Comes with 3 Collets




Check Today's Price





Baileigh MLD-1030


Motor: 1 HP

Lathe Capacity: 9.75 x 29.5 in

RPM: 50-2,000 RPM

Dual Motors




Check Today's Price



Reviews of Best Lathe Mill Combo
Best Premium - cjc Multi-function Mini Lathe Machine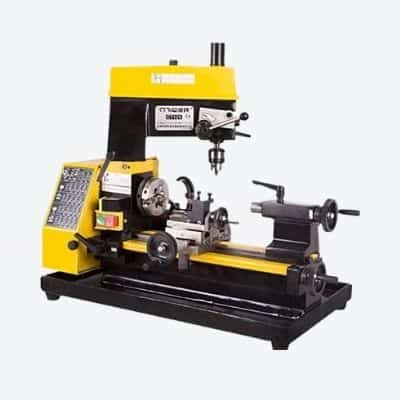 Key Specifications
150W Motor
4.9 x 7.1-inch Lathing Capacity
560-2,500 RPM
Brushless Motor
The cjc Multi-function Mini Lathe Machine is designed to for a number of different applications, including drilling, threading, and cutting materials from plastic to metal.
Most users use the cjc for turning and boring through stainless steel, jade, and even more intricate jobs like watch repair and parts fabrication.
In essence, this lathe mill combo is best used for industrial purposes and is not the most beginner-friendly lathe mill out there.
One of the cjc's most prominent features is the brushless motor, which dissipates heat more quickly than its brushed counterparts, allowing it to operate for longer and with fewer breaks.
In the end, you'll end up spending less on maintenance and enjoying longer-lasting productivity.
Pros
360° rotating head
Transparent chuck guards
High-powered brushless motor
Made for smaller, more complex jobs
Cons
Could come with dust collection port
The cjc Multi-Function Lathe Machine is a jewelry-maker's dream, and although it works on all kinds of materials, you might not want to place wooden blanks between the centers (no dust collection).
Best Budget - Jectse 12000RPM Mini Lathe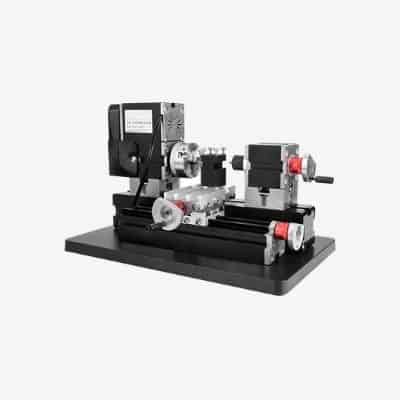 Key Specifications
60W Motor
3 x 5.31-inch Lathing Capacity
12,000 RPM
Single-Speed Operation
The best budget-friendly mill lathe combo is the Jectse 12000RPM Mini Lathe, a compact, user-friendly machine that doesn't support larger stock in its 3 x 5.31-inch bed but works well with all kinds of materials, including wood.
But like the previous model, this handy little machine excels at cutting metal and precious stone.
Its 60W motor delivers up to 12,000 RPM for enhanced metal lathing and drilling.
It's made almost entirely out of heavy-duty steel and works with nonferrous metals without the slightest hitch.
A central block lets you extend the swing distance by two inches.
Pros
Durable construction
Supports central block
Powerful motor for benchtop lathe
Works with nonferrous metals and wood
Although this tiny lathe mill combo is far too fast for most delicate metals, you won't have an drilling and turning wood, plastic, and certain precious stones.
Proxxon 34104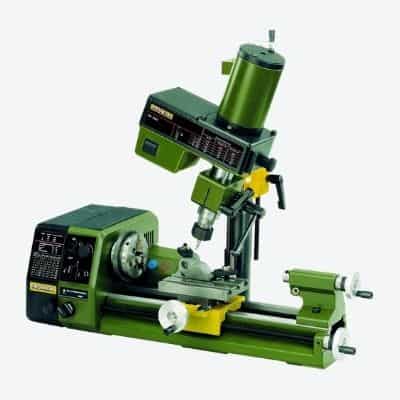 Key Specifications
0.18-HP Motor
1.38 X 15.75-inch Milling Capacity
280-2,200 RPM
Comes with 3 Collets
The Proxxon 34104 is another budget-friendly model that's built with high-quality materials and offers a ton of versatility for its price range.
It operates on 110 to 120V power and delivers turning and drilling speeds of between 280 and 2,200 RPM between six speed gears.
This lathe mill combo offers seamless X and Y axes movement to make milling easier on beginner users. It has a milling capacity of just 1.38 x 15.75 inches, and it fits onto the Proxxon 34004 lathe.
The mill portion of the 34104 comes with three collets—15/64, 5/16, and 25/64—for added drilling versatility for different applications.
Pros
Great torque for size
Multiple collets included
Handy for metal and stone work
Affordable milling attachment for Proxxon lathe
Cons
Could come with a universal chuck
The Proxxon 34104 is an attachment for the Proxxon 34004 lathe, so if you don't have it in your shop, you'll need to find another attachment option or lathe mill combo.
Baileigh MLD-1030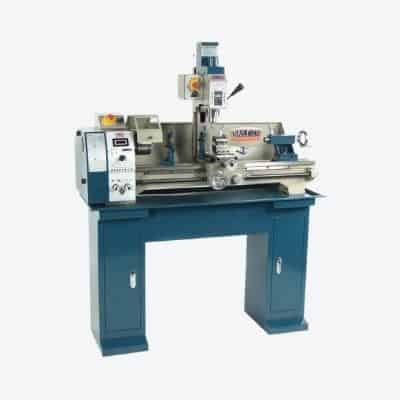 Key Specifications
1-HP Motor
9.75 x 29.5-inch Lathing Capacity
50-2,000 RPM
Dual Motors
The Baileigh MLD-1030 is a compact machine that drills, mills, and lathes effortlessly.
It's smaller size works means you don't have to dedicate as much of your workshop space to the unit while enjoying 1-HP milling and lathing performances.
The entire unit stands atop sheet-metal stands, which some users found can warp if you add excessive weight onto the tool's bed.
Inside of this machine are two separate motors that drives the lathe and milling functions separately.
In turn, this increases the max life expectancy of the machine by several years beyond the one-year part's warranty.
However, like many lathe mill combos, the MLD-1030 isn't exactly beginner-friendly and even setting it up can take some time.
Pros
Heavy-duty
Compact size
Long-lasting dual-motor design
Plenty of clearance for turning and milling
Cons
Could be easier to set up
Assuming you know your way around a lathe mill combo, the Baileigh MLD-1030 is arguably the best industrial machine you could have in your shop.
Best Lathe Mill Combo Buying Guide
Now that we know what the best lathe mill combos are, let's take a look at what you need to know before investing in one.
What is a lathe?
Simply put, a lathe is a machine that turns blanks at high speeds and allows users to shape them using a wide range of cutting tools.
Lathes are popular in both woodworking and metalworking shops, and many models offer the capacities to turn both materials effortlessly.
What is a mill?
A mill is simply a tool that uses a drill bit and bores holes into all kinds of materials, the most common of which is metal.
It works similarly to a drill press, but you can adjust the chuck to cut horizontally into metal to create wider or tapered holes.
Should I get a lathe mill combo?
If you ask any seasoned metalworker, they'll most likely tell you that you should invest in a lathe and a mill machine separately.
Although this is true for professionals, a hobbyist or amateur metal/woodworker can certainly get by with a 2-in-1 lathe mill combo.
Important Features and Specs
Motor power
The size of the motor will give you a good idea of how much torque and speed it can deliver.
Generally speaking, a higher motor rating indicates a beefier machine that will turn and mill hard metals more easily.
Lathing and milling capacities
Take a look at the size of bed, the vertical space over the bed (swing), and how far the mill's spindle can travel.
These should all fit within the capacities that you need for shaping your workpieces based on their size.
Chuck sizes
Having multiple chucks or collets is ideal since it lets you mill different sized holes into your workpieces.
A single-size chuck would work as well if you don't plan on milling larger or narrower-sized holes, but the option to swap out different collets is always preferable.
Milling attachment
To get turn and drill using one tool, you don't have to invest a fortune in a lathe mill combo if you can get a mill attachment instead.
That said, make sure that the attachment will fit onto your lathe. If not, you'll have a bit more shopping to do.
FAQ's
Are lathe mill combos worth the investment?
Based on what users say about lathe mill combos, they neither excel at turning or drilling holes into metal. That being said, amateur metalworkers won't face too many issues, especially since many of their projects don't rely on maximum precision. However, if you want the most reliable lathing and milling performances, you might have to invest in two separate machines.
Can I use a drill press to mill?
Drill presses are a lot more common, even in hobbyist workshops. They key difference between a drill press and a milling machine is that drill presses drill vertically, whereas mills can bore holes vertically and horizontally. It's possible to convert a drill press into a milling machine, but according to veteran metalworkers, it's not worth the effort.
What size lathe mill combo should I get?
In the end, you'll need to have a good understanding of what sort of projects you plan on taking up in the future. For instance, if you need to cut precious stones or make screws, then you're better off spending less and getting a smaller lathe mill combo. However, if you need to work with larger blanks, then you'd obviously need a larger machine that provides enough clearance for your workpieces.
How long do lathe mill combos last?
You'd have to look at each and every model individually to determine how long they last. However, based on our analysis, a lathe mill combo can last anywhere from two years to over a decade, depending on how well it's built and how often you use it. The Baileigh MLD-1030 is a unique machine since it comes with two separate motors for each function, thereby increasing the longevity of each motor by several years.
Summary
Lathe mill combos aren't exactly the most sought-after tools among hobbyist wood and metalworkers, but their versatility is certainly something everyone should consider.
In our guide on the best lathe mill combo, we've offered you our best picks of the most reliable models out of over 20 we compared and contrasted.
If you have a different opinion or are still looking for answers, let us know in the comments section.