In Brief: Briggs & Stratton 1022E Review
You should get the Briggs & Stratton 1022E 22-Inch Single-Stage Snow Blower to use at home if you need a strong and powerful tool to remove thick layers of snow. It will do so without too much effort with the auger assisting feature included, helping you push the machine. The price is not too high if you consider all the strong and durable construction and many features in the snowblower.
Briggs & Stratton was established early in 1908, but it only started to produce lawn maintenance equipment at the beginning of 1953.
And since then, this company has produced many great landscaping and power equipment for homeowners worldwide.
The 1022E 22-Inch Snowblower is one of these power tools that made many homeowners' lives much more comfortable.
This snow removal tool comes with great features such as an easy starting system and a powerful engine.
Key Specifications of the Briggs & Stratton 1022E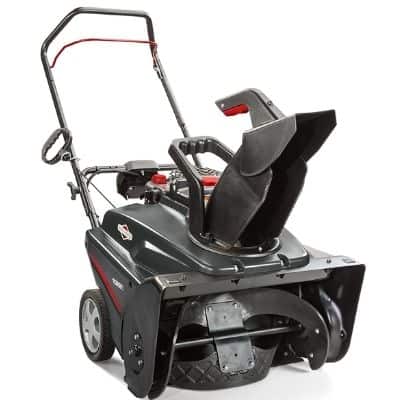 This snow thrower's oversized controls allow for all sizes of hands to efficiently use the controls, even with gloves fitted.
With a strong 208cc engine, it will easily withstand even the roughest terrain you might want to clear from the snow.
The auger assisted drive keeps the rotor constantly in contact with the ground to help pull the machine forward while it is running.
Quickly adjust the chute's direction with the smooth action of the ratchet and easy-to-reach handle of the chute.
The electric start makes it relatively easy to start the engine even in the very cold conditions you may want to use this machine.
You also get quite a long 3 years consumer warranty included with this snow thrower, to provide you with peace of mind.
See the following YouTube video for all the features, how to operate it, and see it in action.
Here is the long list of specs of the Briggs & Stratton 1022E Snow Blower :
Specification
Model No / name
1022E
Powered by
Gas
Engine Power

208cc

Stages

Single-stage

Clearing Width

22 Inches
Ideal for how many inches of snow
12.5 Inches
Warranty

3 Years of consumer warranty

Weight
93 pounds
Start Mechanism
Electric start
Other Features

30 feet throwing distance, 200 degrees range chute

Unique Features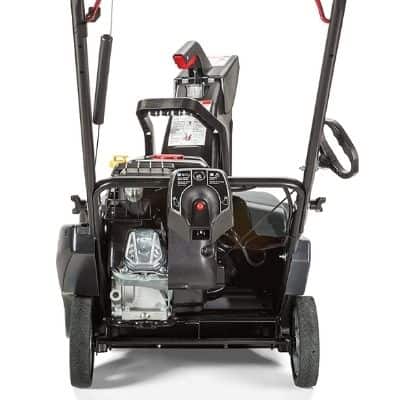 The following features are included with this snowblower that makes it unique to stand out from the rest.
Long Throwing Distance
The single-stage snow thrower from Briggs & Stratton comes with quite a long throwing distance of up to 30 feet. So instead of having to remove the loose snow over and over, it will happen only once, saving you a lot of time and effort.
Wide Chute Range
With the smooth cranking chute, you can easily throw the snow in up to a 200 degrees arc away from you.
You will be able to throw the snow in any direction you wish without heaping it up in one place only while clearing away the snow.
This feature will help to improve the functionality further and make the machine quite a time saver.
High Clearing Height
This snowblower can easily and quickly remove the snow with a thick layer of snow up to 12.5 inches at a time.
This means that you will be able to move quite thick snow in just one pass to help you save time.
Power And Snow Clearing Capability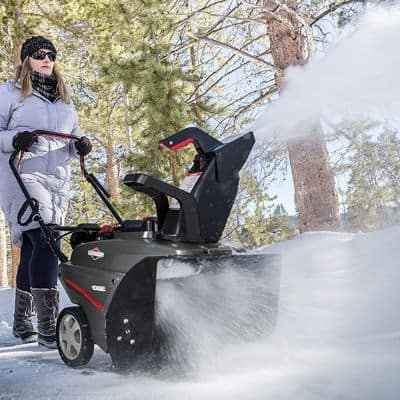 With the extensive snow clearing width, you can easily clean a large area with much fewer passes. It will also remove a thick layer of snow as deep as 12.5 inches without any problems.
The strong 208cc engine coming with the snow removing machine will quickly and easily move over most terrains without hassles.
It can hurl that snow as far as up to 30 feet to get it quickly and easily out of your way.
All these great features included make this quite a time-saving snow removal tool.
Ease Of Usage
When you receive this snowthrower, you will find that it will only take a few minutes to get it completely assembled.
There is also no steep learning curve when you learn how to start and operate this machine for its intended use of snow removal.
The quick and easy electric starter makes it relatively easy to get it running and ready for the job at hand.
Overall, all these features help make the usage of this snow thrower quite easy and in a time and effort saving manner.
Ease of Maintenance, Repairs & Warranty
With this snow thrower from Briggs & Stratton comes minimal maintenance requirements.
You need to keep your eye on the oil level to ensure the machine keeps on working at optimal performance and improving life expectancy.
You get quite a long 3 years warranty included to provide you with peace of mind while using it for snow removal. See the following site for all the details around the warranty and to sign up for more benefits.
Price of the Briggs & Stratton 1022E
The Briggs & Stratton comes with quite a powerful engine and many great features attached to it. That makes this power equipment above average quality and comes with a medium price tag attached to it.
It is not that high if you compare the price with that of other similar class products.
Pros and cons of the Briggs & Stratton 1022E
Following is a list of the pros and cons of this snow thrower from Briggs & Stratton.
Pros
Comes with many extra features included
It is quite easy to operate
Made from high-quality materials
Comes with a durable construction
Cons
This machine is a bit heavy
Not really suitable for high snowfall
Who Should Buy the Briggs & Stratton 1022E ?
This snowblower is great for those living in the low to medium snowfall areas and needs a powerful tool to get rid of the snow.
It is ideal for all the homeowners in the colder regions to make their lives much easier and provide more comfort.
If you are a homeowner with a driveway and a sidewalk that regularly requires removal of snow, this is the tool for you.
It is also great for those with a large open patio or a deck that gets some snow to get it cleaned quickly and easily.
For commercial use of professional garden maintenance people, this is also an ideal tool where you can use it at remote sites.
Also, for the park, sports stadiums, or golf course maintenance people, this is the ideal tool to eliminate snow.
Our Recommendation
With the very powerful engine included with Briggs & Stratton 1022E, you can easily clean the driveway and the sidewalk.
Even though it might be on the heavy side, it is still quite easy and convenient to use at home and by most people.
The outstanding features included will make your snow removal job easy and quick without taking too much of your time.