In Brief: Briggs & Stratton S1024 Snow Blower Review
The Briggs & Stratton S1024 Snow Blower is one that will quickly get your patios and lawns cleaned up in no time. With a high clearing width of 24 inches, a snow depth of 20 inches, and a large throwing distance of 40 feet, this snow blower gets the job done. It also has a great ergonomic design that makes it convenient to use.
As a brand, Briggs & Stratton has been here for a long time and still plans to be around for much longer.
Having the trust of millions worldwide, they have remained one of the largest producers of small engines that enhance human life and activities.
Their products vary from power generation equipment to pressure washers and lawn and garden care kits.
The S1024 Snow Blower has a great design for snow clearing.
With great features that include ample clearing width, excellent snow depth, and an amazing throw distance, this piece of equipment comes to your aid with snow clearing.
Key Specifications Of the Briggs & Stratton S1024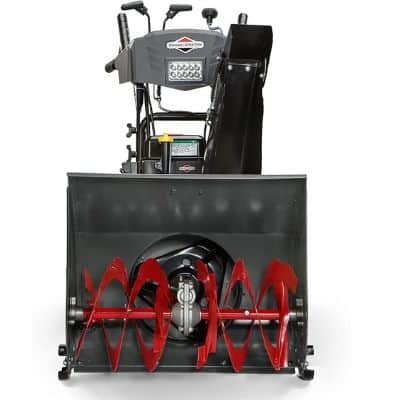 With a clearing width of 24 inches, this 2 stage snow blower easily packs up large quantities of snow and gives you a cleared path in little time.
No matter the size of your driveway or patio, you can be sure of a quick and easy clean with this snow blower.
Having a great snow depth of about 20 inches, the equipment readily goes through a thick layer of snow, providing you with clean pavement as you work.
Fuel optimization of this equipment makes it possible for it to run smoothly and efficiently with just a 0.8-gallon tank of gasoline. This saves you the cost of constantly refueling.
The snow blower is ergonomically designed to give you ease and comfort while working with it. From chute rotation control to free-hand control, everything about the design speaks to comfort while working.
This video will show more about the features of this snow blower :
Here is a long list of specs of Briggs & Stratton S1024 Snow Blower :
Specification
Model Number / Name
1696618

Powered By

Gas
Engine Power
208cc
Stages
Two-stage
Clearing Width 
24 inches
Ideal for how many inches of snow
20 inches
Warranty
3-year residential
Weight

184 pounds
Start Mechanism
Electric start, Recoil
Other Features
Up to 40 feet of snow throwing distance
Unique Features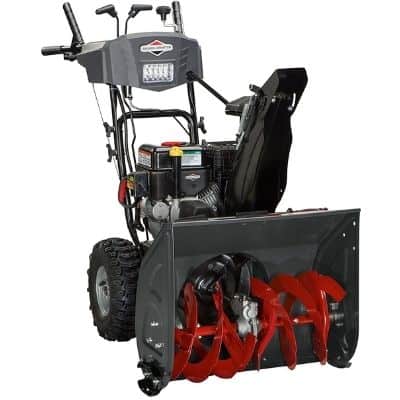 What are some of the interesting features of this snow blower? Let's look at some of them here.
Friction Disc Transmission
The drive system of this piece of equipment makes it very capable of driving through heavy and wet snow, ensuring that your environment is clean and clear of snow all the way down to the pavement.
This makes it convenient to plow through snow easily.
Deflector Control
Along with the chute rotation control, it is easy for you to remove the snow and throw it far from you in any direction.
It is convenient, as you do not need to send snow back to an area that is already clear.
Reversible Steel Skid Shoes
This makes it even easier to maneuver through the thick layers of snow and allows you to quickly finish up your snow clearing.
With these skid shoes, you are sure to avoid sinking in the thick depth of snow.
Power and Snow Clearing Capability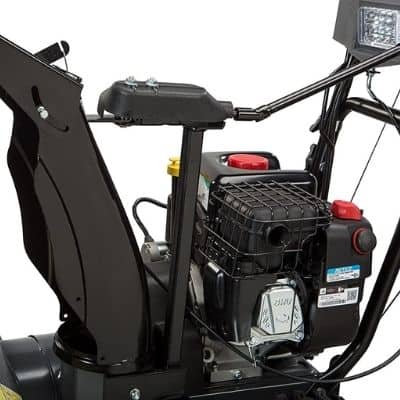 It is powered by a 208cc engine and operates with a 950 series engine from Briggs & Stratton that easily comes to life with one single touch, even in sub-zero temperatures.
It can run conveniently without being refilled with a 0.8-gallon tank of gasoline.
With a 24-inch clearing width, a 20-inch snow depth, and a throwing distance of up to 40 feet, this snow blower assists you in getting a clean, clear, snow-free lawn in very minimal time.
No matter the amount of snow on your lawn, you can be sure this piece of equipment will handle it with ease.
Ease Of Use
This snow blower operates with an easy-to-start electric system, as well as a recoil system. Whatever you opt for, you have no worries, as the engine will kick to life in one single try.
With free-hand control, as well as deflector and chute rotation controls, the snow blower can be easily manipulated in any direction.
Control is also very convenient and stress-free.
Moving through thick, dense layers of snow is no challenge with this piece of equipment thanks to the drive system.
Ease Of Maintenance, Repairs, & Warranty
Every now and then, almost every gas-powered piece of equipment requires some maintenance, and it is the same with the S1024.
All that is required of you is to check the oil levels and change it when due, as well as the filters. If there are needs to replace any parts, this can be done easily, as the parts are readily available on the market.
This snow blower comes with a 3-year limited warranty, ensuring that you have no worries about the cost of repairs or factory defects that may arise.
You can easily contact any authorized service dealers for warranty  www.briggsandstratton.com
Price Of the Briggs & Stratton S1024 Snow Blower
When you consider the ease with which the snow blower carries out its task and all of its features, we must say that this is an excellent buy.
It is a cost-saving piece of equipment that you will enjoy for a very long time.
Pros and cons Of the Briggs & Stratton S1024
Below are some of the pros and cons that you get with this snow blower :
Pros
Can handle all snow types
Easily maneuvered
Provides fast and easy cleaning
Very easily operated
Who Should Buy the Briggs & Stratton S1024 ?
If you live in a region with high amounts of snowfall, or if you have a large driveway or patio, then this snow blower is for you.
It is also suitable if you are in any business that may require snow clearing.
Our Recommendation
With all of the excellent features, ergonomics, and aesthetics, this snow blower comes highly recommended.
It sure will help you get a clear and clean lawn in the fastest, most convenient time possible.