In Brief: Bluerock BRM35A Drill Press Review
Bluerock BRM35A is a flexible and compact typhoon magnetic drill. It has a highly efficient 10amp, 120V motor that ensures high performance drilling outputs. It delivers a cutting speed of 595RPM and a powerful 2,600lbs magnetic adhesion. This magnetic drill model is suitable for various metal drilling tasks. It is ideal for various categories of metal workers.
Bluerock is reputable brand name that specializes in the production and manufacturing of high-quality power and hand tools. These tools display high innovation in their components, design, and performance.
The BRM-35A is one of the magnetic drill models of Bluerock. It is a typhoon magnetic drill with a technically structured design that enhances its ability to complete several drilling tasks with ease.
Key Specifications of Bluerock BRM35A
The BRM-35A has a powerful 10amps, 120V motor. The 1200W motor power ensures a cutting speed of 595RPM, which is remarkable for a product in this category.
The drill is a corded electric machine that uses a US standard 3-prong type B plug for its power connection.
The tool has a cutting depth of about 2" regardless of the metal type. It has a drilling capacity between 7/16"-1-1/2" with annular cutters.
It has a magnetic adhesion of 2600lbs, equivalent to 13000N. It has a stroke capacity of 7.5" that allows the use of short twist drills. The drill has a lightweight of 28lbs.
The video below shows the Bluerock BRM35A in use:
Key Specifications of the Product are:
Parameters
Values
Model No

BRM-35A
Motor Details

10amps, 120V
Power (Watts)

1200
Laser

No
Tool Holder (inches)

¾" Weldon shank
Drilling Depth (inches)

2"
Drilling Capacity (inches)

7/16"-1-1/2"
Stroke (inches)

7.5"
Magnetic Adhesion (lbs)

2600
Height (inches)

15"
Weight (lbs)

28
Work Light

No
Warranty

1 year
Other Features
Magnetic adhesion
Annular cutters
Standard twist drills
Unique Features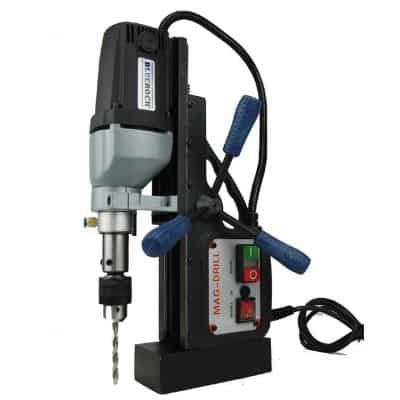 This magnetic drill model has special features that add to its performance and efficiency. Here are some unique features of the BRM-35A.
Strong Magnetic Adhesion
The strong magnetic power of BRM-35A allows easy drilling through steel and similar rigid materials. The drill has a magnetic adhesion of 2600lbs, which is equivalent to 13000N of force.
The magnetic adhesion allows the tool to attach to metallic work surfaces using an electromagnetic base to ensure high drilling performance.
Annular Cutters and Standard Twist Drill Bits
The BRM-35A features standard twist drills that enable the tool to drill through different materials with ease.
It also has annular cutters that allow powerful drilling and cutting through work pieces.
Flexibility
The BRM-35A is a very flexible drill that allows its user to exhibit maneuverability during drilling operations.
An operator can use the tool vertically, horizontally, or overhead depending on the nature of the task.
Power and Performance
The performance of a drill depends on its components, power setup, and features.
The BRM-35A has 10A, 50Hz, and 120V motor ratings that powers it to perform highly efficient during drilling operations.
The drill press has a cutting speed of 595RPM that enables it to drill through several rigid materials easily and quickly.
It also has a 2600lbs magnetic adhesion force that allows it to adhere to metallic materials while drilling.
It has a cutter capacity that ranges from 7/16" to 1.5" for annular cutters and 1" for twist drill bits.
The drill press also has a maximum cutting depth of 2" through different metals. It has a stroke capacity of 7.5" that allows the use of short twist drills.
Ease of Usage
The Bluerock BRM35A has features and components that make it very easy to operate and use. The drill press has three feed handles that ensure stress-free user operation.
The power tool comes with a coolant bottle for the continuous drilling operation.
It also comes in carrying case for easy transportation. Other features that enhance easy usage in this model are; an adapter that allows for standard drill bit usage, safety chain, and a free chuck.
It also has a lightweight feature that makes it very easy to carry and maneuver without stress. The BRM-35A has a flexible feature that allows the operator to use it different positions.
Ease of Maintenance, Repair, and Warranty
Ease of Maintenance
To ensure the continuous efficiency of your BRM-35A typhoon magnetic drill, here are few guidelines to follow;
Always disconnect the tool from its power source after use and before servicing.
Always use the carrying case when transporting the tool.
Ensure to clean the tool regularly.
Oil the appropriate parts of the tool with a good lubricant.
Repair
The repair of the BRM-35A can be stress-free and straightforward with the Bluerock repair offer.
This offer covers the repair of every product registered under the company. To repair your product, you only have to take the tool to an authorized service center.
Warranty
The warranty offer for the BRM-35A includes;
Thirty days of free return offer
1-year extended warranty
Free repair offer
The warranty applies to registered products under Bluerock tools. It also applies to products with manufacturer or packaging defects. Products that do not fall within these categories do not qualify for the offer.
For more information on the warranty offer check website or contact 206-604-8363. Ensure to register your product at their website.
Price of Bluerock BRM35A
The BRM-35A is available at a price that falls within the average to high-budget buying category.
Buyers with a low budget can sought after other magnetic drill brands within their budget range.
The BRM-35A is well built with standard specifications that delivers high performance to price-value ratio.
Pros and Cons of Bluerock BRM35A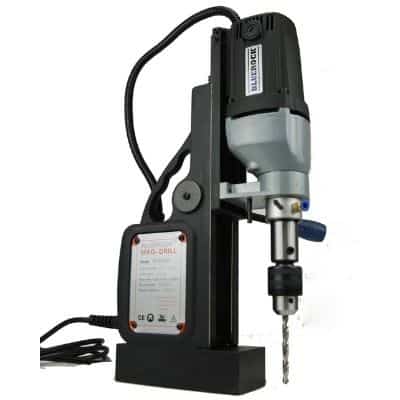 Pros
Impressive magnetic adhesion
Lightweight and compact
Study buildup for improved durability
Ergonomic handle for easy operation
Cons
Few users complained about its loudness
Reduced easy to use features
Who Should Buy Bluerock BRM35A?
The BRM-35A is an efficient magnetic drill model that delivers high drilling outputs on varieties of metals.
It is suitable for professionals in different fields of work for their small, medium and large-scale drilling tasks.
Jobsite contractors in need of a lightweight and powerful magnetic drill can go for this model.
All categories of DIY enthusiasts can also seek the services of this magnetic drill model as it offers a viable solution for their personal drilling tasks.
Our Recommendation
The BRM-35A is a highly recommendable magnetic drill for several users because of its outstanding specifications, ease of usage, flexibility, maneuverability, and functionality.
It might be the answer to all your metal drilling needs.
Last update on 2023-09-28 / Affiliate links / Images from Amazon Product Advertising API