In Brief: Craftsman 88694 Review
The 208cc, ultra-quiet gas-powered Craftsman 88694 is a fantastic Snow Blower. There are a lot of factors to consider when purchasing a snow blower, including power, snow clearing capability, and ease of use. These factors combine to help you assess whether the snow blower you chose is worth the investment. Having tested this powerful machine, it is safe to say it ticks all the boxes.
Craftsman brand comprises workwear, tools, and lawn and garden equipment.
The brand was purchased in 2017 by Stanley Black & Decker company from Sears Holdings.
Sears Holdings, however, retained a royalty-free limited license for the Craftsman products.
Craftsman products were first sold in 1927, and its original customers were mainly farmers.
The company prides itself on manufacturing high-products and its strong warranty on products. One of its high-quality products is the Craftsman 88694 snow blower.
The machine is powerful and easy to use.
Key Specifications of the Craftsman 88694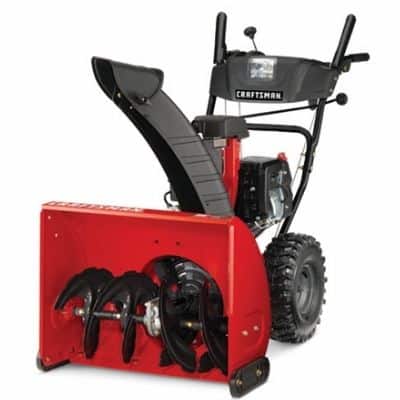 The Craftsman 88694 is a powerful 2-stage snowblower.
Among its many outstanding features is the plow-style ergonomic handles. These handles are designed to allow single-handed operation and easy maneuverability of the machine.
It is featuring a powerful 208cc gas-powered engine that is surprisingly quiet.
This means you can operate the machine any time of the day without worrying about noise complaints from neighbors. The engine does not require an oil-gas mixture and has an efficient fuel consumption.
This fantastic snow blower comes with eight speeds. These are the six forward speeds and 2 reverse speeds.
This feature offers you the freedom to choose how fast you would like to complete your task. It also offers compensation for obstacles, snow texture, and incline, which makes clearing snow easy.
Its 26-inch width gives you peace of mind when it comes to storage. The large and deep-tread tires offer the traction required to clean your driveway, sidewalk, and patio with ease.
Here is a long list of specs of Craftsman 88694 Snow blower :
Specifications
Model Number/Name
88694
Powered By
Gas powered
Engine Power
208cc
Stage Type
2 Stage
Clearing Width
26 In
Tire Size
15''x5''
Warranty
2 Year
Weight
219lbs
Start Mechanism
Push Start
Other Features
Joystick
Unique Features
Some of the unique features you get to enjoy with this machine include :
Zero-turn power steering
This feature eases the operation of this machine. Along with the 4-way joystick control, the zero-turn power steering allows the blower to perform all the heavy tasks.
Two small levers are located below the handles. These levers allow you to steer this 36-inch snow blower with ease using your fingers.
Easy chute control
With the joystick located at the dash controls, it is easy to control both the side-to-side dash movement of the chute and the up-down motion of the deflector cap.
It is possible for you to throw the snow on the sides since the chute can be rotated up to 200 degrees.
The machine is designed to allow single-handed operation, which means while one hand controls the chute using the joystick, the other can be used to steer the machine.
Ultra-quiet gas-powered engine
The machine's 208cc engine is not only efficient but also surprisingly quiet. The Craftsman 88694 model engine is 45% quieter than its previous models.
According to the manufacturer, the product is so quiet that there is no need for ear protection when operating the machine.
This feature allows you to operate the machine any time of the day without worrying about causing noise disturbance to your neighbors.
Here is a video for more information :
Power and Snow Clearing Capability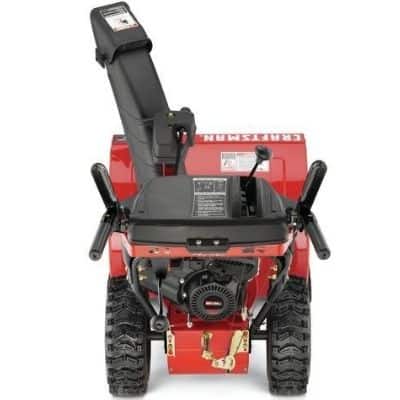 The machine has a 208cc 4-cycle engine.
The engine is powerful enough to handle snow falls more than 12 inches. The 88694 has a cleaning depth and width capable of getting rid of snow left by municipal snow plows.
Ease of Usage
This machine features technology that makes operation easy. For starters, the ergonomic handle is designed to allow single-handed operation. Steering the machine is easy thanks to the zero-turn power steering.
Its six-speed forward and two-speed reverse speeds make it easy to clear snow. The chute features a joystick that can be rotated up to 200 degrees and minimizes clogging.
In case you are forced to use the tool late at night, maybe due to work, you don't have to worry about the neighbors making noise complaints.
Ease Maintenance, Repairs, and Warranty
The Craftsman 88694 has a low maintenance factor, thus easy to maintain.
Changing the oil is easy. The machine uses gasoline, which is easy to find.
In case the machine breaks down during the warranty period, you should not be stressed since you only need to return it to the retailer you purchased it from for repair.
Replacing worn-out parts is not a hassle since parts are readily available and affordable.
The Craftsman 88694 comes with a 2-year warranty.
Price of The Craftsman 88694
Although the Craftsman 88694 does not come cheap, the features you get to enjoy are only found on pricy models.
The machine is safe, offers great performance, and easy to use.
Considering its premium features and impeccable performance, this snow blower is worth the investment if you have a driveway that is 80 feet long.
Pros and cons of the Craftsman 88694
The following are the ups and downs of this product :
Pros
Durable
Easy to use
Quiet engine
Easy steering
Who Should Buy the Craftsman 88694 ?
This snow blower has a wide range of applications. It is designed to efficiently handle any kind of snow, including light and heavy wet blizzard snow.
Therefore, this machine is ideal for anyone looking to clear more 12-inch snow on walkways, patios, trails, gravel, and paved surfaces and grass pathways and sidewalks.
Our Recommendation
Given its premium features such as the ultra-quiet yet powerful engine, its ergonomic handle, and easy chute control, this snow blower is worth every cent of its price tag and more.
The machine offers you remarkable performance and allows you to work without worrying about noise complaints from neighbors.
If you are interested in a quiet, powerful, and easy to use a high-end snow blower, we recommend the Craftsman 88694.