In Brief: Ego Power+ SNT2102 Review
Given its quick-fold compact handle, which facilitates easy storage and the 2 bright LED headlights for enhanced vision, the Ego Power + SNT2102 is a convenient Snow Blower to own. Its lightweight design makes operating the machine easy, no matter your size. As it is battery powered, this machine is eco-friendly and runs quietly, unlike its gas-powered single-stage counterparts.
Ego brand is a series of cordless outdoor power equipment. The brand was launched in 2013 by Chervon Company.
This company has been manufacturing power tools since 1993.
Chervon owns several other famous brands, including Skilsaw and Skil, and their tools and products are sold in more than 30000 cities located in 65 countries.
The Ego Power+ SNT2102 is a remarkably powerful tool for a cordless snow blower. It features an all-weather, all-steel, and composite build that ensures it serves you for a long time.
Key Specifications of the Ego Power+ SNT2102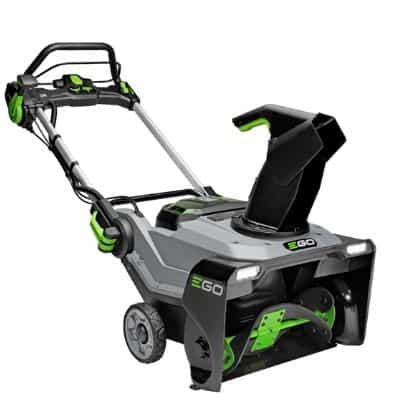 With the Ego Power+ SNT2102, you get the power of a gas-powered snow blower from an easy to use cordless snow blower that is quiet and doesn't emit fumes. The machine has a capacity to throw snow up to 35 feet.
The Peak Power Technology enables the machine to combine the power of any two Ego 56-volt ARC Lithium batteries.
This provides the machine with sufficient power required to clear even heavy wet snow.
Its high-efficiency brushless motor combines with the 21-inch width intake to ensure the machine can clear even the snow left behind by city snow plow.
The machine features 2 built-in LED headlights, which aid in enhancing vision during low light conditions.
Given the machine is not noisy, the LED headlights offer convenience by allowing you to work early in the morning or in late-night hours.
As the variable speed auger is easy to control, you can easily adjust how far the machine throws snow. Its handle-mounted chute-adjustment lever allows you to re-direct the snow up to 180° on both sides.
Here is the long list of specs of the Ego Power+ SNT2102 Snow Blower :
Specification
Model Number/ Name
SNT2102
Powered By
Battery powered
Engine Power
56V
Stages
Single Stage
Clearing Width
21 Inches
Ideal for how many inches of snow
10 Inches
Warranty

5-Year limited

Weight
25lbs
Start Mechanism
Push Button Start
Other Features
Throws snow up to 35ft.
Unique Features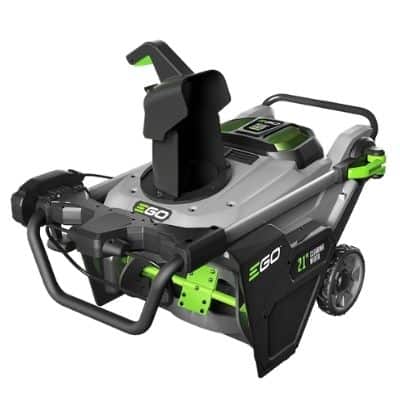 The following unique features make this machine exceptional :
Peak power technology
Thanks to this feature, the Ego Power+ SNT2102 is able to combine the power of any 2 EGO 56-volt ARC lithium batteries. This provides enough power for the machine to offer gas-powered performance.
Quick fold handle
The compact and lightweight design of this snow blower is complemented by its quick fold handle, making storage and transport easy.
Rapid charger
This machine comes complete with a kit that includes 2 5.0 Ah batteries and a rapid charger. The company boasts that this charger is the industries fastest to recharge a 5.0 Ah battery.
It takes the rapid charger just 40 minutes to do this.
Power and Snow Clearing Capability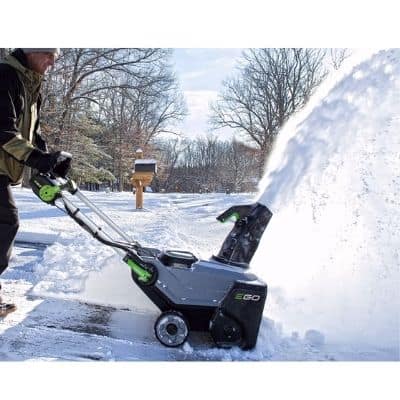 This 56-volt cordless single-stage snow blower allows you to enjoy the powerful performance of a gas-powered snow blower and the convenience of a battery-powered blower.
This is made possible by the machines Peak Power Technology, which combines the power of any two Ego 56-volt ARC lithium batteries.
With a clearing width of 21 inches and a 13-inch intake height, this machine is powerful enough to handle 10-inch deep snowfall with a maximum throwing capacity of 35 inches.
Ease of Usage
With the Ego Power+ SNT2102, you don't need to have experience in working with gas or battery-powered snow blowers.
The user manual is easy to understand for first-time snow blower users.
Its bright 2 LED headlights enhance visibility during low light conditions like late-night hours and early in the morning.
The machine starts with the push of a button, making powering it up easy, and it always starts even in the coldest weather.
The variable speed auger control is easy to adjust, allowing you to conveniently control how far the snow is thrown. Overall, this snow blower is very easy to use.
Ease Maintenance, Repairs, and Warranty
Durability is a crucial factor to consider before purchasing any machine.
With a weather-resistant heavy-duty steel and composite build, this snow blower is certainly capable of handling even the harshest conditions.
The machine requires little to no maintenance.
All you need is to ensure you store the machine properly, tighten loose bolts and keep the snow blower clean. Worn out parts are easy to find and replace.
The company offers you a 5-Year limited warranty, which is proof of the high level of confidence they have in their product.
Price of The Ego Power+ SNT2102
Given its state-of-the-art technology and premium features, this single-stage charger is reasonably priced.
We compared it to snow blowers with the same performance and convenience level and found that it was priced lower than the rest.
It is, therefore, correct to state this machine is worth the investment.
Pros and cons of the Ego Power+ SNT2102
The following are some of the pros and cons of this snow blower :
Pros
Lightweight
Easy storage
Built-in LED headlights
Eco-friendly
Push-button start
Who Should Buy the Ego Power+ SNT2102 ?
In case you are in the market for an eco-friendly, easy to use, cordless snow blower with the power of a gas-powered snow blower, you should consider taking a look at this product.
The EGO Power+ SNT2102 is particularly great for people who get 10 inches of snowfall and have a long driveway. The machine can also be used on sidewalks.
The machine is, however, not ideal for commercial users.
Our Recommendation
With a compact, lightweight design for easy storage, powerful performance, and ease of usage, this machine is definitely worth having. Its built-in LED headlights allow you to work early in the morning or late-night hours.
The quiet nature of its operation means you never have to worry about noise complaints from neighbours ever again.
Having provided you with all its features, it is up to you to decide whether the machine is the perfect fit for you.