In Brief: Greenworks 2600502 Review
Are you looking for a compact yet powerful Snow Thrower? Here comes Greenworks 20-inch 13 Amp corded snow thrower 2600502, a well-designed machine with a 20-inch clearing width. It can scoop snow of up to 10 inches deep. The design, ease of use, and value for money is an indication of its greatness. Soon, winter will strike, which means we'll need to think about the upcoming snowfall before the time is right.
Greenworks 2600502 is a relatively well-performing new brand in the market featuring a 13 amps motor with a plowing capacity of 850 lbs. Per-minute.
It is a product of Greenworks limited, one of the leading companies in battery power tools.
The company has a robust lineup of self-branded products from 24 volts to 82 volts of commercial-grade battery-powered equipment.
This single electric powered outdoor tool comes in handy to provide the power you need to get your home and driveway clean.
The machine can handle more significant snow dumps with ease.
Key Specifications of Greenworks 2600502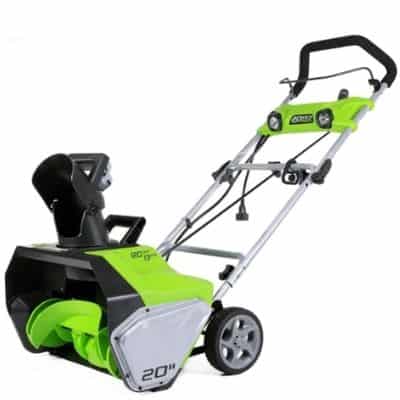 Greenworks 2600502 comes with some great features that give it the most power to get the job done within no time.
The 20-inch clearing auger means you can get to remove the snow from your driveway faster and easier.
It features a 13 amp motor, which means you will need to use a heavy-duty cord.
However, if you need to extend this further or use the blower for longer distances, you'll need to purchase a 15 amp extension cord.
We also love that it weighs only 30 pounds hence lighter than most push snow throwers from denoted brands.
The 41 cm built-in impeller can gather and expel the snow quickly thanks to the 180 degrees directional chute.
Are you often busy during the day ? Greenworks comes fully fitted with LED lights to help you have a clear vision when working during dark hours.
Here is a demonstration video of Greenworks 2600502 in action :
Here is the long list of specs of the Greenworks 2600502 Snow Thrower :
Specification
Model No/name
Greenworks 2600502
Powered by
Electric

Engine power
Greenworks 13A electric motor
Stages
Single-stage
Clearing width
20 inches
Ideal for how many inches (depth of snow)


10 inches
Weight


30 lbs.
Start mechanism


Electric start
Other features
Dual LED lights
Unique Features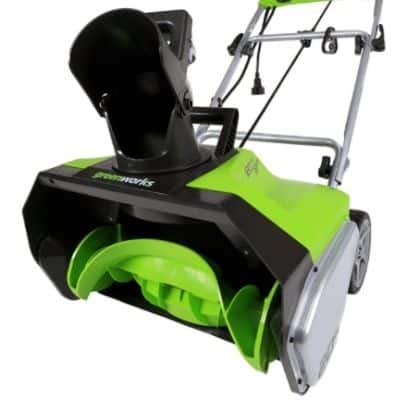 Here are some unique features to expect from this snow thrower :
Dual LED Lights
This is uncommon in most snow throwers. The dual LED lights give you clear visibility when working in odd hours or when there is a massive downfall, and you can't see ahead well.
180 Degrees directional chute
This feature makes the driveway clean up manageable. This is because you'll get to use lesser efforts when using the machine since it discharges snow up to 20 feet away.
Flexible Directional Crank
This feature prevents you from getting stuck when clearing the snow. The crank helps you to maneuver through the snow with ease.
Power and Snow Clearing Capability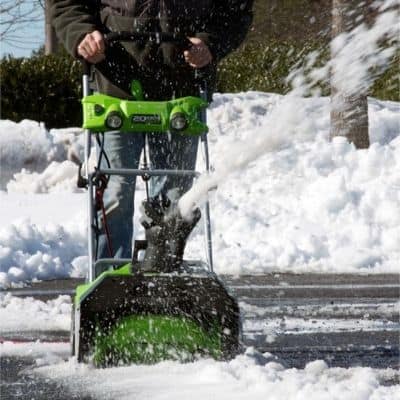 Greenworks 2600502 comes with a built-in 13 amp electric motor that gives it the maximum power needed to remove the snow.
Generally, it delivers as much energy compared to a gas-driven blower. The 180 directional chute makes your work even more comfortable.
When it comes to snow clearing abilities, the machine can cut through 10-inch deep snow. However, if the concentration is denser, give it another pass to clear it all.
Ease of Usage
If you compare this mower's performance with other more prominent brands, you would say it works well.
First, it weighs so little that anyone can comfortably push it from behind. The LED lights present helps you to see clearly in case of poor lighting conditions.
There is no much hassle needed to start this machine since it comes with an electric button. You just need to press and get to work.
Ease of Maintenance, Repairs, and Warranty
An easy to maintain machine is a durable one. When it comes to this Greenworks model, we can attest that it lasts long and has very minimal maintenance practices.
Things such as clean up, bolt tightening, handle knobs fitting, and other related maintenance can be done right at your home.
Greenworks Company so far has been in business for around 11 years with a wide distribution of its machines and repairs. This means that you can comfortably access repairs, if necessary.
Unlike most snow thrower companies that offer only one to two years, this one comes with a 3-year limited warranty.
The company caters to repair costs in case of failure or damages during this period.
Price of the Greenworks 2600502
Everything is worthwhile for this machine.
With all its incredible features, it is easy to own. If you compare it with similar blowers in the market, the price is relatively friendly. So, if your primary concern is budget, feel free to save on this.
Pros and cons of the Greenworks 2600502
Here are but a few pros and cons of this Greenworks 2600502 :
Pros
Compact and Lightweight
User Friendly
Last long
Cheap
Energy efficient
Cons
Extension cord bought separately
Who Should Buy Greenworks 2600502 ?
This machine is suitable for individuals with tight budgets. It is cheaper compared to similar power equipment.
More so, if you own a relatively smaller yard, this machine will work best for you.
It can plow up to 850 pounds per minute hence quite reliable for extensive snow blowing.
Our Recommendation
Heavy snowfall doesn't show up when you most expect it. And a lot of people need to shovel before having to leave for work, so you'll find most people up before dawn clearing their driveways.
If you belong to this category, it is time you consider Greenworks' 20-inch 13 amp corded snow thrower 2600202 to get the work done with ease.
You can avoid bundling up by investing in a machine that can help you clear your drive with ease.
Keep reading to learn more about this superb machine.