In Brief: Greenworks 26022 Review
The Greenworks 26022 is a compact competitively-priced Snow Blower tailored to tackle moderate snowfalls on small-sized driveways. It weighs 26 pounds and has dimensions of 43" (L) ×17" (W) ×35" (H). Its clearance width is 16 inches, and it can handle snow depth of up to six inches. It features a flexible ergonomic design and huge wheels for easier maneuverability and is quiet with zero carbon emissions.
Based in Mooresville, NC 28155 United States of America, Greenworks is among the leading manufacturers of outdoor equipment.
Since its establishment, the company has been offering high-quality, durable equipment to transform your outdoor experience.
The equipment they manufacture is powerful and comes with a set of amazing features. The Greenworks 26022 is one such piece of equipment.
From its compact design to the impeccable performance, there is a lot that this machine brings with it.
Key Specifications of the Greenworks 26022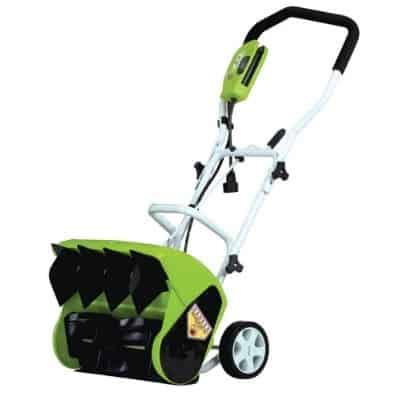 Let us start right from its lightweight design. Weighing only 26 pounds, I must admit the Greenworks is one of the lightest snow blowers.
You will experience no trouble transporting it in and out of the house. The weight factor also makes the machine versatile as it can maneuver in the tightest of spaces.
Another specification of this snow thrower is its 10 amp motor, which is the machine's engine.
While it isn't the most powerful motor on the market, the power it produces is sufficient for a clean job. Also, there are zero emissions with this model.
This way, you will evade breathing exhaust fumes and lower your carbon footprint. Talk about killing two birds with one stone!
Greenworks had us with the electric start. This is one of this model's most important features. To get the engine to roar to life, all you need to do is press a button.
You won't have to waste your time and energy pull-starting. You should know that the chances of experiencing any hitches are slim as the motor will instantly begin working.
This snow shovel's radial wheels have a six-inch diameter.
I know what you are thinking. Something along the lines of "there is nothing significant about six-inch wheels". Yes, they may not be huge, but they significantly improve the snow blower's maneuverability.
They also have a ribbed tread pattern to provide solid traction in all snow conditions and are designed to overcome obstacles such as rocks and mud.
Here is a long list of specs of the Greenworks 26022 Snow Blower :
Specification
Model No/name
26022

Powered by
Battery
Engine power
10 amp Motor
Stages
Single-stage electric snow blower

Clearing width

16 inches
Ideal for how many inches (depth of snow)

6 inches
Weight
26 pounds
Start mechanism
Electric start

Other features
Chute control, LED headlight
Unique Features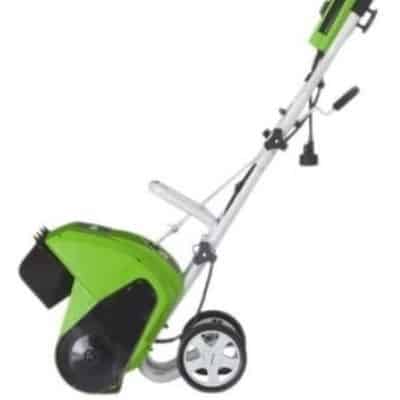 Let us have a glimpse at some of the unique features to expect when you purchase this model :
Powerful Snow Blowing Action
The robust 10 amp motor can clear a 16-inch snow width of 6 inches depth and throw it up to 25 feet away. The six-inch wheels will help you move smoothly through any snow conditions.
Rubber Handle
This is among the features that made us fall for this machine. It gives you better control over the equipment while going easy on your hands.
Besides, you can adjust the handlebar height for convenient and comfortable use by any household member.
Sturdy and Dependable Impeller
This snow thrower features an impeller made from strong plastic. The 14-inch impeller is located inside the unit's plastic scoop and does an excellent job consuming large volumes ofsnow.
Easy to Operate
The Greenworks 26022's weight stands at 26 pounds- one of the most lightweight snow shovels to grace the earth.
Therefore, you can easily move it around and store it away when not in use as it takes up little space.
As for starting the engine, there is no need to bruise your hands, thanks to the electric start mechanism. All you need to do is flip a switch and get rolling.
Ergonomic Design
The Greenworks 26022 comes with a flexible handlebar with height adjustments in three positions for your comfort, safety, and effectiveness.
It also has a cord lock to securely hold the extension cord in position. This eliminates the need to worry about obstructions from the cord.
Environmentally Friendly
Besides being pocket-friendly, this snow shovel helps you keep the environment clean as it has zero carbon emissions.
Power and Snow Clearing Capability
The Greenworks 26022 has a clearing width of 16 inches and can blow snow of up to six inches.
This, coupled with the powerful 10-amp motor, gives you a snow blower that can tackle light, dry, and not very deep snow.
Its clearing capacity is 600 pounds per minute, and considering the machine size, this is an enormous amount. The gardening equipment lets you clean your driveway quickly and effectively.
With the Greenworks 26022, snow can be thrown up to 25 feet away. This way, it can't get back to the path that has been worked on.
You should note that the chute direction can be remotely adjusted using a special handle to provide more flexibility during the whole process.
Ease of Usage
With this model, you are only required to do a tiny bit of assembling as most of it has been done for you. All you are required to do is put together the handle and attach the controls.
t features a convenient electric start mechanism, so tedious pull-starting is canceled.
Its lightweight nature allows you to move it around easily, and its wheels provide solid traction in all snow conditions.
This machine also features several controls for the operator's convenience.
Ease of Maintenance, Repairs, And Warranty
You may incur little to no maintenance costs with this machine as maintenance is limited to replacing broken parts.
First, you do not need oil refills as it runs on electricity.
The only thing you are required to do is oil the moving parts and replace the parts prone to wear and tear. Also, check for loose bolts and keep the machine clean.
The product comes with a four-year manufacturer warranty, which is a good deal. During this period, you can return the machine if it malfunctions or you experience other problems.
If it comes to this, visit Greenworks website, fill in an online warranty form, and then mail it to them. Call them on 1-888-909-6757 for any help.
Price of the Greenworks 26022
As earlier mentioned, this is one of the cheapest single-stage sun blowers you will come across today.
Greenworks offers you great functionality and advanced features while going easy on your pocket.
Pros and cons of the Greenworks 26022
Let us have a look at the good and bad of this model :
Pros
Compact design
Easy to use
Environmentally friendly
Versatile
Durable
Cons
Not suitable for deep and heavy snow
Can't be used on gravel surfaces
Who Should Buy the Greenworks 26022 ?
This snow blower is a fantastic choice for throwing snow on small to medium-sized spaces.
You can use it on walkways, driveways, patios, porches, and several other outdoor spaces with even smooth surfaces.
If you live in an area that receives light snowfall less frequently, this could be a useful addition to your collection of gardening equipment.
Furthermore, persons of any size and strength can operate it.
Our Recommendation
Because it is a compact snow blower, Greenworks offers it at an affordable price making it one of the cheapest snow throwers of its type.
We love the Greenworks 26022 because it was designed with you in mind. It is soft on your hands but tough on snow.
Also, it comes at a price suitable for anyone on a tight budget. If you need a sign to buy this product, this is it.