In Brief: Grizzly G0602 Lathe Review
The Grizzly G0602 Lathe delivers full-sized lathe power with benchtop storage. It delivers nearly 14-amps of power to product efficient, quality projects out of both wood and metal. It was designed to be user friendly, allowing for greater usability with each project.
Grizzly produces a wide array of power tools. This includes woodworking machinery, metalworking machinery, blades, router bits, batteries, chargers, circular saws, drills, grinder, combo tool kits and more.
Grizzly has become one of the most popular and trusted names in the power tool industry, providing a reliable line of products for sale throughout North America.
Key Specifications of the Grizzly G0602
The Grizzly G0602 Lathe features an oil bath gearbox that offers up to 6 different speeds: 150 RPM, 300 RPM, 560 RPM, 720 RPM, 1200 RPM, and 2400 RPM.
This allows for choosing the right speed for the specific material and application that you plan on working with.
The Grizzly G0602 Lathe has a ground and hardened v-way bed to ensure longevity and optimal support as you work.
Even the smallest amount of movement can compromise the integrity and accuracy of your project and maximum stability is what this lathe delivers.
Perhaps most importantly is the fact that this benchtop lathe is designed using only top-rated materials.
That should ensure at least two years of accurate, hassle-free operation that delivers the best possible lathe operations.
It also has enough power that it can work for molding engines.
Check out the Grizzly G0602 Lathe in action here on Grizzly's website.
Read the long list of Grizzly G0602 Lathe specs here :
Specification
Model Number/ Name
G0602
Ideal For
Wood, Metal
Volts
110
Current (amps)
13.6
Speed (rpm)
1725
Distance between centers (in)
22
Spindle thread (in)
8 TPI
Overall dimensions
46 x 22 x 16.6
Weight (lbs)
330
Other Features
Tapered Roller, Cross Slide Travel
Top Features to Look For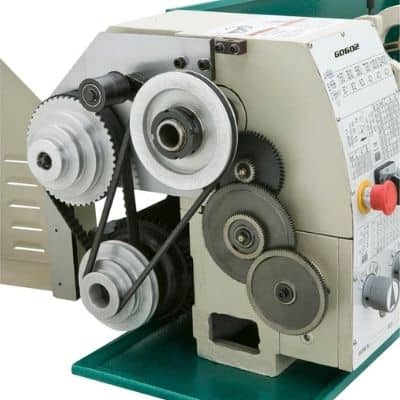 The Grizzly G0602 Lathe has a plethora of features that make it one of the best benchtop lathes on the market today.
Convenient Operation
Thanks to its sturdy v-way bed, users can get optimal support out of the Grizzly G0602 Lathe.
Despite its weight, it is designed to be user-friendly and can store conveniently when not in use.
Great for craftsmen that are looking to perform their operation and store it again for later use.
Variable Speeds
The Grizzly G0602 Lathe offers six variable speeds to provide the ultimate in precision and accuracy in every lathe operation.
Users can choose between 150 RPM, 300 RPM, 560 RPM, 720 RPM, 1200 RPM, and 2400 RPM at a moment's notice.
Being able to control the speed of the lathe can allow for improved precision on any of the lathe operations that you take on.
Oil Bath Gearbox
The gearbox on the Grizzly G0602 Lathe comes with a spindle bore of 1" and a TPI spindle from 1 to 3 or 4" x 8" as well as an MT4 spindle taper.
The gearbox makes it easier to access the features of the Grizzly G0602 Lathe, including the variable speed options.
Power and Performance
The Grizzly G0602 Lathe delivers 110 volts of power thanks to the nearly 14-amp motor.
The motor powers the adjustable speeds and delivers superior power for a benchtop lathe.
Delivers a great performance even for beginners making it a friendly, powerful option among benchtop lathes.
Ease of Use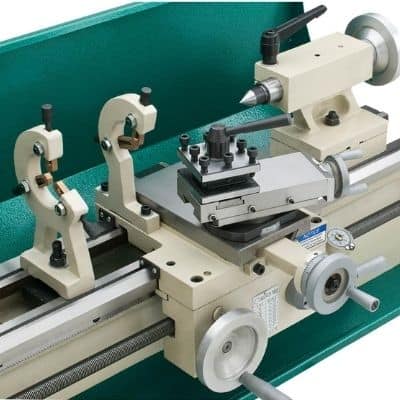 The Grizzly G0602 Lathe is one of the more user-friendly options on the market for benchtop lathes.
Despite a plethora of features, it is easily movable and delivers both accurate cuts and finishes in an effective manner.
Beginner woodworkers will enjoy this lathe because it delivers a great quality and has easily accessible and usable features.
It doesn't take a professional shop worker to use the Grizzly G0602 Lathe effectively.
Ease of Maintenance, Repairs, and Warranty
Several of the components on the Grizzly G0602 Lathe can be removed for easier cleaning.
It is recommended that users perform a vacuuming after doing any metalworking or woodworking to prevent the build up of debris in the lathe.
Blades and cutting tools should be replaced every year to ensure that they remain effective and to prevent chipping and breaking that could potentially damage the internal components of the Grizzly G0602 Lathe.
Warranty
Grizzly offers a limited two-year warranty on all of their power tools, including their line of lathes. The warranty is meant to cover manufacturer defects as a result of material or manufacturing error.
If you have any questions about the warranty for Grizzly and its line of products, check out their warranty page for more information.
Price of the Grizzly G0602
The Grizzly G0602 Lathe is one of the more expensive benchtop lathes out there because it delivers a true manufacturing experience to any shop.
It comes with a plethora of options and variable speeds as well.
Users were mixed on the price. Some feel that it is well worth the price given all of the features that it has and the precise lathe operation experience.
Others feel like it isn't an affordable option for amateur woodworkers.
Pros and cons of the Grizzly G0602
Here are some of the pros and cons of the Grizzly G0602 Lathe :
Pros
Variable Speed
User Friendly
Perfect for wood and metal
Tons of Features
Who Should Buy the Grizzly G0602 ?
Due to its ease of use and the litany of features that come built in, the Grizzly G0602 Lathe is a great option for both amateur and experienced woodworkers alike.
It delivers extremely accurate finishes and cuts, perfect for the amateur woodworker out there.
One of the most versatile and efficient benchtop lathes out there.
Our Recommendation
The Grizzly G0602 Lathe is a bit pricey but delivers in terms of features and performance.
No matter how experienced the woodworker, this lathe delivers the kind of versatility that makes every project that much better.
Last update on 2023-12-03 / Affiliate links / Images from Amazon Product Advertising API