In Brief: Poulan Pro 961840001 Snow Blower Review
The Poulan Pro 961840001 gas-powered Snow Blower leaves little to be desired with it's 136cc engine. For that snow in the driveway or the sidewalk, you need something that will remove it quickly and easily. And the Poulan Pro electric start single-stage snowblower is just the machine with a long throwing range that comes with it. And the easy way to start and use this piece of equipment will be ideal for all ages and sizes of people.
Poulan Pro designs powerful equipment that will help to make your outdoor tasks much easier for the past 70 years.
Some of their best products are machines used to remove snow from your driveway as well as the sidewalk.
This electric start single-stage compact and lightweight snowblower are one of the nicest and quite affordable machines.
And they are suitable for all types of snow removal applications around the house and yard.
Key Specifications of Poulan Pro 961840001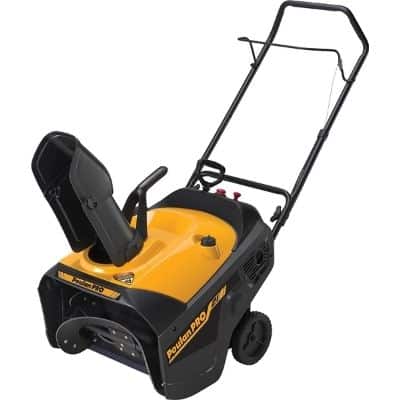 All the adjusting handles are made with a large form factor to make it easy to use even with gloves on the hands.
And this also means that even those people with very large hands will be able to use it without any problems.
What makes this gas-powered snow blower even more impressive is the fact that it will be able to remove up to 13 inches of snow with every pass.
This great feature makes the snowblower from Poulan Pro quite a time saver.
The 136cc engine included with this snowblower is quite strong and will be able to remove up to 50 tons per hour.
It also comes with quite a wide 21 inches of clearing width so you can clean a large area in much fewer passes.
The snow throwing paddles come with rubber tips equipped to help pull the unit forward while in contact with the ground.
Check out this video for more :
Here is the long list of specs of the Poulan Pro 961840001 Snow Blower :
Specification
Model No / name
PR521ES
Powered by
Gas- Electric start

Engine Power
136cc LCT
Stages
Single-stage
Clearing Width

21 Inches
Ideal for how many inches of snow

13 Inches
Warranty
2 Years limited warranty
Weight
81 Pounds
Start Mechanism
Electric start
Other Features
180 Degrees chute turning range, Long trowing distance
Unique Features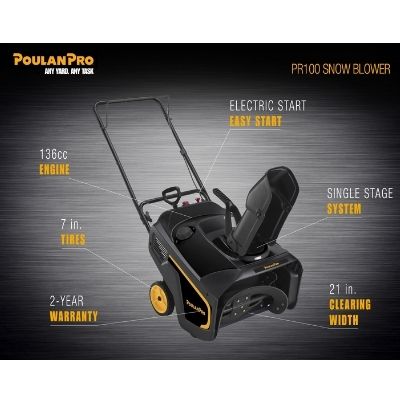 Next we are going to go through what could be considered the most unique features of this snowblower.
Long Throwing Distance
This snowblower from Poulan Pro comes with quite a long snow throwing distance of up to 35 feet to clear your way.
This means when that snow is removed, you will not need to deal with it again to waste your time and effort.
This is very impressive for such a small and compact snowblower and brings it very close to bigger machines out there.
180 Degrees Chute Range
And to add to the impressive performance of this small and compact machine, the chute can easily handle 180 degrees turning range.
The chute can be easily maneuvered by hand to adjust your throwing direction in quite a wide discharge range to get rid of the snow.
This means you will only need to do a single pass to get rid of the snow from the driveway or from the sidewalk to save you time.
Easy Start Option
With an electric starter included with this snowblower from Poulan Pro, you will have it up and running in no time.
It will even start quickly and easily in quite cold conditions to help you get rid of the snow from the driveway.
Power And Snow Clearing Capability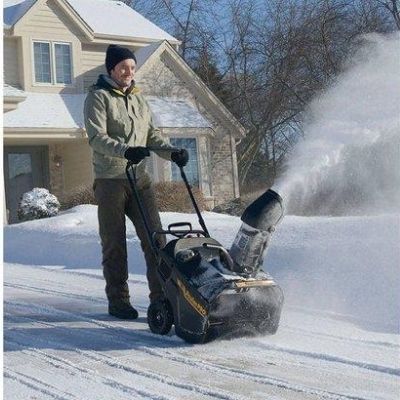 The Poulan Pro single-stage gas snow blower comes with quite a wide clearance width of 21 inches to make the snow cleaning job much easier and quicker.
It can also clear quite thick snow of up to 13 inches thick, quickly, and easily.
The very powerful 136cc engine will produce power of up to 5HP to make it much easier to clear the path.
And with this decent machine, you will be able to clear the driveway as well as the walkway in a very short time.
See the following video for instructions on how to use this unit :
Ease Of Usage
One of the main reasons this snowblower from Poulan Pro is quite easy to use is the easy electric start feature.
With such a feature, you do not need to worry if the equipment will start even in relatively cold conditions.
And then, there is the very ergonomic handle to help prevent fatigue while using it. And the rubber tips on the snowblower help pull the machine forward and, therefore, much easier to push.
Ease Of Maintenance, Repairs & Warranty
With this snowblower, you get quite a long 2 years unlimited warranty included from the company you buy it.
When it is time to claim the warranty, just take the machine together with the original receipt to where you purchased it.
Register your product here for up to date news and information.
There is very little needed to maintain this product. You only need to add fuel to the tank, which is easily accessible.
And you need to check the oil level to keep the machine in top condition.
Regular cleaning of the machine will also help eliminate the dirt that might stick to the blades and undercarriage.
Price Of Poulan Pro 961840001
The Poulan Pro 961840001 Snow Blower is one of the most affordable machines out there for clearing away the snow.
It comes with a very low price tag attached to it to make the snowblower available for most people, even those on a tight budget.
Pros and cons of Poulan Pro 961840001
Now we will take a quick look at the pros and cons of this snow blower to get an overview of the ins and outs of this unit.
Pros
Made with a compact design
Comes with great features included
Quite easy to operate
Made from strong and durable materials
Cons
Not really suitable for very cold conditions
Might be a bit difficult to assemble
Who Should Buy Poulan Pro 961840001 ?
If you live in an area with light to medium snowfall, you need to get one of these small and compact snowblowers.
Every homeowner in these areas can do with such an affordable yet quite strong snow-removing machine.
It is also suitable to be used by those who are making a living out of garden services and other similar applications.
It is also the ideal type of equipment to have for park managers and other public area managers and golf course managers.
Our Recommendation
You definitely can not go without The Poulan Pro 961840001 Snow Blower. It's nice and easy to use a piece of equipment if you have snow problems in the driveway.
And the small compact machine from Poulan Pro can easily be stored in a small space when not in use.
For your convenience and peace of mind, get yourself one of these machines, and your driveway will be neat all the time.