In Brief: Powermatic 1610082 Jointer Review
The Powermatic PJ-882HH is an 8 inches parallelogram jointer for professional woodworking. The heavy-duty machine made of cast iron is equipped with a helical cutter head that has knife inserts. It is suitable for smooth, quiet cutting with a finer finish surface better than you can find on conventional systems.
Powermatic is a Tennessee, US-based tool manufacturing company. Founded almost a century ago, in 1921, the company operates in China, Russia, Germany, and France.
It is a notable producer of table saws, CNC, bandsaws, dovetail machines, dust collectors, drill presses, planers, and jointers.
Key Specifications of the Powermatic 1610082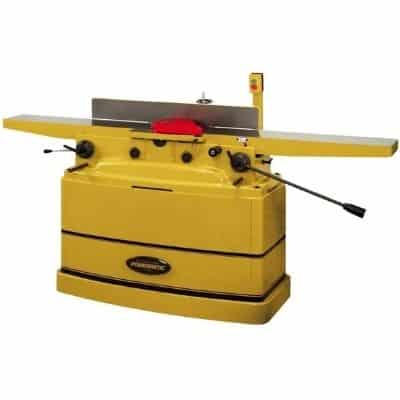 The Powermatic PJ-882HH is engineered with a very functional helical cutter head.
The helical head comes with five extra carbide insert screws and a pair of wrenches for removing or replacing the screws.
They give you two wrenches because these cutters are very sharp, even when they seem dull on wood.
Like all of the Powermatic helical head cutters, each one of the solid carbide cutters has four individual edges.
They all have a mark in one corner that allows you to index all of them the same way.
The infeed table has a nice gauge that lets you see how deep a cut you have set. This machine is automatically limited to 1/8 inch maximum depth of cut.
If you want to override that, pull the knob out, turn it 90 degrees. It can go to a full 1/2 inch depth of cut.
Check out the video here demonstrating the Powermatic PJ-882HH's power :
Read the long list of Powermatic PJ-882HH specs here :
Specification
Model No / name
PJ-882HH
Type
Parallelogram jointer
Cutting head
Helical
Start
Magnetic
Power (horsepower)
2 HP motor power
Phase
1
Speed (revolutions per minute)
7000rpm
Preset stops
-45°, 90°, and 45°
Knives (no)
54 four-sided inserts
Tilt
From -45 ° to + 45 °
Dust collection (y/n)
Yes
Weight (lbs)
610
Infeed table (length in inches)
44
Outfeed table (length in inches)
38
Table dimensions (inches)
8" x 82" (20 cm x 208 cm)
Overall dimensions (inches)
84 x 28 x 44
Warranty (no. of years)

5
Unique Features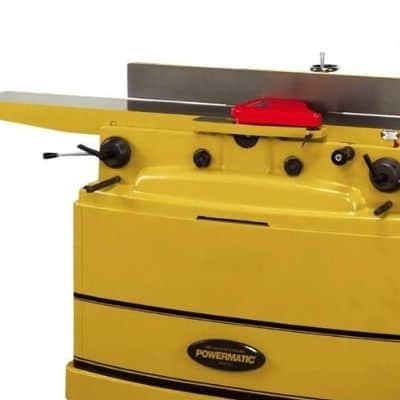 There are some amazing features the Powermatic PJ-882HH possesses.
Some of these will allow you to complete more woodworking projects with less fuss. Some of the most unique features include the following.
Helical cutting head
Powermatic PJ-882HH has a helical cutting head that offers a much better cut quality, less noise, and more durable knives.
One of the things people like about the helical heads and the individual cutters is even if you encounter a piece of metal and damage some of the inserts, usually, you only have to replace two or three of them to refresh the head.
Strong and sturdy construction
The size of the base makes this a very stable machine. Everything about the PJ-882HH is heavy-duty. All of the castings are very large but nicely machined.
At 88″ (223.5 cm) long x 28″ (71 cm) wide x 44″ (112 cm) high, this "little" baby weighs 610 lbs, or approximately 277 kg.
It offers a cutting width of 8″ (20 cm). Besides just supporting the machine, the base houses the electronics and a 4-inch dust collector that leads up to the cutter head.
Precision insert and the fence
A nice touch on the PJ 882 is the insert.
The fence actually rides on the insert when it moves back and forth across the table. That prevents it from scratching the table all up like it happens on other joiners.
Nearly all of the operating mechanism for the fence is also cast iron with adjustable stops. And it uses a hand crank that operates a gear drive that moves the fence.
Bevel angles of the fence are locked with a handle. The fence can be moved to any point across a table.
Power and Performance
The Powermatic is a jointer with a motor with 2 horsepower. It has the ability to make 7,000 revolutions per minute.
The motor is 1 phase, and it has a current of 9 A.
It runs on just 230 voltage power only. While the machine has a magnetic start mechanism, it has an on/off switch, which is mounted on a mast.
The jointer has a dust collection chute with a minimum of 450 cubic feet per minute (CFM) required.
Ease Of Usage
All the moving parts of the Powermatic PJ-882HH operate very easily and are easy to set accurately. Each corner of the tables has adjusters that allow you to set the tables.
The outboard adjusters on the front of the machine are covered by handles.
You just remove the center screws and a couple of set screws, and those handles come off. Both the infeed and outfeed tables have levers for adjusting the height. The infeed side has a longer arm because we use it more frequently.
Ease of Maintenance, Repairs, & Warranty
For servicing and repairs in the case of defects, Powermatic demands that the user contacts their technical services for support.
They are reachable by dialing 1-800-274-6846 between 8 to 5 pm from Monday to Friday.
The warranty on the machine lasts for five years for normal use. For commercial use, this is limited to two years.
The accessories have a one year warranty (limited) from the date of delivery. Only the initial owner of the equipment can enjoy the warranty service.
As expected, the warranty doesn't cover failures or damages as a result of negligence, abuse, misuse, accidents, or everyday wear or tears.
Price of the Powermatic 1610082
The price of the Powermatic PJ-882HH Jointer is a bit on the high side.
When you compare it to competitor models such as the Jet 708457DXK or Shop Fox W1829, you may feel the latter two are a no-brainer.
But nothing compares to the higher standards and unique features of the Powermatic tool. Rugged like a tank, it is built to last!
Pros and cons of the Powermatic 1610082
The jointer comes with a load of advantages and a few downsides, which you should see.
Pros
Functional helical cutter head
Smooth and quiet cuts
Has a dust collection chute
No-scratch engineering
Built like a tank
Who Should Buy the Powermatic 1610082 ?
The Powermatic PJ-882HH is the best for commercial use or for professionals who work on large workpieces.
Made of cast iron, it has the needed stability for highly-demanding jobs.
Our Recommendation
If you need to add a joiner to your shop, you can save yourself a lot of time and money by buying this. The PJ882HH might be the last jointer you'll ever use.
It's a premium-quality jointer with features that ensure you get what you pay for.