In Brief: PowerSmart DB7005 Snow Blower Review
The PowerSmart DB7005 Snow Blower is a strong piece of equipment with 196cc of power. It is very easy to operate at only 79 pounds, and will help you clear the driveway from snow. It will not take you long to get the job done with the wide clearing capability it offers. It will be able to clear the way in only a few passes. This snow blower from PowerSmart is fuel-efficient and will easily handle a large space that needs to be cleared.
PowerSmart has its headquarters in Itasca, Illinois, USA, and all their products are distributed by Amerisun, Inc.
They make quite a wide range of powered gardening tools, as well as other outdoor tools and equipment.
These products from PowerSmart include handy and powerful snow blowing equipment that will make your life much easier.
One of their top products is the very powerful DB7005 single-stage gas snow blower that comes with great features included.
Key Specifications of the PowerSmart DB7005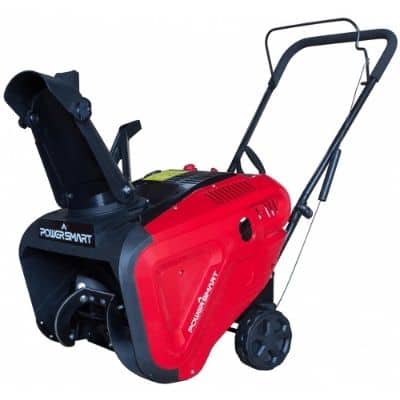 This blower comes with a snow clearing width of up to 21 inches to provide a wide path of clearing, which requires fewer passes.
It is quite easy to maneuver this snow blower over rough terrain, making it suitable for all sorts of blowing needs.
This snow blower is able to easily and quickly move wet, heavy snow to make the clearing job much easier for your convenience.
With a strong gas engine, it is much stronger than the electric version, making it far more versatile and easy to use.
This snow blower will start with the first pull to make it suitable for weaker people to use, like pensioners and even small women.
The lightweight and compact design makes it easy to store when not in use.
Watch this video for more :
Here is the long list of specs of the PowerSmart DB7005 Snow Blower :
Specification
Model Number / Name
DB7005
Powered By
Gas
Engine Power
196cc
Stages
Single-stage
Clearing Width
21 inches
Ideal for how many inches of snow

12 inches
Warranty
2-year limited warranty
Weight
79 pounds
Start Mechanism
Pull recoil
Other Features
Up to 30 feet of snow throwing distance
Unique Features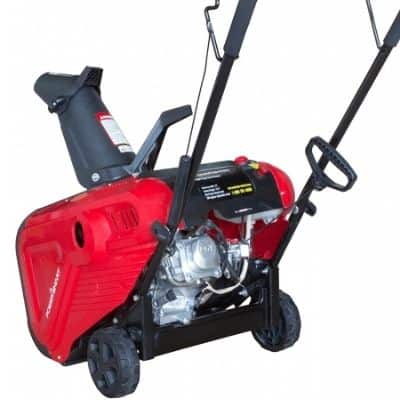 Let's take a look at a few of the unique features that you can expect from this snow blower.
30 Feet Of Throwing Distance
This snow blower will hurl the snow up to 30 feet away to provide wide clearing when you need it. This is quite a distance and is very impressive since the average snowblower will only throw the snow as far as 15 to 20 feet away.
This means that you do not need to have to deal with the same snow again if you want to clear a wide path.
A Strong Engine
The 196cc engine included with this snow blower from PowerSmart will make your snow clearing job very easy.
The blower will run much faster than the average snow blower, and it will not struggle with a deep layer of snow.
It will operate quite effectively in snow as thick as up to 12 inches without struggling too much.
A Wide Chute Angle Range
This snow blower from PowerSmart is able to rotate in a 180-degree range when disposing of the snow that it picks up.
This will add even more range to clear quite a large space in only a few passes and without too much sweat.
For more information about the features, check out this video:
Power and Snow Clearing Capability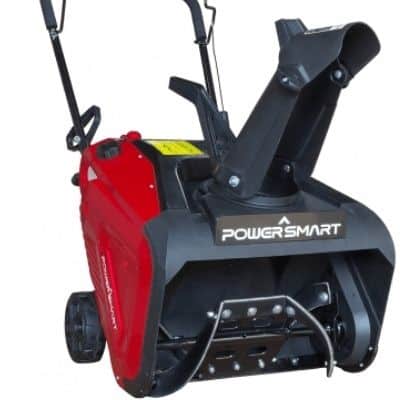 With quite a strong gas engine of 196cc power, it will quickly clear the snow away without too much effort on your side.
It also comes with quite a wide snow clearing range of 21 inches to make it easier to clean in far fewer passes.
With a ¾-gallon fuel tank, it will be able to clear quite a long stretch without running out of gas. It will also be able to clear as deep as 12 inches of snow without too much trouble or too much effort on your end.
Ease Of Usage
The easy-to-grab chute handle makes it very easy to rotate the chute at 180 degrees for a wide circle of ejection.
It is very easy to use this snow blower on hard decks and unpaved sidewalks to clear snow from the path.
The foam-padded handle grip will provide quite an easy grip on the handle of the snow blower and will prevent early fatigue.
With the oversized recoil handle, even the largest hand will easily grab and pull the recoil without problems.
No pre-mixing of gas is needed with the 4-cycle engine, making it very easy to start on cold mornings.
Ease Of Maintenance, Repairs, & Warranty
This piece of garden equipment comes with quite a low maintenance factor that makes it quite easy to maintain and keep it running.
The gas tank comes with the EZ-fill feature, as well as a fuel level indicator to show the fuel level.
Also included is a slim funnel to make it much easier to fill the tank with oil in the small space provided for that.
With this product, you get a 2-year limited factory warranty included for your peace of mind and convenience. To claim the warranty, you need to return the entire product, together with the original receipt, to PowerSmart.
Send an email to the following email address for confirmation : [email protected].
Price of the PowerSmart DB7005 Snow Blower
This snow blower from PowerSmart comes with quite a decent price tag attached to it from most of the popular online retailers.
Compared to other similar products, you will not really pay that much for it.
Plus, with all the great features included, it is worth far more than what you will pay for it.
Pros and cons of the PowerSmart DB7005 Snow Blower
Below, we take a quick look at the good and bad of this snow blowing unit.
Pros
Made from strong, durable materials
Comes with great features included
Quite easy to operate
Will start quite easily
Cons
Not meant for use on dirt or gravel surfaces
A bit difficult to add oil to the snow blower
Who Should Buy the PowerSmart DB7005 ?
This is the ideal snow blower for the homeowner who needs to have a convenient tool to keep the driveway clean.
It is also quite suitable for the commercial garden specialist who needs to clear the area from snow.
It will also be quite the ideal tool for people in charge of managing large lawns and sidewalks.
Also, it is ideal for people who need to provide a public service to keep parks and playgrounds clean and in good shape.
If you look at the affordability of this unit, it is ideal for everyone else who just needs to get rid of the snow.
Our Recommendation
The DB7005 snow blower from PowerSmart is very easy to use and operate and comes with great features included.
Those features will help make your snow clearing job much easier and faster for your convenience.
It is usable by anyone old enough to operate this type of equipment, and it is made durable and strong to last for a long time to come.