In Brief: PowerSmart DB72024PA Snow Blower Review
The PowerSmart DB72024PA Snow Blower is an affordable two-stage unit that can be used to clear heavy snow efficiently. It is the most powerful snow blower offered by PowerSmart and can clear a path of up to 24 inches and 21 inches depth of snow in one go. Its powerful motor of 212cc can be started with ease due to the electric start, which is guaranteed to work in temperatures as low as -20 degrees F.
PowerSmart is a world-renowned company popular for its quality outdoor power equipment. Their offerings span across a wide range of products, including snow blowers, lawn mowers, and more.
Their dependable products are well-matched with excellent customer service, providing a completely satisfying experience.
One of their most popular and the most powerful snow blowers is the PowerSmart DB72024PA.
It is equipped with a wide range of features that make it not only effective when clearing heavy snow, but also efficient, offering quick results and proving to be a great time-saver.
Key Specifications of the PowerSmart DB72024PA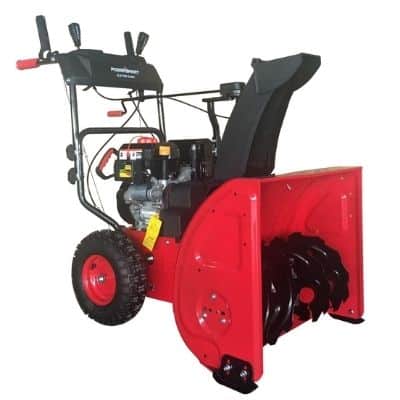 The PowerSmart DB72024PA comes with several specs that recommend it as one of the best snow blowers on the market.
The 212cc 4-cycle gas engine is powerful enough to cut through up to 21 inches of snow.
The clearing width of 24 inches guarantees quick results even for medium to large driveways and paths. The electric start is easy to use and functional even at -20°F.
Watch this video to find out more about this snow blower :
Here is the long list of specs of the PowerSmart DB72024PA Snow Blower :
Specification
Model Number / Name

DB72024PA
Powered By
Gas
Engine Power
212cc 4-cycle

Stages
Two-stage
Clearing Width
24 inches
Ideal for how many inches of snow

21 inches
Warranty
2-year limited warranty
Weight
187 pounds
Start Mechanism
Electric start/Manual starter

Other Features
Up to 40 feet of snow throwing distance
Unique Features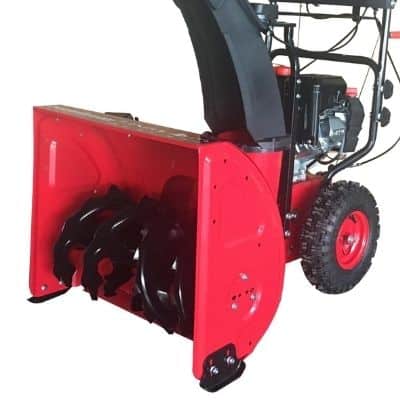 PowerSmart DB72024PA comes with numerous outstanding features, such as versatility, a dual start engine for optimal performance, and a customizable driving system that ensures efficiency and quick performance.
Versatile Use
This product comes with inflatable 13-inch deep treat snow tires.
This recommends the snowblower for use on slippery and uneven terrain and can be manipulated with ease.
Furthermore, its design boasts durable metal skid shoes, which can be quickly adjusted in order to eliminate the snow from different surfaces and heights.
Dual Start Engine
PowerSmart DB72024PA comes with a 212cc 4-cycle powerful engine enough to cut through the thickest and heaviest snow and ice. It offers two start options.
The electric start can be used in temperatures down to -20F without delay.
Furthermore, it also has a manual starter, delivering versatility and ensuring performance in the harshest weather conditions.
Versatile Driving System
One of the best features is the versatile driving system.
It comes with two reserve speeds and four forward speeds in order to customize your experience and help you clear the snow in the shortest time span possible.
Because of this, the snow blower can also be manipulated with ease and maximum comfort, without requiring much strength.
For more information about the features, check out this video :
Power and Snow Clearing Capability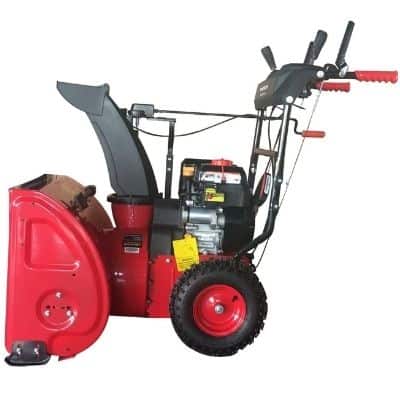 The PowerSmart DB72024PA is one of the most powerful, largest snow blower manufactured by PowerSmart.
It is great for owners with a large driveway or pathways because of its strength and ability to clear up a wide area in record time.
With the width up to 24 inches, depth of 20 inches, and 212cc engine, it is undoubtedly suitable to clear up expansive accumulations of snow and ice.
Ease Of Usage
Similar to other PowerSmart equipment, PowerSmart DB72024PA is highly adjustable and easy to use. The design is specially crafted to require minimal physical strength.
The chute is adjustable, and it can be used on any type of terrain, even on different heights.
Furthermore, due to the versatile driving system, clearing up large paths with snow becomes an enjoyable activity.
Ease Of Maintenance, Repairs, & Warranty
This is a gas snow blower, and, similar to other units using the same fuel, it needs to be maintained carefully to ensure a long product life.
Make sure you check the oil level regularly, starting from the first use of the snow blower. The entire unit should be checked periodically for any wear and tear.
Any components that are damaged or used should be replaced in order to prolong its life.
This product comes with 2 years of limited warranty. This ensures that the buyer is protected against any manufacturing defects, but it does not include the annual inspection of the snow blower.
Each PowerSmart snow blower should be registered upon purchase in order to activate the warranty. Send an email to the following email address for confirmation : [email protected].
Price of the PowerSmart DB72024PA Snow Blower
PowerSmart DB72024PA is perhaps the best choice for home use. Given its features and quality, it is by far one of the best affordable two-stage snow blowers on the market.
It is built to last and has a detailed control system, ensuring efficiency and smooth performance.
Pros and cons of the PowerSmart DB72024PA
The PowerSmart DB72024PA brings numerous advantages to its owners. The main pros and cons of this product are :
Pros
Made of durable materials with a lightweight frame
Easy to start due to the electric push button
Several speed modes
Detailed control system
Who Should Buy the PowerSmart DB72024PA ?
The PowerSmart DB72024PA is suitable for any owners of a large property who need to remove the snow on a regular basis.
It is a dependable unit that can be successfully used to clear up any large driveways or paths, ensuring a smooth performance.
Our Recommendation
The PowerSmart DB72024PA is one of the best choices for homeowners who need an easy-to-use and affordable unit to clear up snow and ice.
It is a great long-term investment with an affordable price tag, given all of its premium features.