In Brief: PowerSmart PSS2240-X Gas Snow Blower Review
If you are looking for a snowblower that removes snow like a pro, let me introduce you to PowerSmart PSS2240-X: a machine that holds exceptional features to get the work done within no time. From its heavy-duty steel design to rugged tires, it is highly durable. It features a 180 degrees rotation chute for easy and effective snow blowing.
It would feel good to invest in a machine that can serve you for extended periods, save on fuel, and is aggressive enough to clean and clear your driveway.
PowerSmart PSS2240-X has a wide 21-inch clearing auger and a powerful 212cc engine that gives the blower enough power to clear up to 20 inches of snow per pass.
The PSS2240-X is a PowerSmart Company product whose headquarters are situated inItasca, Illinois. It is known for designing and developing a wide range of outdoor equipment from yard cleaning tools, snow blowers, and lawnmowers, among others.
If your driveway is large and the snow accumulation is dense, this machine can throw the snow for up to 40 ft. It avails both a manual starter and a push to start button.
Key Specifications of the PowerSmart PSS2240-X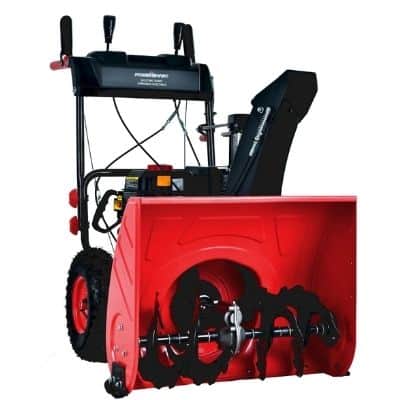 PowerSmart Pss2240-X screams perfection in that it is equipped with the most recent features to unleash its utmost potential.
The 212cc PowerSmart engine gives it enough power to clear the snow with much ease. The 180 degrees rotating chute boosts its action.
You'll love to know that it is CARB-compliant; hence you can buy and use it in all States. Its track tires provide maximum traction for stability and easy maneuverability when working.
It also allows a 24-inch clearing width and 20-inch depth hence a perfect choice for areas with heavy downfall.
Since different individuals prefer different sizes, the machine comes with adjustable skid shoes for heights alteration.
Here is the long list of specs of the PowerSmart PSS2240-X Snow Blower :
Specification
Model No/name
PowerSmart Pss2240
Powered by
Gas
Engine power
PowerSmart 212cc
Stages
In-line two-stages
Clearing width
24 inches
Ideal for how many inches (depth of snow)
20 inches
Weight
160 lbs.
Start mechanism
Electric start
Other features
Push-button electric or manual, SAE 5W30
oil type
Unique Features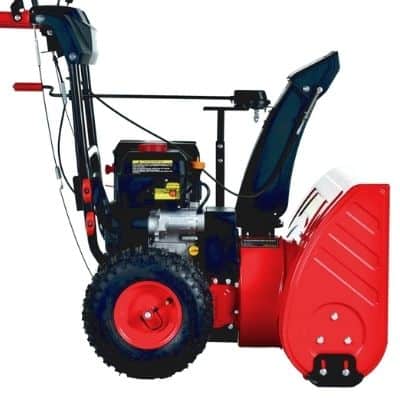 Apart from the above features, here are some unique features that come with this snowblower :
13 Inches Inflatable Track Tires
To navigate through massive snow formation, PowerSmart equipped this machine with these high grip inflatable tires. They aid in maneuverability and provide solid traction.
180 Degrees Chute Rotation
This suits best a broad driveway or if you have a more significant area to clear. It helps to blow the snow faster and easier on every rotation made.
Versatile Drive System
The drive system is a huge contribution to this machine's flexibility. It allows 2 backward speed and 6 forward variations for a smooth driving experience.
Choose the best variation as per the snow concentration in your area.
For more about this snow blower, check out this video :
Power and Snow Clearing Capability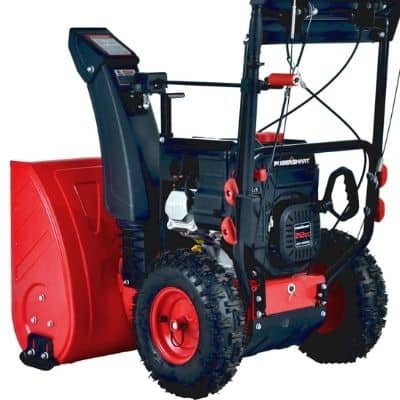 PowerSmart PSS2240 suits the best areas receiving heavy snowfalls. Its 212cc engine and 180-degree chute rotation give it the power to dig through 20 inches of snow in every pass.
Its inflatable track tires provide maximum traction with little to no slips on slippery terrain. Additionally, it guarantees a minus 20 degrees startup.
Ease of Usage
The PSS2240-X weighs not more than 160 pounds. It also features multiple drive system variations to cater for the needs of all users.
Use any of the six forward variations and the two backward speeds to handle snow in your driveway.
It is fitted with both push to start electric button and a manual start therefore, you can use any of the two to get the machine running and ready to work.
Its abilities make it a perfect choice for all snow conditions.
The adjustable metal skid shoes that come with this piece of equipment offer easy height alteration for differing surfaces. It is CARB compliant hence bought and used in all States.
Ease of Maintenance, Repairs, and Warranty
The auger system is made of the heavy-duty steel frame for extended service life.
When it comes to maintenance, the only requirements are oil change, bolt tightening, extensive cleaning after use, and other minor care practices.
At some point, every machine will need repairs. Yes, the product is covered by the PowerSmart warranty, but it's not for a lifetime.
The repairs are readily available and cost-effective. You can visit the nearest authorized store to get the specific parts you're looking for.
A 2-year limited warranty covers the PowerSmart Pss2240-X. This means that for the stipulated time in case your machine fails, the company pays the repair costs. This is warranted to the original purchaser only from the day of purchase.
Price of PowerSmart PSS2240-X
The PSS2240-X gives you value for your money. Considering all its incredible features, it is worth investing in. More so, if you compare PSS2240-X with other similar products in the market, it's kind of cheap.
If you are looking forward to making a long term investment, you might consider buying PowerSmart pss2240-X.
Pros and cons of the PowerSmart PSS2240-X
Below are some of the pros and cons of this snowblower.
Pros
Multiple speed variation for enhanced driving
Easy to operate
Versatility of use
Pocket friendly
Highly durable
CARB compliant
Cons
It might take time to figure out speed variation that suits your pace
Who Should Buy PowerSmart PSS2240-X ?
PowerSmart PSS2240-X is an excellent choice for individuals looking for a machine that can handle heavy snowfalls for residential and commercial areas.
If you're looking for something more compact and long-lasting, then consider trying this tool. It can clean up to 24 inches of snow and 20 inches deep on every pass.
Its inflatable tires are fitted with deep snow tread bites to help you navigate slippery services with ease. You'll also get skid shoes to assist you in height alteration.
Our Recommendation
Generally, this machine is worth investing in. It beats a good number of similar power equipment in the market.
Its ergonomic design, heavy-duty material, and the ability to handle any snow accumulation with lesser efforts make it a great tool.
Being CARB-compliant, you can enjoy its services anywhere.
With PowerSmart PSS2240-X, the power is in your hands.