In Brief: Snow Joe iON15SB-CT Snow Blower Review
The Snow Joe iON15SB-CT is a special kind of Snow Thrower. It comes with a powerful iON battery that allows it to clear snow off your yard without waking the neighbours. This snow thrower can move up to 440 pounds of snow in a minute. Also, it can throw snow up to 20 feet in whatever direction that you want.
Since 2004, Snow Joe has specialized in manufacturing household tools and equipment that make your home look neater and safer. Their products are made with strong and long-lasting materials.
The Snow Joe iON15SB-CT unit is one of their best products in the snow thrower category. It is an electric snow thrower that is powered by an iON battery.
This means that the unit does not come with any cords, and it does not emit harmful gases into the atmosphere.
Key Specifications of the Snow Joe iON15SB-CT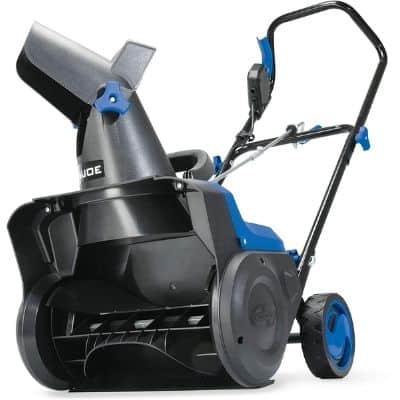 The Snow Joe iON15SB-CT snow thrower comes with a rechargeable 40V iON battery. This battery can last for up to half an hour before needing a recharge.
During the half-hour that the battery works, the unit is very silent and makes zero carbon emissions.
It comes with a snow clearing width of 15 inches and a depth of 8 inches. This is enough to clear snow with one clean sweep.
The unit can also throw snow up to 20 feet in any direction that you so desire.
Unlike most electric snow throwers, the Snow Joe iON15SB-CT does not come with a cord.
This removes the constraint of needing an electrical outlet outside your home before you can clear the snow.
This device also comes with a foldable handle that makes it easier to use, transport, and store when not in use.
You can watch this snow thrower in action in this video :
Here is the long list of specs of the Snow Joe iON15SB-CT Snow Thrower :
Specification
Model Number / Name
iON15SB-CT
Powered By
Cordless 40V Battery
Battery Capacity
2.5 Ah
Stages

Single-stage

Clearing Width

15 inches
Plowing Capacity

440 pounds per minute

Warranty
2-year limited warranty
Weight
30.25 pounds
Rust Resistant
Yes
Other Features
Up to 20 feet of snow throwing distance
Unique Features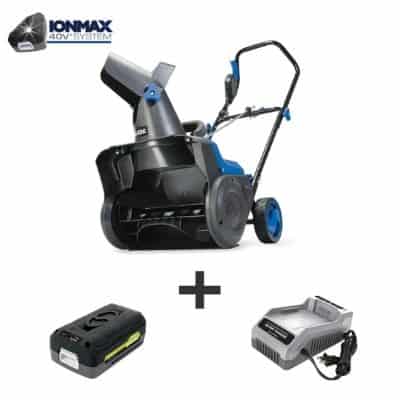 The Snow Joe iON15SB-CT has plenty of unique features. Let us examine three of these features.
One-Button Start
There is no need for electric sockets or plugs when you want to use the Snow Joe iON15SB-CT. You also will not need cords, gas, or anything of that sort.
That is all because, with the Snow Joe iON15SB-CT, you need to push only one button for it to start working.
This makes it easy and convenient for you to operate the unit. No technicalities are involved. With the single push of a button, you will have the unit all fired up to clear the snow in your yard.
Quiet Operation
Many snow throwers on the market today are loud, but that's not the case with this one. Since the Snow Joe iON15SB-CT runs on battery power, it does not make the same level of noise as other units that run on gas.
With this unit, you can clear the snow off your lawn in the middle of the night without waking your neighbors.
EcoSharp Technology
The Snow Joe iON15SB-CT comes with a unique technology that allows it to perform at maximum capacity at all times.
The EcoSharp technology ensures that you can efficiently clear the snow from your yard while keeping the environment safe by emitting zero carbon gases.
Power and Snow Clearing Capability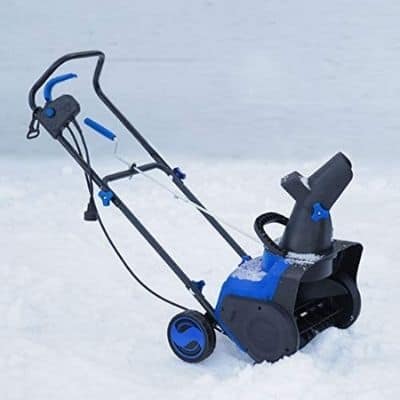 The 500W rotor single-stage engine on the Snow Joe iON15SB-CT allows it to clear up to 440 pounds of snow in one minute.
The 2-blade, temperature-resistant, plastic auger aids the powerful engine in making it easier for you to clear the snow.
Once charged, the Snow Joe iON15SB-CT can last for up to 30 minutes. This is more than enough time to clear all the snow around your home.
These plastic augers come with 2 blades that can cut through 8 inches of snow in one direction. They can also clear snow up to 15 inches wide.
While you can use the Snow Joe iON15SB-CT in open spaces, you will find its snow clearing capabilities in tight spaces to be quite impressive, as well.
Ease of Usage
The Snow Joe iON15SB-CT comes with a foldable handle that allows you to control the direction of the snowblower easily.
Another advantage of the foldable handles is that it allows you to transport or move the unit with ease.
The unit also has all-terrain wheels that allow it to move and clear snow on any surface, including tender ones. It is quiet, too, so you can clear snow at any hour of the day.
Ease of Maintenance, Repairs, & Warranty
The Snow Joe iON15SB-CT unit comes with a user manual that tells you everything you need about maintaining the unit.
The unit comes with a 2-year warranty that covers manufacturer faults and faults that result from use.
It is not easy to find a service provider, so you'll have to contact the company directly if you need any help.
Price of the Snow Joe iON15SB-CT
For a snow thrower that is cordless and comes with EcoSharp technology, you will expect the price of this unit to break the bank. However, it's affordable and an absolute steal.
Pros and cons of the Snow Joe iON15SB-CT
Here are some reasons why we like Snow Joe iON15SB-CT and some reasons why we don't.
Pros
Comes with a foldable handle
Can throw snow 20 feet
Very quiet
Zero carbon emissions
Cons
Users have to buy the battery and charger separately
Limited approved repair centers
Who Should Buy the Snow Joe iON15SB-CT ?
The Snow Joe iON15SB-CT is for anyone who loves to keep the outside of their home clear of snow.
It is also perfect for homeowners who care about the planet because it does not emit any harmful gases.
The quiet nature of the unit also makes it great for homeowners who have many houses around them. For those worried about clearing snow out of tight corners and on small driveways, this unit is for you.
Our Recommendation
The Snow Joe iON15SB-CT is cordless, quiet, and simple to use. The features on this unit make the asking price look like a bargain. You will quickly have your walkways and driveways free of snow with this unit.