In Brief: Ariens Deluxe 28 Snow Blower Review
The Ariens Deluxe 28 snow blower is an affordable 254cc Snow Blower that can throw snow up to 50 feet. If you are not lucky to have a heated driveway, clearing the snow during winter may prove a challenge. However, with the right snow blower, doing this task may not be as stressful.
Ariens Company (AriensCo) is an American equipment manufacturing company based in Brillion, Wisconsin. The company has a reputation for manufacturing quality lawn mowers and snow blowers since 1933.
These products are certainly going to make your life easier due to their uses at home. An example of their products is the exceptional Ariens Deluxe 28 snow blower.
The machine is remarkably powerful and easy to use.
Key Specifications of the Ariens Deluxe 28 Snow Blower
As stated earlier, the Deluxe 28 is an exceptional snow blower.
This powerful gas-powered machine can clear up to 65 tons of snow per hour thanks to its large 3 blade all steel 14-inch impeller and powerful engine.
It has a 28-inch clearing width and 21-inch intake, making it perfect for clearing a foot of snow.
The powerful 254cc engine allows the machine to work well on both the dryer Midwest powder and the heavy wet snow from the east.
Featuring interlocking handles, this machine allows you to operate it using one hand. It is easy to maneuver the Ariens Deluxe 28 thanks to its auto-turn steering feature.
For more about this snow blower, take a look here :
Here is the long list of specs of Ariens Deluxe 28 Snow Blower :
Specifications
Model Number/Name

921046
Powered By
Gas
Engine Power

12.5lb
Stage Type
Two-stage
Clearing Width

28 In
Tire Size
16 In
Warranty
3 Year for Consumers and 90 Days for commercial
Weight
249.8lb

Start Mechanism
Electric and Recoil

Other Features
Up to 50 feet of snow throwing distance
Unique Features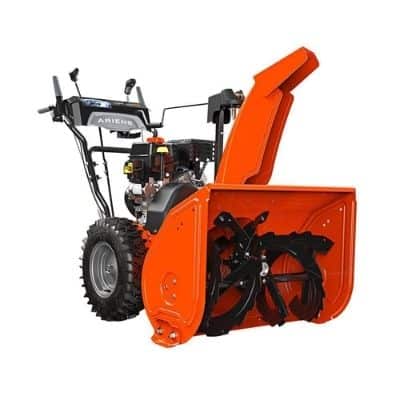 The following are some of the unique features we loved about the Ariens Deluxe 28 :
Electric start
This snow blower comes with a standard electric start.
This is quite convenient in the event your recoil start breaks, or you are experiencing the coldest weather.
The feature is also great for the elderly / women etc.
The manufacturers also offer you separately sold heated handlebars that are easy to install.
Auto-turn steering
Another fantastic and unique feature is the auto-turn steering. This machine is self-propelled and comes with 6 forward and 2 reverse speeds.
When you are switching directions, the machine will sense it and automatically lock the inside wheels. With this feature, making tight turns is a breeze.
Though older models had issues with drifting, this shouldn't be cause for concern with the newer ones. Thanks to the auto-turn steering, operating this machine is undoubtedly going to be a joy.
14 In 3 blade all-steel impeller
Since most impellers are 12 In, the added size in this product is worth mentioning.
Coupled with its larger discharge chute, this impeccable machine is able to clear up to 65 tons of snow per hour with a throwing radius of up to 50 feet.
The serrated blades make it easy to cut through compact snow or ice.
Power and Snow Clearing Capability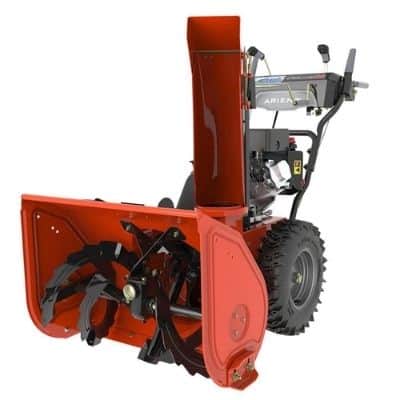 This rugged beast comes with a powerful 254cc Ariens AX engine.
The engine provides efficient and consistent power, is easy to start, and consumes less fuel. The machine blows snow up to 50 feet and clears up to 65 tons of snow per hour.
Ease of Usage
This machine is very easy to use. The auto-turn steering technology makes maneuvering the machine even on tight turns a breeze.
Its electronic start feature, coupled with the 254cc Ariens AX engine, makes starting the machine easy and quick.
Its non-standard built-in halogen headlight feature makes it possible for you to use the machine even when it is dark. Overall, this machine is easy to start and operate.
Ease of Maintenance, Repair, and Warranty
This snow blower comes with a low maintenance factor, which makes it very easy to maintain. The gearbox is easy to grease.
Parts are easy to find and affordable. This makes replacing worn-out parts easy.
Repairs should be made at authorized service centers. The exterior is made up of steel, which is strong and durable.
For consumer users, the product comes with a 3 Year limited warranty.
As for commercial users, the product offers a 90-day limited warranty.
Price of The Ariens Deluxe 28 Snow Blower
This snow blower has an affordable price tag on all the popular online stores and retailers.
In comparison to other products in its class and offering some of its features, the Ariens  Deluxe 28 costs relatively less.
Having in mind the remarkable features it comes fully equipped, it is safe to say the machine is worth more than its quoted price.
Pros and cons of the Ariens Deluxe 28
The following are the pros and cons we identified from using the product.
Pros
Easy to operate
Easy to start
Made from strong and durable materials
Easy to maintain
Cons
The auto-turn steering feature takes a little getting used too
Who Should Buy the Ariens Deluxe 28 Snow Blower ?
We recommend this snow blower to anyone with a hard and long driveway.
The strong and durable materials will ensure the machine will last longer, making it a fantastic choice for gravel driveways.
Being an easy snowblower to operate, the Deluxe 28 can be handled by both adults and young!
If you get 80 inches or less of snow each year, the Ariens Deluxe 28 snow blower is an ideal choice for you.
Our Recommendation
Considering its ease in operation, exceptional performance, and its wide range of impeccable features, the Ariens Deluxe 28 is worth every penny. Its price tag is affordable for a 2-stage snow blower of its class.
We love the machine for its ease of operation and exceptional performance.
If you have a long and hard driveway and are looking for a durable, easy to operate and powerful snow blower, we recommend the Ariens Deluxe 28.
Last update on 2023-09-28 / Affiliate links / Images from Amazon Product Advertising API