In Brief: Craftsman SB410 Review
The winter months are cold, and depending on where you live, they can be very white. If that is the case, then investing in a high-quality, powerful Snow Blower is a good idea. The Craftsman SB410 is one such item. Crafted with features that help enhance usability and versatility, it is maybe one of the best budget options on the market today.
If you are in need of clearing a long driveway or even a sidewalk in front of your home, then the Craftsman SB410 is a great option. It comes fitted with a powerful 208cc 4-cycle motor and tons of other great features.
This shouldn't be any surprise, though, as Craftsman has been delivering quality products for decades. Check out our in-depth look at the Craftsman SB410 below to see if it's the right choice for you.
Key Specifications of the Craftsman SB410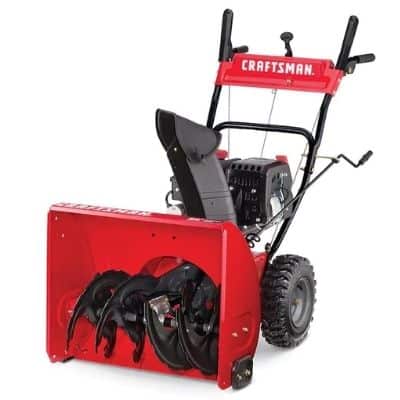 As we have already said, this snow blower comes with a 4-cycle 208cc engine that delivers a good deal of power.
It is also designed to be powered by electricity and is started with a simple push-button.
When it comes to cutting capability, this model is built with steel augers that are durable and fitted with a serrated design.
The overall build of this model includes a reinforced steel housing that helps enhance durability, giving you a product that you will be able to use for years, as long as it is properly maintained.
If you want more info on this product, check out this video :
Here is the long list of specs of the Craftsman SB410 Snow Blower :
Specifications
Model Number/Name

SB410
Powered By
Gas
Engine Power
208cc
Stages
2
Clearing Width
24"
Depth of Snow
Up to 21"
Warranty
2-year limited
Weight
191 lbs.
Start Mechanism
Push-button
Other Features


Chute control, pitch control, skid shoes, etc.
Unique Features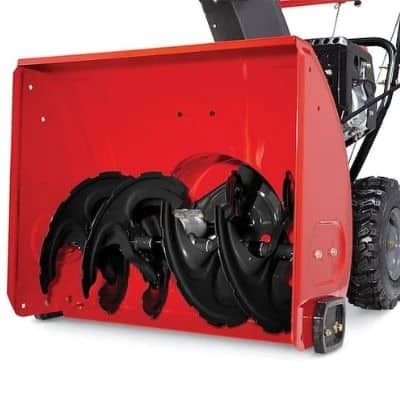 Though this unit comes with many of the standard features, there are a few that help this Craftsman model stand out amongst its peers. Here are a few features that might help you make your decision a little easier.
Extended EZ-Chute
The chute is one of the features of this model that help elevate its performance capabilities.
Not only is it designed with an easy-to-rotate design (180˚), but it is also crafted with a few extra inches of length.
This helps ensure that you can position the chute to your liking and gives it a much smaller discharge area to give your blower more distance and less blowback.
Skid Shoes
The last thing you want is to leave a mark on the concrete as you are trying to clear the snow from it.
Though this doesn't affect your performance, the addition of poly skid shoes is a nice feature that not all blowers come with.
Lights (optional)
This optional feature is nice for those areas that perhaps don't get as much sun as others or even for those who maybe have to do their clearing before there is much light.
If this sounds like your situation, then this model can have lights added to the unit to help illuminate the area better.
Power and Snow Clearing Capability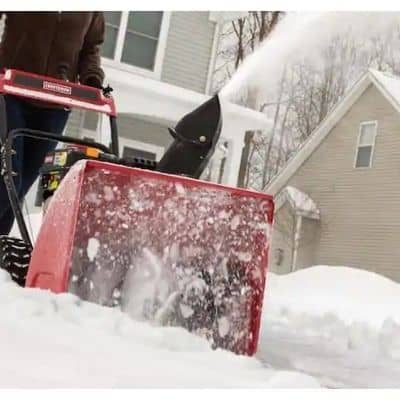 The 208cc engine may not be the most unique thing about this snow blower, but it certainly does lend a level of power to the model.
That being said, when it comes to the power capability, the engine and design of this snow blower do have a few things that help its power quotient rise to new levels.
The first is the starting system. The fact that it is an electrical push-button gives it the ability to be used even on freezing winter days.
Along with that is the fact that it is a two-stage motor. The unit has six different speeds (forward) that you can use to drive, as well as 2 reverse speeds. This gives it power and mobility.
When it comes to the clearing ability, it is designed to meet the standard specifications of most snow blowers, but that does not mean it isn't worth mentioning.
It is designed to be able to cut a 24" swath through the snow, which makes it easy to get the job done quickly. Plus, it can work on snow up to 21 inches deep.
Ease of Use
The last thing you want to do on a cold morning is struggle with the actual use of the snow blower that you have chosen to go with.
The Craftsman SB410 uses a single-hand controller that makes it very easy to use. Using only one hand to control it allows you to adjust the chute or stop when needed.
Along with the one-hand control, the design of the unit is also intended to make for more comfortable use.
It uses the plow-style handles and is crafted with an ergonomic handle that helps with grip and comfort when using it for extended periods. There is no power steering, though.
Along with these features, the unit is fitted with 13″x4″ tires, which is not all that spectacular, but these are X-trac tires.
This gives the unit a good level of traction and will make using it a lot easier.
Ease Of Maintenance, Repair and Warranty
This is where this unit may seem a little less than ideal, as there are several maintenance tasks that need to be performed on a regular basis.
The manual has a full schedule, but we will look at the things you need to do after every use.
After every use, or at least every 5 hours of use, you will want to check the oil. It may not need to be filled or changed, but to be on the safe side, this routine is suggested.
You will also want to check the hardware and components to guarantee that they are all tightened and in place.
Lastly, you will want to clean the unit after every use and maybe before every use depending on how long it has been between uses.
This unit comes with a limited 2-year warranty. The warranty does not cover all of the following :
Models purchased outside the US
Issues from lack of proper maintenance
Normal wear and tear
Damages caused by improper use
Maintenance and upkeep
If you have any questions about the warranty, you will need a copy of your sales receipt and you'll need to call this number: 1-888-331-4569
Price of the Craftsman SB410
This is another factor that is firmly in the positive column. The Craftsman SB410 often sells for under $700. This makes it budget-friendly in comparison to other 24" snow blower models.
When you look at that and the features it comes with, it is easy to see that the value is far more than what you might expect from a blower of its type.
Pros and cons of the Craftsman SB410
Here are the main advantages and disadvantages of this unit :
Pros
Handles deep, icy snow banks very well
Easy to use
Crafted to be durable and long-lasting
Can be used with heavy, wet snow
Cons
No power steering
Requires consistent maintenance
Who Should Buy the Craftsman SB410 ?
This model is a great addition to anyone's garage, but there are some who may get more from the design and features it comes with.
Those who are dealing with a large area that has multiple different types of landscapes underneath the snow may find this to be a better choice.
The inclusion of traction tires and the skid shoes gives the unit a level of versatility.
It can also be used in deep snow, as well as multiple types of snow, so this also elevates its versatility.
If you are someone who lives in an area of the country that gets a lot of snow during the winter months, this is a great option for you.
Plus, it is very budget-friendly, so if you are focused on that, then you may want to consider the Craftsman SB410.
Our Recommendation
The Craftsman SB410 is a durable, well-designed, all-around snow blower that is great for clearing large areas.
It is comfortable to use and is compact in design for easier storage. Overall, this is a great option, especially if you are working with a fixed budget.
The model we have been looking at is a durable, well-performing tool to help you clear snow easily. We hope this information has helped you with your choice.