In Brief: Cub Cadet 3526SWE Review
The Cub Cadet 3526SWE is a heavy-duty Snow Blower for getting rid of snow in areas that get lots of thick snow. This model comes with a powerful front auger that spins as fast as the impeller, thus throwing snow out of the machine and to one side. It also sports a powerful chute that throws snow up to 40 feet away.
Cub Cadet is a fairly popular American company that makes outdoor equipment and services. The brand is known for making high-quality products that are friendly to the environment while being affordable.
Some of the products that it manufactures include lawn mowers, snow blowers, UTVs, string trimmers, leaf blowers, snow blades, mulch kits, baggers, and commercial equipment.
The product under consideration here, the Cub Cadet 3526SWE Snow Blower, is a 3-stage snow blower that runs on gas.
Key Specifications of the Cub Cadet 3526SWE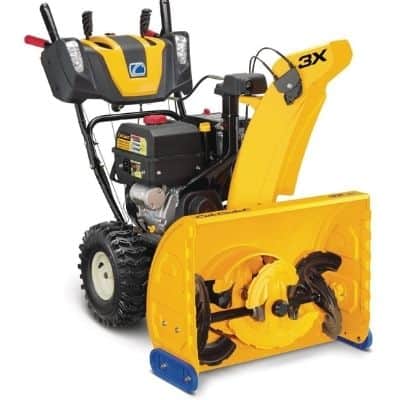 This blower is an excellent model that comes with several impressive features that justify the price.
First, it comes as a newer model from Cub Cadet, and as such, it features a new metal chute, new chute controls, a brand-new dash complete with LED headlights, and more.
It has power steering, which makes it very easy to maneuver around turns and curves.
Movement is a breeze with this model, as it features 16" x 5" tires with X-Trac tread. Therefore, it grips surfaces well and easily moves over different types of terrain.
It moves over brick, grass, stone, and other materials while removing snow effectively. Additionally, its 110V Push-button electric start provides an excellent start system.
To get more information about the features, check out this video from the manufacturer :
Here is the long list of specs of the Cub Cadet 3526SWE Snow Blower :
Specification
Model Number / Name
31AH5DVA710
Powered By
Gas
Engine Power
357cc
Stages
3-Stage
Clearing Width
26"
Warranty
3-Year
Weight
265 Pounds
Start Mechanism
Push-Button Electric Start
Other Features
In-Dash LED Lights
Unique Features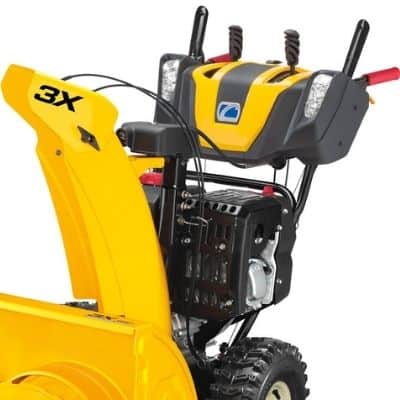 The Cub Cadet 3526SWE comes with several features that make it one of the best snow blowers in the 3-stage category. Let's discuss three of them.
Impressive Induction Accelerator
One of the best features of the Cub Cadet 3526SWE is the induction accelerator. When talking about snow blowers, induction is a kind of force.
For the Cub Cadet 3526SWE, this induction accelerator acts to pull the snow toward the auger. Although it is powerful, it is also gentle and helps the Cub Cadet 3526SWE move forward firmly and surely.
One advantage of this feature is that you require less effort to push the Cub Cadet 3526SWE through deep snow.
If you live in a region where the snow packs quite firmly, you will love this feature. You will also enjoy it if you lack upper body strength or get tired easily.
This feature will assist you, and you'll suffer from less soreness or backaches when clearing snow.
Powerful Engine
The Cub Cadet 3526SWE comes with a 683-WUB OHV 357cc engine.
Therefore, this snow blower is capable of blowing through densely packed snow without plenty of hassle. Being a gas-powered model, it has a large tank that can hold up to 5 quarts at once.
The engine starts via a push button. We observed that this method is highly reliable and doesn't fail. Therefore, you can get started clearing snow from your yard in a jiffy.
Three-Stage Snow Blower
One feature that sets this model apart from others is the three-stage design.
The three stages refer to the frequency of snow rotation around the auger in front of the snow blower before it is ejected from the chute.
By rotating it thrice, the blade easily breaks up dense ice and snow with ease. Additionally, the steel chute is durable and will reduce the chances of damage to the machine when blowing snow and ice.
Power and Snow Clearing Capability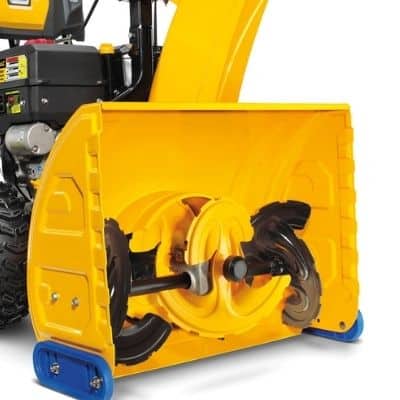 As we pointed out earlier, the Cub Cadet 3526SWE has a 357cc engine.
Therefore, it has more than enough power to blow through dense ice and snow. Our thorough research revealed that this model can clear snow up to 26" wide and 21" deep.
Ease Of Use
This is one of the best parts of the Cub Cadet 3526SWE. First of all, the handles are incredible.
The Cub Cadet is designed with a handle to be easy to hold onto regardless of the weather conditions. Realizing how cold it can get outside even while wearing gloves, the Cub Cadet 3526SWE comes with heated hand grips.
Considering the weight, it is easy to assume that it would be challenging to move it around.
However, the big 16" x 15" tires with X-Trac tread make it easy to move this unit across different surfaces. It also comes with standard single-handed operation.
Ease of Maintenance, Repairs, & Warranty
If you fail to maintain any tool, sooner or later, it will break down. Many users have remarked on the ease of maintaining the Cub Cadet 3526SWE.
Therefore, changing and checking the engine oil, cleaning the exhaust area, and checking and cleaning the spark plug can be done very easily.
Included in the package is a 5-year limited residential auger gearbox warranty and a 3-year limited residential warranty.
Price of the Cub Cadet 3526SWE
This is a mid-rage snowblower that is relatively expensive. Nevertheless, compared with other products in the same line, it is a good buy.
It comes with high-quality, sturdy parts that will last for several years.
Pros and cons of the Cub Cadet 3526SWE
Although this is a near-perfect snow blower, it comes with its fair share of flaws.
Pros
Powerful 3-stage auger
Useful induction accelerator
High-quality materials
Heated handles
Cons
Heavy to move when not in use
Too powerful for light snowfall
Who Should Buy the Cub Cadet 3526SWE ?
This mid-range model offers you several high-end features. It is excellent for regions that suffer from heavy snowfall, and it is also great for clearing large spaces.
Our Recommendation
The Cub Cadet 3526SWE is a low-maintenance, powerful snow blower that is very easy to use. While the mid-range price might make you hesitate, it is worth the price. It is powerful enough for large residential areas and can even work in smaller commercial spaces.