In Brief: PowerSmart DB7624E Review
The PowerSmart DB7624E is a heavy-duty gas-powered Snow Blower that is made for clearing snow banks from where they aren't wanted. This snow blower comes with an all-steel auger that loosens heavy ice into a lightweight consistency that's easy to dispose of. Plus, the chute has a throwing distance of 40 feet.
PowerSmart is a manufacturing company that is headquartered in Itasca, Illinois, USA. All their products are distributed by Amerisun, Inc.
The brand is known for producing items that go for a lower price than other brands, even though they're mostly equal in quality.
Their product line includes lawn mowers, generators, pressure washers, and snow removal items. The PowerSmart DB7624 is a 2-stage snow blower that runs on gas.
Key Specifications of the PowerSmart DB7624E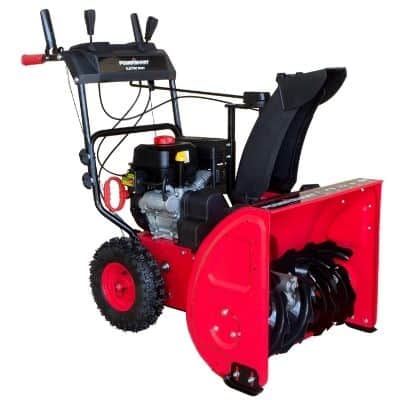 This blower is equipped with some amazing features that you wouldn't expect to get for its price. First off, it has an all-steel chute that clears up to 21 inches of snow.
It's self-propelled, making it easier to move around and steer in tight corners.
In terms of its movement, the snowblower has 13-inch tires that can move on all surfaces. This includes surfaces like gravel, concrete, stone, and brick.
It's quite easy to start thanks to the addition of an electric start button. However, if by chance, the start button develops any fault, you have a recoil start as backup.
Check out this video for more:
Here is the long list of the PowerSmart DB7624 Snow Blower :
Specification
Model Number / Name

DB7624E
Powered By
Gas
Engine Power
212cc
Stages
Two-stage
Clearing Width
24 inches
Ideal for how many inches of snow
21 inches
Warranty
2-year limited warranty
Weight
180 pounds

Start Mechanism
Electric and recoil start
Other Features
Up to 40 feet of snow throwing distance
Unique Features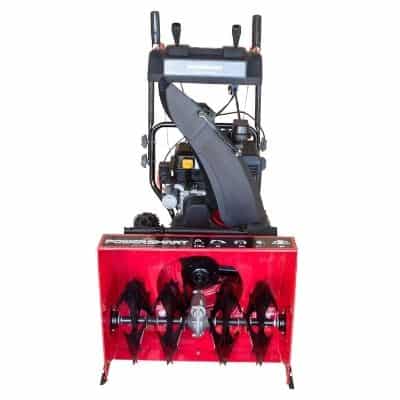 This snow blower has a combination of features that makes it quite useful across several seasons. We've mentioned a few of these features below.
40 Feet Of Throwing Distance
This snow blower has an impressive dumping range. It can throw snow 40 feet away and rotates 180 degrees. This ensures the snow is far away from your property and that of your neighbors.
As impressive as those numbers are, the design of the chute is a bit flawed. It's made from plastic, and for this reason, it's easy for it to get clogged.
Also, the direction of the chute has to be controlled manually, and sometimes the manual handle is hard to pull. This could be an issue for older users.
A Strong Engine
The 212cc 4-cycle OHV engine included with this blower provides enough energy for the machine to dig into a large pile of snow. The snow blower is powered by gas, and the tank has a capacity of 0.66 gallons.
This snow blower uses both manual and electric restart. Most people would prefer the electric restart, but the inclusion of a recoil ensures you have an alternative if the start button becomes faulty.
6- Speed Automatic Control
This snow blower from PowerSmart is self-propelled. This means that it moves with little effort from the user. This obviously takes a lot of movement if you consider its weight. The 6-speed system allows 4 forward options and 2 reverse options.
It moves forward rather quickly, but its reverse movement is quite slow. Also, you will have to steer on your own, especially around tight corners.
For more information about the features, check out this video :
Power and Snow Clearing Capability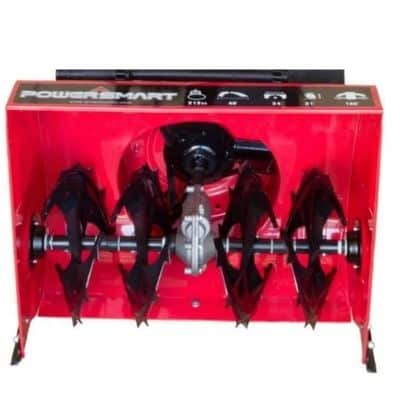 With a 212cc gas engine, this snow blower has enough power to complete any snow clearing task.
We found that this unit can clear snow with a width of 24 inches and a depth of 21 inches in a single pass.
However, you should note that it covers different depths at different speed levels.
Ease Of Use
The handles make it easy to steer across different surfaces. However, the handles aren't heat-enabled.
It is very easy to conclude that the snow blower would be difficult for one person to move if you consider its weight.
Luckily, it comes with a set of wheels that allows you to steer it like a shopping cart.
The only thing we didn't like is the fact that the moving handles are not adjustable, and its height could be an issue for short people.
Ease Of Maintenance, Repairs, & Warranty
The majority of people who purchased this snow blower have complained about occasional breakdowns, but this can be minimized if you carry out the recommended maintenance procedures.
All its parts should be inspected before you turn it on, and the chute and auger have to be unclogged after each use.
Also included is a 2-year warranty period that covers all body parts, but their customer care response rate might not be too encouraging.
Price of the PowerSmart DB7624E
This snow blower from PowerSmart is a low-cost alternative to a premium snowblower. Compared to products from brands such as Wen, this represents a better deal.
Even though there have been issues of it breaking down, this is due to users constantly ignoring its maintenance.
Pros and cons of the PowerSmart DB7624E
You may not expect this snow blower to provide all the features that you want in a quality snow remover. It has performed beyond its benchmark, but there are a few areas that need improvement.
Pros
40-feet throwing distance
Impressive clearing depth
6-speed system
Includes both electric and recoil start
Easy movement and maneuverability
Cons
LED light absent
Recurring cost from gas refill
Chute gets easily clogged
Who Should Buy the PowerSmart DB7624E ?
This is a low-cost option that offers features you will only find on premium snow blowers.
The Powersmart DB7624 is made for clearing large areas like your walkway or runway.
It's made for those on a budget, especially homeowners.
Our Recommendation
The DB7624E snow blower from PowerSmart is flexible and won't pose any difficulty when operating it. Considering its price, it's possible for everyone to purchase and enjoy it.
However, you should know that the snow blower has a specified body design that makes it suitable for large amounts of snow and around specific work areas.