In Brief: PowerSmart PSS2240C Review
The PowerSmart PSS2240C Snow Blower is an excellent Snow Blower with a clearing width of 24 inches and a clearing depth of 20 inches. It is powerful enough to tackle heavy snowfall and comes with 13-inch inflatable tires that ensure a good grip in the snow. The chute is 180-degree adjustable and has a dual start mechanism, features both an electric start and a manual starter. Due to its impressive weight of 147 pounds, it can take some effort to maneuver it.
PowerSmart is an American company that offers a wide range of outdoor power equipment, including snowblowers, yard cleanup tools, lawnmowers, and much more.
They have extensive experience, which allows them to craft affordable, high-quality equipment suitable for a wide range of needs.
Their dependable products can be used for a wide variety of activities around the garden or yard.
PowerSmart is a great brand and acknowledged for its quality snow blowers. One such example is the PowerSmart PSS2240C, which comes at an affordable price while packing all the torque and punch of the premium models with higher price ranges.
It is suitable for any heavy snowfall, has a versatile speed system, and many other features that recommend it for clearing your driveway or walkway successfully in no time.
Key Specifications of the PowerSmart PSS2240C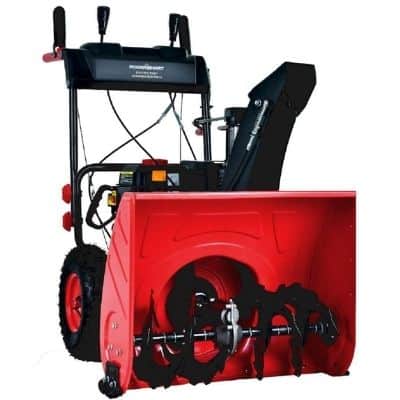 This unit comes with an impressive clearing width of 24 inches and up to 20 inches of clearing depth. This makes it suitable for heavy snowfalls.
The gas-powered snow blower has a dual start mechanism that features both an electric start and a manual starter.
The heavyweight of 147 pounds makes it stable, but also quite difficult to maneuver. The power engine of 212cc offers a quick, flawless performance.
Here is the long list of specs of the PowerSmart PSS2240C Snow Blower :
Specification
Model Number / Name

PSS2240C
Powered By
Gas
Engine Power
212cc
Clearing Width
24 inches
Ideal for how many inches of snow


21 inches
Warranty
1-year limited warranty

Weight
147 pounds
Start Mechanism
Dual

Other Features
Up to 40 feet of snow throwing distance
Unique Features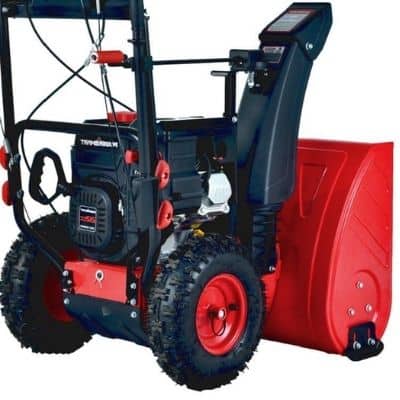 Let's take a look at some of the unique features that make this unit a great snow blower for your needs.
Dual Start Mechanism
The PowerSmart PSS2240C features a dual start mechanism. The push-button electric start can be used in no time.
However, if there are any delays experienced, you can always use the manual starter and get the job done in no time.
Drive System
Similar to premium-quality outdoor equipment, the PowerSmart PSS2240C comes with a versatile drive system.
It features a two-stage engine, 4 forward and 2 backward speed variations that will enhance the driving experience.
This will also allow the user to clean large spaces quickly, but also make sure there is no damage done in tighter spaces.
Clearing Depth and Width
With an impressive clearing depth of 21 inches and a width of 24 inches, this product stands among the best equipment on the market when it comes to clearing heavy snowfall.
It is able to handle a large amount of ice and snow, ensuring that your driveway or pathway is cleared in as little time as possible.
For more information about the features, check out this video :
Power and Snow Clearing Capability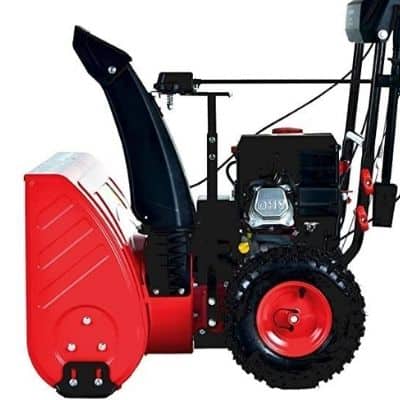 With a 212cc PowerSmart engine, this product is easily one of the most powerful on the market, given this price range.
It ensures the ability to clear a large amount of snowfall in the shortest time. The powerful engine offers premium snow-clearing action.
Ease Of Usage
The PowerSmart PSS2240C comes with an impressive weight of 147 pounds.
This takes a toll on its ease of usage, making it quite difficult to be maneuvered. On the good side, the metal skid shoes are adjustable when it comes to height.
However, the overall shorter build of the product might make it inconvenient for tall people.
Ease Of Maintenance, Repairs, & Warranty
The PowerSmart PSS2240C is easy to assemble out of the box. It is important to ensure that you add oil, and you should check the oil level frequently before you start it.
The sturdy design is made of strong, heavy-duty steel, which ensures a long product life.
You should also frequently check the belts for wear and tear. The auger paddles are some of the most used components of the product, so it's best to ensure that they are replaced if they do not hit the ground anymore.
This product benefits from a 1-year warranty to ensure against any manufacturing defects. You can also extend this warranty by purchasing additional years.
Make sure you register your product when you buy it in order to activate the warranty period. Send an email to the following email address for confirmation : [email protected].
Price of the PowerSmart PSS2240C Snow Blower
The price tag is by far one of the best ones you could currently get, given its power and performance. It is reliable, straightforward to use, and you can cover a large area in a short period.
Plus, it can handle a large amount of ice and snow, even during heavy snowfalls.
Pros and cons of the PowerSmart PSS2240C
Next, we will take a look at the ups and downs of this powerful snow blower.
Pros
Large clearing width of 24 inches
Ideal for heavy snowfall
Dual ignition system
Versatile speed system
Cons
Not so easy to maneuver
Not suitable for very tall people
Who Should Buy the PowerSmart PSS2240C ?
This product is easily the best snow blower for driveways for this price.
Its price tag is unmatched when it is compared to its torque and performance.
If you want excellent value for your money and a tool able to handle the heaviest snowfalls, then the PowerSmart PSS2240C is suitable for your needs.
Our Recommendation
The PowerSmart PSS2240C is a good, fair-priced snowblower.
With such a powerful snow-clearing action, the product can handle up to 24 inches width of snow clearing and 20 inches clearing depth.
The drive system is versatile, convenient, and easy to use.
Overall, it's an all-in-one product that will save both money and time in the future. It's an investment anyone dealing with heavy snowfalls should go for.