In Brief: Shop Fox W1857 Jointer Review
The Shop Fox W1857 is an 8-inch dovetail jointer with a mobile base and a dust collecting port. It has a 3 horsepower motor with a speed of 5,500 RPM and a four-knife cutter head that can make 22,000 CPM. It is designed for experienced and professional woodworkers.
Shop Fox W1857 is made by Shop Fox, a brand owned by Woodstock International.
Established in 1989, Woodstock International is a manufacturer and wholesale supplier of machinery, accessories, and workshop tools for metalworking and woodworking.
Among Shop Fox's wide range of machines are table saws, planers, bandsaws, shapers, jointers, and more.
One of the best in its line of jointers is the Shop Fox W1857, a jointer with a mobile base.
Key Specifications of the Shop Fox W1857
The Shop Fox W1857 is an 8-inch dovetail jointer. Loaded with features, it has a heavy-duty cast iron construction with a relatively lightweight design (373lbs), when compared with its peers.
Unlike helical cutterhead jointers, this machine features a knife cutter head. Equipped with four knives, the cutter head ensures you get a smoother job done while providing up to 25% more cuts in a minute.
This is thanks to its 3HP motor that rotates up to 5,500 in a minute, ensuring up to 22,000 cuts within the same duration.
Read the long list of the Shop Fox W1857 specs here :
Specification
Model No / name
Shop Fox W1857
Type
Stationary jointer
Cutting head
Straight knife cutter head

Helical cutter head
No
Motor power (horsepower)
3
Motor voltage
230
Motor amperage
12 A
Start
Magnetic switch
Phase
1
Depth of cut (inches)
1/8 maximum
Width of cut (inches)
8 maximum
Speed (revolutions per minute)
5,500rpm
Knives (no)
4
Dust collection (y/n)
Yes
Weight (lbs)
373
Fence size (inches)
4-5/8 x 38
Warranty (no. of years)
2 years (limited)
Unique Features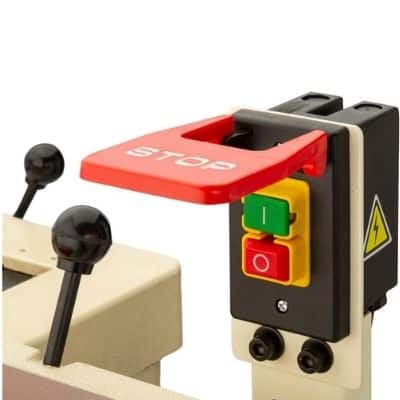 There are some impressive features this jointer possesses. Some of these will allow you to complete more woodwork projects with less fuss.
3 horsepower motor
One of the biggest talking points of the Shop Fox W1857 is its powerful 3HP motor.
Thanks to the 3HP motor, the cutter head can operate at a speed of 5,500 revolutions per minute (RPM).
Four-knife cutter head
The Shop Fox W1857 doesn't have a helical cutting system like many within its range. However, it features a 4-knife cutterhead that speeds the operation of the machine up to four times.
The cutter head ensures you have up to 20% more cuts (about 22,000 cuts per minute). It also ensures you do less sanding.
Cast iron construction
The Shop Fox W1857 is a beast designed for heavy jobs in the hands of a professional woodworker or in industrial settings. This is thanks to its Taiwanese heavy-duty all-cast iron construction.
Power and Performance
Thanks to the build, the Shop Fox W1857 wields power atypical of its price range. The machine has a powerful 230 voltage motor with three horsepower.
In comparison, the JET – JJ-6HHDX has only one horsepower, and the Powermatic PJ-882HH Jointer, which is up to a thousand dollars more expensive, has just two.
However, while the latter can make up to 7,000 RPM, the Shop Fox model only completes 5,500 RPM. Meanwhile, it has the ability to make 22,000 cuts per minute.
Ease of Usage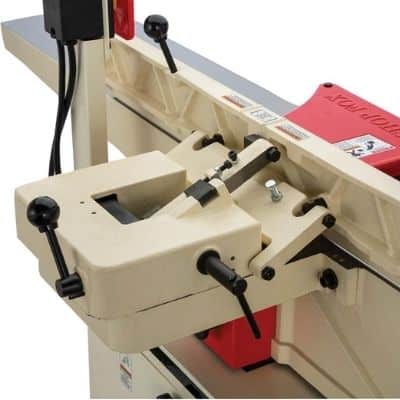 Assembling the jointer is an easy task and can be quickly completed with two people.
However, the operation and maintenance requirements have to be done by a trained professional. This helps to avoid injuries, misuse, and damages, which may void the warranty.
To ensure safety during use, read the instruction manual on the operational procedures of the W1857.
Ease of Maintenance, Repairs, & Warranty
For optimal performance and to enjoy a long-lasting use, the maintenance and servicing of the machine must be strictly and properly carried out.
The basic maintenance requirements include cleaning and lubrication. However, cleaning is relatively easy.
Ensure you conduct monthly clean-up and lubrication of the lead screws, table ways, and fence.
The unpainted cast iron body of the machine must be cleaned after each use, to protect it against rust. Also, vacuum all sawdust and wood chips, and wipe the remaining dust with a piece of dry cloth.
If you have any resin buildup, remove it with a resin dissolver. Always ensure the machine is not plugged in during maintenance procedures to avoid serious injuries.
Procedures for servicing are provided in the product manual.
Woodstock International provides warranty coverage of 2 years after purchase for the materials and workmanship.
The warranty coverage is only meant for the initial original owner, and it doesn't cover defects as a result of direct or indirect abuse, misuse, negligence, or accidents.
Price of the Shop Fox W1857
Shop Fox W1857 is not among the cheapest within its range, but it's also not very expensive.
Compared to its brother, the W1860 and the Powermatic 60HH model, both measuring 8 inches and featuring helical cutter heads, the Shop Fox W1857 is several hundreds of dollars cheaper.
It's durable, solid, and heavy-duty cast iron build, the cutter head system, and 3 horsepower motor make it a high-quality tool.
Pros and cons of the Shop Fox W1857
Below are some of the benefits you can enjoy with the Shop Fox product and a few downsides.
Pros
Powerful 3HP motor
Durable and heavy-duty construction
Mobile base
Offers 25% additional cuts
Smooth finish
Cons
Requires daily maintenance
Not for a starter
Who Should Buy the Shop Fox W1857 ?
The Shop Fox W1857 is designed for a trained and experienced professional woodworker. A novice may find it hard to operate the system safely and keep it in optimal condition.
Our Recommendation
The Shop Fox W1857, with its heavy-duty cast iron construction, will offer long years of use.
The 3 horsepower motor, which runs on 230 voltage, will offer you fast and smooth cuts. It offers an excellent price-to-quality ratio and is much more inexpensive than other premium products like itself.
Therefore, we recommend the jointer to anyone in a professional woodworking shop.
Last update on 2023-09-28 / Affiliate links / Images from Amazon Product Advertising API