In Brief: Snow Joe iON21SB-Pro Snow Blower Review
The Snow Joe iON21SB-Pro is a lightweight, battery powered, and compact Snow Blower at 36.8 pounds that can be used by men, women, and the elderly alike. It offers impressively fast displacement of about 660 pounds of snow in just one minute, and it also provides very quiet performance. The many great features that are included with the machine make it an excellent choice.
When this company was established in 2004, they had just one product – the Snow Joe Snow Shuffle. Now, they have many great products available to make your outdoor tasks much easier and much faster.
One of those many pieces of equipment is the iON21SB-Pro Snow Blower, which will make removing snow easy and quiet.
This machine will not need fuel or require any cord to keep it running. It simply runs on battery power.
Key Specifications Of the Snow Joe iON21SB-Pro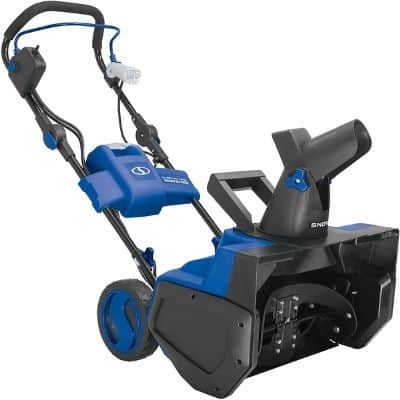 This unit comes with a wide clearing width of up to 21 inches in just one single pass. Plus, it will very easily move snow that is up 8 inches thick without struggling.
The fact that there is no cord involved with this snow blower makes it easy to get the job done without a cord in your way.
With the quick displacement of 660 pounds of snow in just one minute, you will get the job done much faster.
If light is scarce, you do not need to operate in the dark, as there is a nice LED headlight that is included to help light your way.
This snow blower from Snow Joe gives you quite a long snow throwing distance of up to 20 feet.
You can watch this video to see more features :
Here is the long list of specs of the Snow Joe iON21SB-Pro Snow Blower :
Specification
Model Number / Name

iON21SB-Pro
Powered by
Cordless electric battery powered

Engine Power
600w brushless motor
Stages
NA
Clearing Width
21 inches
Ideal for how many inches (snow depth)

8 inches
Warranty
2-year warranty
Weight
36.8 pounds
Start Mechanism

Electric start

Other Features
Steel auger with 2 rubber blades, auto-rotate chute
Unique Features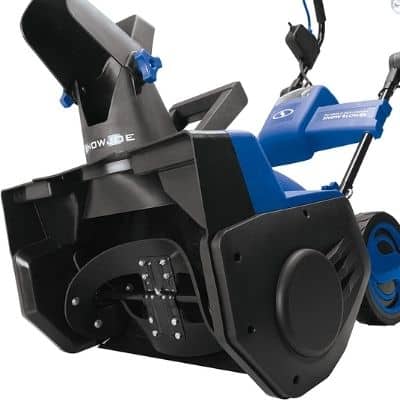 The Snow Joe iON21SB-Pro single-stage Snow Blower has some unique features that make it stand out from its competition. We'll look at them now.
Very Quiet
The fact that this snowblower does not work with fuel or an electric cord makes it very quiet. This means you can do the job any time you wish without worrying about waking the neighbors.
This means that you can quickly clear the driveway or the sidewalk before you even go off to work.
Lightweight
There is no need for a heavy electrical or mechanical motor, and that means this snow blower is much lighter than its counterpart.
Anyone who is able to operate this piece of equipment will be able to use it without any problems.
This is great for women, as well as for the elderly who may struggle with operating heavy machinery to clean away the snow.
Long Charge
When the battery of this snow blower is fully charged, you have a full 65 minutes of operating time.
This means you can clear a small to medium-sized driveway, as well as the sidewalk, long before the battery runs out of power.
Power and Snow Clearing Capability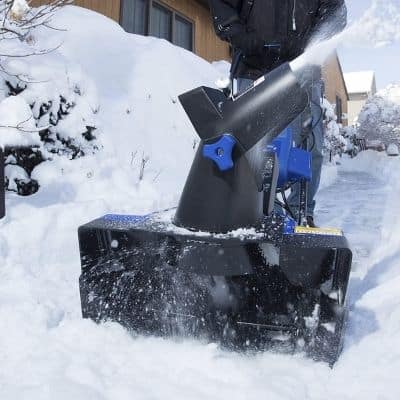 With the strong, electric, brushless motor that is included with this snow blower, you will easily move up to 18 tons of snow with one charge.
The chute comes with auto-rotation capability of up to 180 degrees to evenly distribute the ejected snow all around.
The 21 inches of snow clearing width will help you quickly get the job done in only a few passes.
Equipped with a strong auger with two rubber blades, the job of clearing the driveway of snow is done quickly and easily.
Ease Of Use
This snow blower from Snow Joe comes with great features included to make the job of removing the snow much easier.
One of these features is the adjustable handle that can be easily adapted to your pushing style and length.
With a single push of the button, you can get it started and ready to throw snow all over the place in no time. The all-terrain wheels make it much easier to maneuver the snow blower over rough terrain.
The light weight of the machine helps improve the ease of use factor even more.
Ease of Maintenance, Repairs, & Warranty
With the cordless and fuelless brushless motor of this snow blower, there is little to no maintenance required for the machine.
The battery is interchangeable, so if you have a large space to clean, you can just change it when the battery gets flat.
The only maintenance you need to apply is the cleaning of the snowblower between uses. There is also the fact that you need to charge the battery after usage.
With this piece of equipment, you get a 2-year full warranty on the machine, as well as the battery and the charger.
You only need to take the whole machine to the place of purchase, together with the original receipt, and you can register the product here.
Price of the Snow Joe iON21SB-Pro Snow Blower
The price of this great snow blower from Snow Joe is on par with other brands in the same category.
With this piece of equipment, you get far more than the price would suggest, and that makes it quite affordable and a nice investment.
Pros and cons of the Snow Joe iON21SB-Pro
As with any product, there are positives and negatives to this snow blower. Let's take a closer look.
Pros
Made with lightweight design and materials
Comes with great features included
Very easy to assemble
Great for light to medium work
Cons
Does not hurl the snow very far
Not suitable for wet, heavy snow
Who Should Buy the Snow Joe iON21SB-Pro ?
For homeowners who only have the early hours of the morning to clear the driveway, this is the ideal tool.
The fact that it runs very quiet means you will not disturb the neighbors or loved ones while it is running.
If you are living in an area that does not get too much snow but still enough to blow, this item is for you.
It will still work in areas where there is no power supply or in times of power outages and in cases of emergency.
It is also great to be used by people who need to get rid of snow in remote areas. Professional people with large areas to clear will benefit from with the interchangeability of the battery.
Our Recommendation
If you take a look at the low price point this piece of equipment comes with, most people will be able to afford it.
The great features attached to this snow blower make it ideal for everyday use.
For people who can not use heavy equipment, this is the ideal machine to have at your disposal. Overall, this will be a pleasure to use for snow removal.