In Brief: Troy-Bilt 2860 Snow Blower Review
With an in-dash headlight and powerful 243cc OHV engine, the Troy-Bilt 2860 snow blower guarantees you the power and convenience needed to handle winter. The machine demands little maintenance and is very easy to operate. The reinforced steel housing and durable materials used to make the parts ensure that the machine lasts for a long time.
MTD Products is an American manufacturing company that manufactures outdoor power equipment for the consumer market.
The company is a family-owned private company headquartered in Valley City, Ohio, USA. It was founded in 1932.
As the company grew in size and operation, it acquired other equally successful companies, Troy-Bilt being one of them.
Troy-Bilt is famed for its high-quality, affordable products. An example of their high-end products is the Troy-Bilt 2860 Snow Blower.
With an electric start system and one-hand operating system, this product is a joy to operate.
Key Specifications of the Troy-Bilt 2860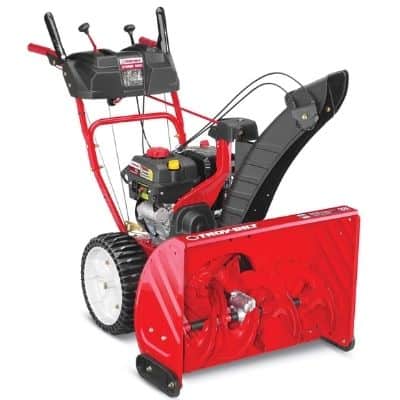 With the Troy-Bilt 2860, you never have to worry about your snow blower getting a flat tire again.
This is thanks to its airless, 15-inch tire design. The wheels are maintenance-free and durable.
The powerful Troy-Bilt 243cc OHV engine is easy to start since the machine features a push-button electric start system. With this feature, gone are the days when you used to pull-start your cold engine.
Do you work when the light conditions are low ? If so, this snow blower has you covered. The Troy-Bilt 2860 comes fitted with an in-dash headlight that provides enhanced visibility.
The machine is long-lasting thanks to the reinforced steel housing and hard, durable materials used to make the parts.
This machine is designed to support single-handed operation, thus freeing your other hand to work the chute and pitch controls.
Featuring heated hand grips, you will certainly enjoy working this snow blower even in cold conditions.
Take a look at this video for more :
Here is the long list of specs of the Troy-Bilt 2860 Snow Blower :
Specification
Model Number / Name
2860
Powered By
Gasoline
Engine Power
243cc
Stages
2 Stage
Clearing Width
28 Inches
Ideal for how many inches of snow

12 Inches
Warranty

2-Year Limited
Weight
225 Pounds
Start Mechanism
Electric Start

Other Features
21-Inch Intake Height
Unique Features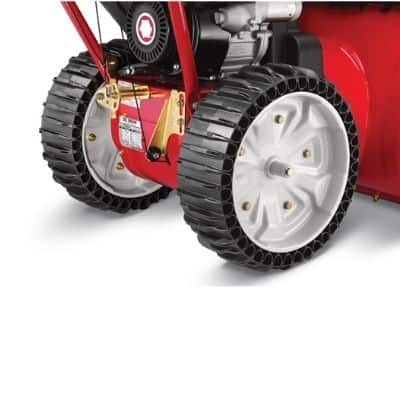 The following are some of the features that make this snow blower exceptional.
Airless Tires
The Troy-Bilt 2860 comes fitted with 15-inch airless tires. These tires provide the machine sufficient traction to ensure moving it around won't be a hassle.
The tires require no maintenance, and since they are airless, you never have to worry about getting a flat tire.
Heated Hand Grips
Working with a snow blower is not an easy task. The cold makes it worse by freezing your hands, making maneuvering the machine harder than it should be.
However, this is not a concern when working with the Troy-Bilt 2860. This exceptional snow blower comes with heated handles to ensure working in cold weather is comfortable for you.
In-Dash Headlight
It is rather challenging to perform any task in low lighting. This is no different when it comes to operating a snow blower.
To deal with this, the manufacturers of the Troy-Bilt 2860 fitted the rugged beast with an in-dash headlight for enhanced vision when the lighting is low.
Power and Snow Clearing Capability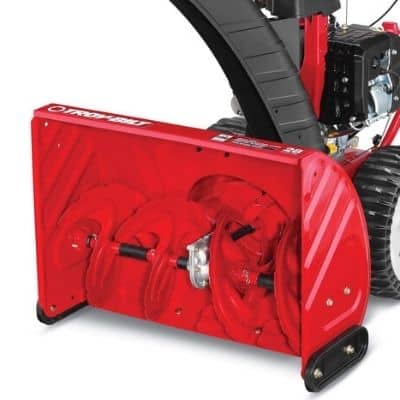 The machine comes with a 243cc 675-WUB Troy-Bilt® engine.
This powerful engine is combined with a clearing width of 28 inches, 21-inch intake height, and a 12-inch serrated auger that enables the machine to handle snow that is 12 inches deep.
With a fuel tank capacity of 2 quarts, you are able to work on a considerable amount of space without needing to refuel.
Ease Of Use
This two-stage machine is very easy to handle and requires no experience to operate.
For starters, the machine is fitted with a push-button starting system that makes starting it easy and quick. No matter how cold it is, the powerful 243cc Troy-Bilt engine will start with the push of a button.
The handles are heated, ensuring you enjoy extra comfort even in cold weather.
The Just One Hand® operator control system frees your other hand to operate the chute and pitch controls.
This machine also comes with an in-dash headlight that enhances visibility when the lighting is low.
Ease of Maintenance, Repairs, and Warranty
You don't need to seek professionals when it comes to maintaining this fantastic snow blower. The machine is built with durable materials that make maintenance easy and significantly lower the risk of damage.
Some general maintenance efforts we recommend include regularly checking and changing the oil, refilling the gas tank when empty, and storing the machine after covering it with a snow blower cover.
The company offers you a 2-year limited warranty, which shows the high level of confidence they have in their product.
Price Of the Troy-Bilt 2860
For a snow blower with such premium features and high quality, we find the Troy-Bilt 2860 to be fairly priced.
We have come to this conclusion by comparing other snow blowers that offer the same level of high performance the Troy-Bilt 2860 offers.
The others were priced higher than the 2860, which shows how affordable the product is, making it worth the investment.
Pros and cons of the Troy-Bilt 2860
The following are the pros and cons that we identified with this machine.
Pros
Durable
Easy to start
Powerful engine
Easy to use
Cons
Difficult to find a Troy-Bilt authorized center when it breaks down
Who Should Buy the Troy-Bilt 2860 ?
Given that this impeccable snow blower can handle up to 12 inches of snowfall, this product is ideal for you if you experience a lot of snowfall.
With that said, it is less suited for people with low amounts of snowfall, as it was designed to handle heavy and wet snow.
Our Recommendation
Featuring a powerful 243cc OHV engine, a 28-inch clearing width, one-hand operating system, and an in-dash headlight, Troy-Bilt 2860 is ideal for anyone in the market for an affordable and easy-to-use snow blower with the capacity to handle snow that is up to 12 inches deep.
It is up to you to decide whether the features discussed in this review are enough to make the Troy-Bilt 2860 ideal for you.