In Brief: Yardmax YB5765 Review
With its 22-inch clearing width, this two-stage Yardmax YB5765 Snow Blower is the necessary equipment for your home. It is perfect for anyone that needs more than single-stage power and lives in an area with less frequent snowfalls. The model features an electric start and multiple speeds. You can engage the adjustable control crank to change the direction of snow throw, and the large tires are suitable for all snow conditions.
Established in 2015 and headquartered in Roselle, Illinois, Yardmax Power Equipment is a leading global manufacturer of outdoor power equipment.
They produce rugged and durable, high-quality outdoor equipment to make your outdoor experience memorable.
The Yardmax YB5765 is a powerful invention of this company. It is easy to use and comes with a lot of helpful cool features.
Key Specifications of the Yardmax YB5765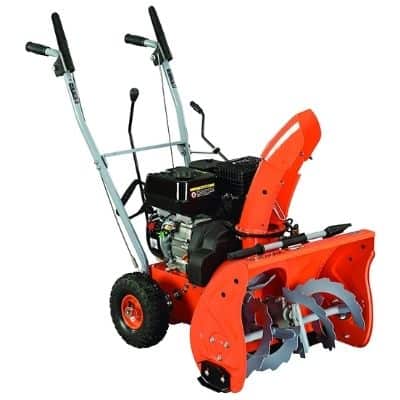 The YB5765 has a robust 6.5HP 196cc engine to power it throughout your snow blowing time.
The engine has a recoil start, meaning you don't have to put in a lot of effort to start it as you would have done with pull-starting.
This snow blower has multiple speeds courtesy of the self-propelled drive. It features five forward and two reverse speeds. With this feature, it is possible to blow snow even on steep slopes.
It also has an adjustable chute control crank that lets you adjust the chute direction and throw snow into your desired direction.
The clearing width of 22 inches lets you clear ice with a depth of up to 16 inches in just a few passes.
Thanks to this equipment's serrated steel augers, you can slice through heavy ice and snow with more ease.
Its high-speed impeller eats into more snow while the extended chute ensures a tighter discharge. It is designed for maximum throw and minimum blowback.
Check out this video for more:
Here is the long list of specs of the Yardmax YB5765 Snow Thrower :
Specification
Model No/name
YB5765
Powered by

Gas
Engine power
YARDMAX 6.5 HP 186 CC /7.0 HP 208 cc snow engine

Stages

Two-stage
Clearing width

22 inches
Ideal for how many inches (depth of snow)


16 inches
Weight
161 pounds
Start mechanism
Recoil start/electric start
Other features
Chute control, headlight, skid shoes, power steering, handlebars, shift rod, drift cutters
Unique Features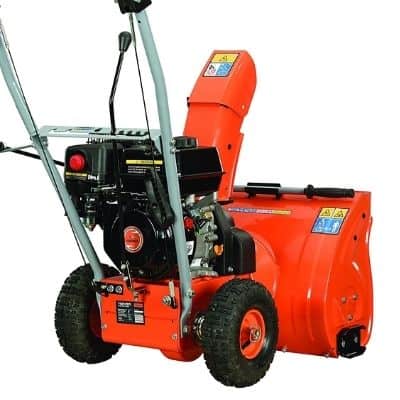 Here are some of this model's unique features :
Easy-to-start Engine
This model features a powerful Yardmax 6.5HP 196cc recoil start or LCT electric start 7.0 HP 208cc snow engine that will power your machine all through your snow blowing.
The self-propelled drive also provides multiple speeds.
Serrated Steel Augers
The snow blower easily cuts through heavy snow and ice with its serrated augers. Its housing is ax-shaped to make the process even easier.
Maximum snow throwing
The machine is designed for maximum throwing distance and minimum snow blowback. Its high-speed impeller eats into more snow, and the extended chute ensures the discharge is tighter.
Easy to use
This model has a perfect handlebar height and is lightweight. This way, you can easily move it around, and it can maneuver in the tightest of spaces.
It also has LED headlights, a cup holder, and easily-accessible speed control for the operator's convenience. The heated handgrips come through for you during the coldest days.
Power and Snow Clearing Capability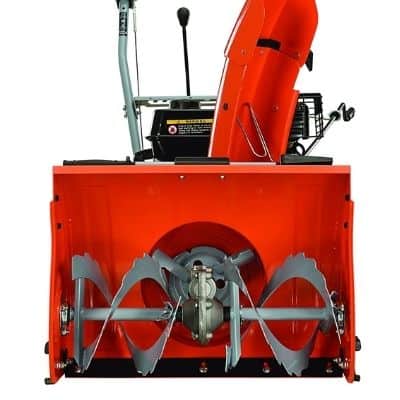 Combine its all-powerful engine and its powerful features, and you'll have a sturdy snow blower with impeccable functionality.
It also has a wide 22-inch clearing width that can clear up to 16 inches of snow in just a few passes. Its serrated augers leave no snow untouched, and the ax-shaped housing gets things even more interesting.
This machine's axle provides a 2-wheel drive and one-wheel drive. The former is for solid traction while the latter provides increased maneuverability.
For extended performance, the Y85765 has alloy steel gears and synthetic gear oil.
Ease of Usage
I had read many reviews that said this machine was easy to use, but I wanted to test it myself, and I wasn't disappointed.
First, assembling it is a walk in the park. You do not need a professional; all you need to do is follow the installation guide.
Because it has an electric start, you will require no effort at all to set it rolling. Your most memorable snow blowing experience is only one button press away.
Also, the chute control feature makes it easy to adjust the chute direction for your convenience.
It is lightweight and compact, meaning you can move it around comfortably and stash it away if you have no snow blowing to do.
Another thing worth mentioning is the LED headlight that makes it possible to blow snow anytime, regardless of the lighting conditions.
Yardmax had its customers in mind when they designed the heated hand grips.
What's more, you can enjoy your cup of coffee as you go about slicing through the snow because this model comes with a cup holder for this very purpose.
Ease of Maintenance, Repairs, and Warranty
Maintaining this piece of equipment won't have a noticeable effect on your wallet. You just have to ensure it is always kept clean and away from fire.
It is important to oil the shaft and wheels for optimal performance. The skid shoes, shaving plates, and tires may need replacement as they are prone to wear and tear.
Also, disengage all controls before carrying out repairs, inspections, or cleaning. Because of the sturdy steel housing, the product may not need frequent repairs.
The product comes with a two-year residential and 90-day commercial warranty. During these periods, you can return your machine in case of any issues.
In case you need to return your machine for whatever reasons, go to Yardmax's website and fill the online warranty form and mail it to them.
Price of the Yardmax YB5765
I'd say the YB5765 comes at a pretty affordable price considering all the awesome features you will get to enjoy.
Although it goes at a higher price compared to other two-stage snow throwers, there won't be any regrets.
There is no need to go for cheaper alternatives when the most they can give you is short years of service.
Pros and cons of the Yardmax YB5765
Here, we briefly stated some of the advantages and disadvantages of the YB5765
Pros
Can handle heavy snow
Easy to use
Quite affordable
Easy assembly
The engine is easy to start
Lightweight and portable
Advanced controls
Cons
Can only be used on flat surfaces
Who should buy the YB5765 ?
Anyone operating on a tight budget but needs a convenient tool with advanced features to meet their snow blowing needs can buy this product.
If you live in an area that frequently receives heavy snowfalls will also find this an amazing addition to their gardening tools. The snow blower is suitable for flat terrain.
Our Recommendation
We love that the YB5765 is such a lightweight tool you can easily move around. We are in complete awe of its power and snow clearing ability.
Its ease of maintenance and amazing features got us hooked.
The YB5765 is an indispensable tool out to make your gardening experience a memorable one. So, if this is the tool you are looking for, go ahead and get it.