In Brief: Yardmax YB4628 Snow Blower Review
The YB4628 Snow Blower from Yardmax will easily be your go-to snow removal tool after you take it for a trial run. You will find the very ergonomic design and the low maintenance requirement make it quite suitable for everyone. Above all that, it is also very affordable and can be acquired by even those with a tight budget.
Yardmax has been producing quality power tools since they were established in 2015 with the headquarters located in Roselle, Illinois. And one of those products is the YB4628 Snowblower, which will help you eliminate the snow from your driveway.
This product is made with quite a lightweight and compact design so it can be easily used by most people out there. And it also comes equipped with a decent size engine to quickly and easily remove the snow.
Key Specifications of the Yardmax YB4628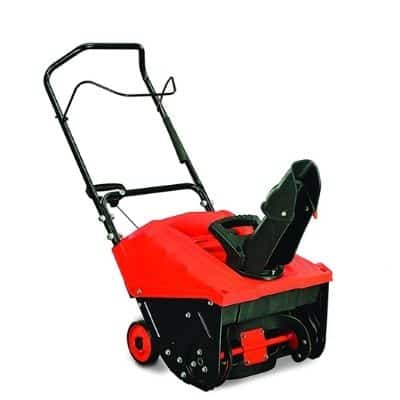 You get quite a wide snow clearing width of up to 18 inches for clearing away the snow in one pass.
This snow blower from Yardmax will remove the snow from the driveway as deep as 11 inches without a lot of effort.
With quite a strong engine of 87cc and 2.8 Hp, this machine will help clear that snow in no time at all. The adjustable chute will easily hurl the snow in any direction with a 180 degrees range so you can quickly get rid of the snow.
It is equipped with a 4-cycle engine to provide you with high efficiency and reliable snow moving service every time you use it.
This snowblower from Yardmax also comes with an extended 2-year warranty included to provide you with peace of mind.
Take a look at the following YouTube video if you want to see this handy snow thrower in action :
Here is the long list of specs of the Yardmax YB4628 Snow Blower :
Specification
Model No / name
YB4628

Powered by
Gas
Engine Power
87cc, 2.8 Hp
Stages


Single-stage
Clearing Width
18 Inches
Ideal for how many inches of snow
11 Inches
Warranty
2 Years Residential Warranty

Weight
65 Pounds
Start Mechanism
Recoils start
Other Features
180 Degrees chute turning radius, Self-propelled auger blades
Unique Features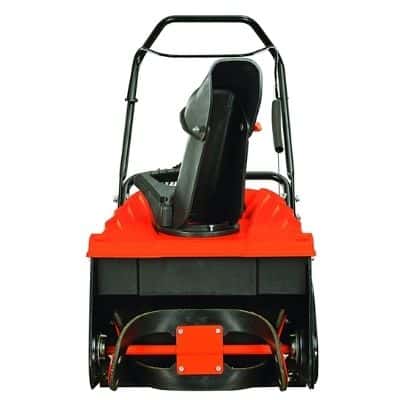 It is great to know that this nice snowblower from Yardmax comes with quite unique features that will set it apart from the rest.
Self-Propelled Auger Blades
The snowblower comes with self-propelling auger blades that will help to move the machine forward for extra momentum.
This means the auger blades do not need constant pushing from the back to pick up the snow from the ground.
It will also help to make the snow removal job much more manageable and will prevent early fatigue while using the snowblower.
Lightweight And Compact
With a very lightweight and compact design, this machine is quite suitable for even the elderly and smaller people out there.
These features make it very easy to push even over rough terrains you might need to use it on.
Weighing only 68 pounds is not too bad for a snowblower that contains a gas engine.
Folding Handle
To further add to the small form factor design, the handle can very easily be folded down to make it even more compact. That also means you can easily store the machine in a very small space when it is not in use.
Power And Snow Clearing Capability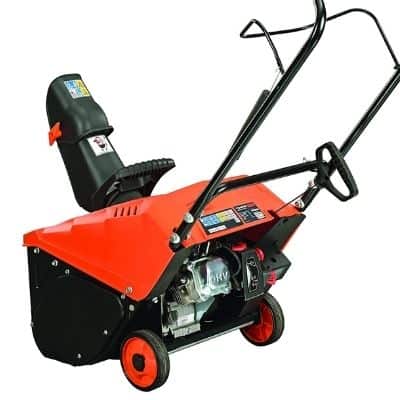 With the powerful engine of 87cc installed on this snow thrower, you will experience no difficulty to remove the snow.
And even quite a large area will be cleaned in only a short time with the 18 inches wide clearing width of this snowblower.
It can also quite easily without too much effort remove thick snow of up to 11 inches without difficulty at all. This snow thrower can easily hurl the snow as far as 20 feet away to get it out of your way.
And the smooth turning chute allows you to throw the snow in a 180 degrees range very easily and smoothly.
Ease Of Usage
When you receive this snow blower, you will find that it requires only a few minutes and little effort to get it completely assembled. It is relatively easy to use with the chute's smooth ratchet movement in a wide 180 degrees range.
The self-propelling auger blades make the job of removing the snow even easier where it assists in moving the snowblower forward.
With the easy to reach handle wide trigger, you can even operate the machine with only one hand on the trigger.
Overall is this the ideal snow removing tool for all sizes of people and even the young ones.
Ease of Maintenance, Repairs & Warranty
With this snow removal piece of equipment, you only need to regularly clean it to get rid of the dirt that might cling to it. This will help to keep the equipment in good condition and help it to last much longer.
To keep it running, you only need to fill the gas tank at the easy to reach fuel tank lid. After that, you also need to regularly check the oil level to make sure there is enough oil.
With this snow thrower from Yardmax, you get a nice 2-year extended manufacturer's warranty for residential use included.
You can easily go to the following website to register the equipment there very quickly and easily for your peace of mind.
Price of the Yardmax YB4628
At a very reasonable price you pay for this gas single-stage snowblower, it is an excellent investment for your money. Not to say because it is cheap, you get lesser quality, but quite the opposite, you are getting much more than what you are paying for.
Pros and cons of the Yardmax YB4628
It is always important to get acquainted with the pros and cons of a product to determine the overall service you might get from it.
Pros
Compact and lightweight design
Quick and easy to assemble
Very easy to operate
Comes with many extra features included
Cons
Does not hurl the snow very far
Not really suitable for high snowfall areas
Who Should Buy the Yardmax YB4628 ?
The Yardmax YB4628 snowblower is the ideal tool to use by each and every homeowner who lives in low to medium snowfall areas. You will find that it is quite able to remove the snow from the driveway and the sidewalk very easily and quickly.
You will be able to remove the snow from quite a large area in a very short time. Even those with a large driveway can use this equipment to get rid of the snow quickly and without much effort.
This is also the ideal snow removal tool for professional garden and park maintenance personnel. Not to mention those people who are charged with the maintenance of public areas as well as churchyards.
Our Recommendation
For ease of use and positive results when it comes to removing snow from the driveway and the patio, this is the machine to use. A further bonus is that it's compact and effortless to store.
Get Yardmax YB4628 Snow Blower machine for yourself, and you will not look back again.